Chris Rodriguez Leads Monsignor Pace To State Championship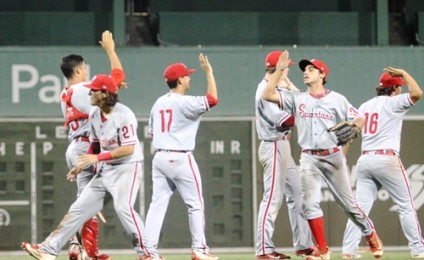 Photo Gallery
Two years ago Monsignor Pace senior Chris Rodriguez was part of a state championship team with Mater Academy. At the time Rodriguez was a sophomore that did not see any action in the tournament, and yet he still contributed by leading a relentless and enthusiastic bench that cheered their teammates with ferocity from first pitch to last.
Wednesday evening things came full circle for the Spartans' ace, who got the ball in the 5A state semifinal against Bishop Moore while his teammates all cheered him on in support. Rodriguez shined in his moment to throw a complete-game shutout and lead Monsignor Pace to a 1-0 victory over the Hornets, at jetBlue Park in Fort Myers.
"It's just a feeling you cannot express; your adrenaline just goes crazy," Rodriguez said of being out there leading his team. "Just having my brothers do what I did before, I experienced it. Every single person there was there for me, every single one of them. Just knowing that was the brotherhood I have been looking for out of a team. That's why Mater won that year and hopefully we've got it this year. We just have to stay humble and play our game and hopefully that works out for us."
The Spartans (27-4) will face Jacksonville Bolles in the 5A state championship Thursday night.
With a deep arsenal of pitches, Rodriguez proved to be nearly impossible to hit. With a nasty slider leading the way he was ahead in most counts and needed just 90 pitches to go the distance. With 64 pitches finding the zone Rodriguez struck out seven, while allowing two hits and hitting one batter.
"I was just on today," Rodriguez said. "It was one of those good days where I had my fastball, my cutter, my curveball and my changeup. Coach Lyman called my pitches and he did a great job today, so thank God for that and having my defense behind me too."
The senior remains as humble as they come, realizing that he is just one guy on a tight roster that has grown together to reach this point. The majority of the Spartans started this journey a few seasons ago as young players thrown into the fire, and now that rode has them knocking on the door in an attempt to bring the program its seventh state title.
"It's been a work in progress, with the kids believing in the process," Spartans manager Tom Duffin said. "Going back a few years ago we started six freshmen, then we turned around and doubled our wins the second year as sophomores. Yet we couldn't handle the playoff atmosphere and we were still young. Then to here in our third year, it's amazing the climb that they've gotten to."
Wednesday's semifinal was no easy summit to eclipse, as Bishop Moore also received outstanding pitching from starter Josh Bates and reliever Mikey Giordano. Each side matched the other pitch-for-pitch throughout in a contest that was scoreless until the top of the sixth.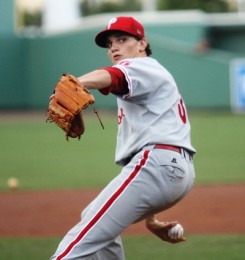 Pinch-hitter Kenneth Gonzalez was hit by a pitch to start the sixth, and he gave way to Jordan Topps, who re-entered the game. Jonathan Reyes-Diaz dropped down a bunt and reached on a throwing error that put runners on second and third, and Topps came home for the lone run on a passed ball.
"It's just putting it together and finding ways," Duffin said. "It's a special group of kids and I couldn't be more proud of them. Win or lose tomorrow, we got to the final. Baseball is a funny game, and you saw tonight Chris threw his usual stuff and gave up only two hits, but their guy was lights-out and only gave up one hit. But we were able to get that one run. I'm just so proud of them because they answered the call."
In a moment as heightened and emotional as it gets, Bishop Moore came into the game still coping with the recent passing of senior Joe Skinner, who lost his battle with leukemia on April 30th. All around the stadium were banners bearing the slogan "Skinner Strong", as well as Hornet fans adorning shirts baring similar slogans. Prior to the start of the action the entire stadium held a moment of silence in remembrance of Skinner, and following the game both teams gathered in a circle at the pitcher's mound for a prayer together to honor and remember their departed brother.
"We're both Catholic schools, and before we left I told the team and we had a prayer for them, because ultimately we're all comrades," Duffin said. "Whether we're on opposite teams, we're baseball players and high school kids. For them to do what they did, to be able to hang on and get here with that heavy heart, my hat goes off. I wanted to just show a sign of solidarity and get together and say that it is more than just baseball. His parents are dealing with a huge loss, their team, their friends, and at the end baseball doesn't really matter. So we wanted to let them know that even though we're opposition tonight, we wanted to make sure they knew that Pace High School doesn't forget those things. We're going to practice our faith and let them know that we are united with them."