Mater Academy Loses Game Of The Ages To McCarthy
Watching what unfolded at Westland Gardens Park on Tuesday night brings to mind the only team in baseball that has an aura that helps them win ballgames, the New York Yankees. Add Archbishop McCarthy to that group after the Mavericks erased a 5-0 deficit in a manner that only a three-time state champion can do, scoring seven runs in the fifth and then holding on to defeat Mater Academy 8-6 in their regional semifinal.
This game had so much drama that the more than 400 fans in attendance spent most of their evening in awe. Whether it was the Lions fans cheering on five early runs, or the Mavericks fans exploding after a riveting seven-run fifth, the atmosphere was electric, and the two teams put on a show for the ages.
"Never doubt the heart of a champion," texted longtime Mavericks announcer Carlos Guzman, shortly after Aaron Soto struck out the final Lions batter in the seventh to secure the win. But let's not get ahead of ourselves.
Although the Mavericks prevailed, the Lions proved themselves to be worthy opponents. Through the first three innings, it was Mater Academy that was playing the role of aggressor. The Lions jumped on Archbishop with two runs in the first. J.C. Escarra and Angel Ortiz had RBI singles in the inning, driving in Danny Reyes and Joel Jimenez.
The Lions padded the lead in the second. Reyes had his second hit in as many innings, and RBI single, while Mike Mediavilla doubled in a run as well. By the end of the second, the Lions had built a 5-0 lead, and the Mavericks run of state championships appeared to be heading toward an end.
A 5-0 score may have looked insurmountable with Mediavilla dealing on the mound for the Lions, but Archbishop Manager had prepared his team for this situation. Bielski, playing the role of psychic, offered this to his team at Monday's practice.
"At practice yesterday, I told them that this was going to be a see-saw game," said Bielski. "I told them we may be down, possibly even five runs at one point, but that we would have to just keep battling and believing in each other. I told them a story of my college days at Georgia, when we were down 5-0 to Michigan, and came back to win. It's crazy, but this is the exact situation we spoke about."
What is even more crazy is that the Mavericks responded. Over the past three years, there have been many players who have shared the spotlight in big games. Two years ago, it was Jose Brizuela and Alexander Fernandez hitting home runs in the state semifinals and finals. There was Adam Duarte throwing out a runner at the plate from right field. Last year, it was Andre Martinez and Nick Travieso doing their thing on the mound, while Nick Basto and Duarte paced the offense.
Tuesday night, it was the relief pitching of Soto, and a game-saving play in the sixth by left-fielder Mike Gigliotti.
Before Gigliotti found himself in a position to play Superman, Archbishop had to solve the puzzle that was Mediavilla. The Lions ace cruised through four innings, shutting down the only Maverick threat in the third by inducing a bases-loaded groundout.
The fifth was a different story. McCarthy sent 11 batters to the plate in the inning, and seven of them came around to score. Blade Bielski, Soto, Brandon Vicens, and Jonathan Quintana had walks in the inning, and Gigliotti contributed an RBI single. The big blows in the frame came on an Eddie Silva two-rbi single, an RBI double by Mike Hernandez, and a two-RBI base hit by Ryan Sinzenich.
In their half of the fifth, Mater drew within a run when Angel Ortiz led off with a double moved to third on a Deyvid Silva base hit, and scored on a 390-foot sacrifice fly off the bat of Alex Rodriguez. The Rodriguez shot would have been out of most parks, but not Westland Gardens, where the field plays closer to a major league park.
"So many things tonight could have went either way," said Lions Manager Eddie Gorriz. "That ball Alex hit is out of most parks. he hit it to the deepest part of the ballpark. If that goes out, the games changed. In the sixth, we hit a ball headed towards the gap and their left-fielder makes an outstanding play. That would have been two runs and the lead. But that's baseball, it's funny sometimes."
Ah yes, let's backtrack to that sixth inning. After a one-out single by Kevin Abraham, Mediavilla reached on an error. Escarra then strode to the plate, and promptly drilled a ball towards the left-center field gap. Gigliotti took off, but his prospects of catching the line drive were slim, even in his own mind.
"I started out thinking it was in the gap," said Gigliooti. "I didn't think I had a chance."
Then, like a rocket shot out of a cannon, Gigliotti closed the gap, and made a last second dive. The Lions runners were headed around third and second, respectively, but much to everyone's surprise, Gigliotti came up with the catch, then got up and threw to second base, completing the double play, and keeping the Mavericks four-peat hopes alive.
"As I started getting close, I realized I had a chance, and I knew I had to lay out because if it dropped it likely was a double or triple and both runs would have scored. I have to thank my coaches, because they were positioning me in the right spots all game long, and they had just moved me over before the at-bat."
From there, Soto did the rest. After the Mavericks tacked on an insurance run in the seventh, Soto, closed the game with consecutive strikeouts.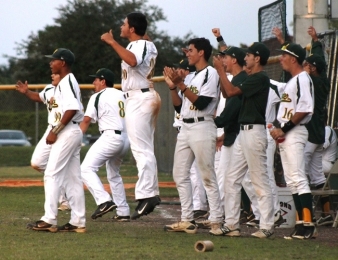 "It was just an amazing ballgame to be a part of," said Soto. "They are a great team, and it was a battle the whole game. I can't even describe the feeling. It's amazing."
On the Mater side, Gorriz had to console a team that spent much of the season atop the HSBN South Florida Power Rankings, and despite the untimely ending, Gorriz was proud of what his team accomplished in 2013.
"I told them that there is nothing they should be hanging their heads about," said Gorriz. "We got beat by a great team today. Both teams are very talented, and someone had to lose. We had a great season, and one game is not going to define this group. They went down fighting."
Archbishop McCarthy will now head into their regional final game Friday night at home against Gulf Coast with staff ace Brian Gonzalez rested and ready to go. Bielski, however, was not prepared to think ahead just yet.
"I'm still in the moment of this game," said the Mavericks skipper. "Tomorrow we'll start doing our homework, and preparing for Friday, but tonight we're going to enjoy this one."