Marjory Stoneman Douglas: Let The Healing Begin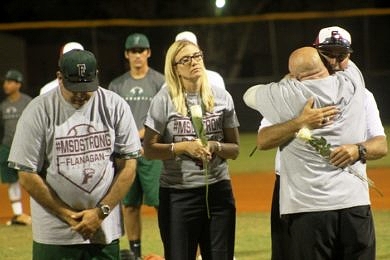 As the creator of HSBN, each year when the season starts there are games on the schedule that I circle as "can't miss" games for myself. Games that I will cover more because I am a fan of great baseball than for any other reason.
This year, one of those games was in the season's opening week, when perennial 9A powerhouses Douglas and Flanagan would meet in the annual Falcons Challenge.
It is a game that would bring much joy to the South Florida high school baseball community. Major League scouts would be in attendance, along with hundreds of baseball fans from across the community.
All of those people, along with myself, showed up Wednesday night when that game was scheduled. Only, instead of a rivalry game of jubilation and celebrating the new season, this night suddenly became about healing.
Yes, for the second time in less than a month, I am in first-person writing mode. Anyone that knows HSBN through the years understands that when I go into first-person mode, it is usually because our South Florida high school baseball family has experienced a great loss.
Only this time it is different. The devastating tragedy that occurred at Marjory Stoneman Douglas high school that took the lives of 17 innocent victims, many of which instant heroes for their bravery, left myself, and thousands of others down here, searching for answers.
Trying to make sense of a situation that is beyond comprehension. Last week was not the passing on of one of our coaches or players, it was a generation-defining moment.
It is easy to have compassion when we watch from afar, as tragedies such as the one that played out at Douglas last week take place. But that compassion changes drastically, and in the blink of an eye, when that tragedy is in your own backyard.
This is the reality that I woke up to last Wednesday. Valentine's Day. A day when people all across the country show their appreciation for the ones they love. For me, Valentine's Day will never be the same, because that day moving forward will always be about a community that I love.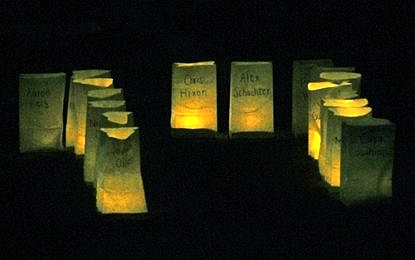 See, I grew up in Coral Springs. And to us in Coral Springs, Parkland was just an extension of our being. In 1992, Douglas opened, and took half of the friends I grew up with from me.
We were a divided class, one that went to elementary and middle school together, but that suddenly was divided into rivals.
I then watched as my younger brother, and co-founder of HSBN, Jamie, went through high school, many of his closest friends, which would eventually become my close friends, graduated from Douglas.
For years, that rivalry grew. I was a rival of the Douglas baseball team when I played at Coral Springs, and that rivalry continued through my coaching career at Coral Springs and Piper.
My greatest heartache as a coach came when the Eagles hit a walk-off home run to knock our Piper team out of the regional playoffs.
Then came HSBN, and suddenly I had to treat all programs equal, regardless of my past rivalries. When the current coaching staff took over at Douglas, a change occurred in how I felt towards the program.
I had formerly coached with Douglas Assistant Rich Hofman, and new Manager Todd Fitz-Gerald shared the same Coral Springs upbringing that I had.
And that may be what makes what happened last week so incomprehensible. For a week, I sat and watched as friends grieved. Friends I had gone to high school with, suddenly fearing for their children's lives last Wednesday.
A great friend not knowing if her twin daughters would be coming home, and then having to relive the horror over and over once they did come home. Family members and good friends by mid-afternoon looking for answers to questions they really did not want the answers to.
A family and community suddenly mourning the lives of a beloved athletic director, a hero football coach, a courageous teacher, and over a dozen innocent children.
But while most will look at this tragedy and see the evil in the world, I choose to see the positives that have already blossomed out of this horrific situation. Up until last week, I was questioning my choice of staying in Coral Springs and South Florida. Anybody from the area knows that it has gone through major changes over the past 20 years.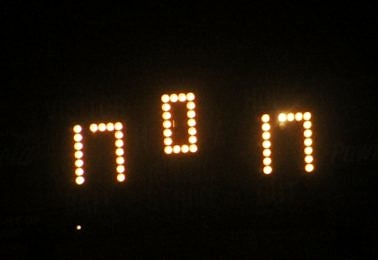 Then this tragedy hits, and the community I grew up in shows its true colors. I don't choose to shed light on the situation by saying things happen for a reason, but I know in this case, fate messed with the wrong community.
This community has the resources to make change happen. I am not going into what type of change that will be, because we all have our different versions of what that change looks like.
But I know from what I have seen from the eloquent and courageous students that have been organizing, marching, and getting their point across in a way that none of us "adults" have been capable of in my generation, that some form of change and reform is coming.
Sheriff Scott Israel said it best when he said at a Town Hall Wednesday night, that our generation has failed to unite.
And that brings me to Wednesday's game at Flanagan between rivals Douglas and Flanagan. It was not played. That decision was an easy one, with Douglas players having to deal with all they have gone through over the past week.
Instead, Flanagan Manager Ray Evans did what leaders do in times of pain. he rolled out the red carpet and invited Fitz-Gerald and his Eagles baseball program to a life celebration/vigil/practice.
The evening started with the Major League Scouting Bureau presenting Coach Fitz-Gerald with a card, and inside a donation in the memory of Douglas Athletic Director Chris Hixon.
The Falcons then announced both teams, whose players went to their respective positions, with Falcons players bringing Eagles players a white rose.
From there, 17 candles were lit behind home plate, and the lights were shut off as a moment of silence honored the victims of this tragedy.
Next, Fitz-Gerald and Evans met at home plate, with balloons, 17 of them, along with balloons in the number 17, that were released.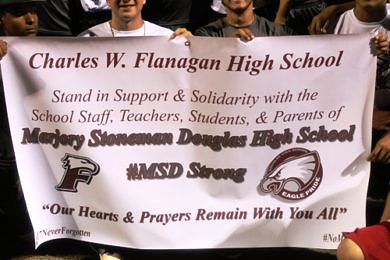 And lastly, the teams got down to business and lightened the mood with some on-field baseball activities.
This was just one of the many tributes that South Florida baseball programs have taken part in over the past week.
There are no words that can describe what we are all feeling right now, but the outpouring of support from former Douglas graduates, many of which I call my friends, along with the baseball community, and South Florida community in general, let's me know that we are all on the same page about one thing.
As we navigate through the tears, and the heartache, this tragedy will not break this community. Regardless of political, team allegiance, or any other differences that may tear us apart, we have much more that pulls us together.