American Snaps Six-Game Skid With Mercy-Rule Win Over NMB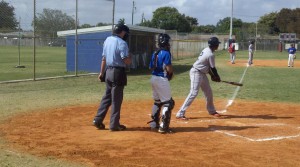 Edison Cabrera struck out five over four scoreless innings and Romy Gonzalez went 4-for-5 with two doubles and two RBI as the American Patriots snapped a six-game skid with a 17-1 mercy-rule win over the North Miami Beach Chargers on Wednesday afternoon.
Kevin Peraza knocked in four runs, including a soaring three-run homer that provided the final margin, and Milton Ramos had two RBI with a triple. Chucky Vazquez and Brandon Valdes each knocked in two runs, and Kendrick Gutierrez had three hits with an RBI.
"As a whole today, we swung the bats well, which we haven't been doing," American head coach Ricky Gutierrez said. "Hopefully, this well be like a turn-around, a jumpstart to get our season back on track.
The Pats started slow, showing signs of the struggles endured in getting outscored 49-12 over a six-game losing streak. But a three-run third inning started a steady stream of scoring, coupled with the steadiness of Cabrera on the mound.
"My approach was just to throw strikes and trust my teammates behind me to get the outs," Cabrera said. "I wasn't really going for the strikeouts, just trying to get it over the plate and switch locations."
Cabrera used his fastball effectively and stayed efficient, facing just 16 batters over his four innings. Shomarii Thomas coughed up just one run over the final two frames, while Peraza's homer highlighted an eight-run outburst in the top of the six inning to qualify the mercy rule.
"I wasn't really looking for the home run," said Cabrera, whose blast nearly made it over the 150-foot nets over the 304-foot marker in left field. "With us up by so many runs, the umpire expanded the strike zone, so I was looking to swing."
The Pats worked the count against NMB starter Anthony Guerra and batted around the order in each of the two final innings.
"We just have to go with the pitch," Gonzalez said. "I've personally been struggling at the plate, so it was good to just regain some confidence."
That was at the expense of the Chargers (5-7), who have had an up-and-down season so far.
"(The Patriots) are a very talented team. We just need to find some consistency," NMB coach Jose Lopez said. "Offensively today, we hit the ball up instead of on the ground. But really, our pitching is the number one thing we need to work on."
North Miami Beach looks to bounce back at the tough 12-2 Hialeah Thoroughbreds on Friday.
American (7-9) hosts the 3-7 Hialeah Garden Gladiators the same day.