Game Of The Week: Dade Christian At Country Day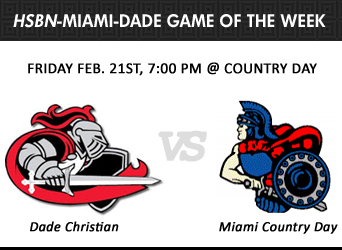 When Dade Christian travels to Miami Country Day on Thursday for this week's High School Baseball Network Miami-Dade Game of the Week, it will be a matchup of teams very familiar with one another.
The two are longtime district foes, and Friday night at 7 p.m., the duo gets to do battle in 3A-15 under the spotlight as this week's featured game.
Both teams, which share common strengths of pitching and defense, are off to solid starts, especially the Crusaders, who are 2-0 and have outscored opponents 27-4 in two games. Dade Christian followed up an 11-2 win over Coral Shores on Tuesday with a 16-2 victory against district opponent Archbishop Curley on Thursday.
Dade Christian already is seeing the benefit of the experience it gained last year when it made it to the district title game against the formidable Mater Lakes Academy, which has moved up to Class 4A this season. The district remains competitive as Miami Country Day and Archbishop Curley remain while Hialeah Educational Academy, Sagemont and Class 2A state champion Westwood Christian join the district.
The Crusaders are counting on Anthony Munoz, David Seijo, Nik Haber, Nick Cue, and Alex Perera to guide them on the mound, while Munoz, Perera, Seijo and sophomore catcher Paul McIntosh are going to be relied upon for their offense.
Dade Christian will play small ball to make things happen on offense as it will try to deal with a lack of power but has speed to make up for it. The team stole 37 bases last year.
Miami Country Day is 2-1, having beaten Boca Christian 12-9 on Monday and Sheridan Hills 21-3 on Friday and falling to Palmer Trinity 7-2 on Thursday.
Carter Weiss led the offense against Boca Christian, going 3-for-4 with a pair of doubles, a run and RBI. Three players — Jordan Sale, Juztin Gross and Steven Soriano — had two hits each and combined for three RBIs.
Weiss, Adam Seif, Soriano and Michael Fente are among the players who are going to be counted on heavily this year to help turn around a 7-15 season last year. Weiss and Fente will be producers on offense this season as they have worked in the offseason to get bigger, faster and stronger.
A trait the team has focused on developing is versatility. Each player is coached to play two or more positions and hit in multiple spots in the batting order to help the team deal with a small roster.
Fente, Gross, and Jose Oronoz will guide the team from the mound. They will help the Spartans find consistency this season, something that eluded them as position players handled pitching duties last year.
Country Day will travel to Ransom Everglades on Tuesday, and Dade Christian will host Braddock on Monday in preparation for Friday's game.