Plenty Of Reason To Cheer In 6A-15
Only two of the five teams in this new district posted a winning record a season ago, and both Goleman and Miami Springs figure to be the favorites in this group.
The Gators have believe the realignment won't faze their squad, as Manager Jose Lopez know how well tested they are after coming out of the tough district that they won each of the past two seasons.
Meanwhile, Miami Springs has not won a district title in over seven years, and has not made a regional playoff appearance in the past five seasons. This is the season that Springs hopes to change those fortunes and accomplish both feats. In order to do this they will rely on a pitching staff and defense that needs to be successful in order to be competitive.
The top four teams in the district qualify for the district playoffs, and this is a goal that the Norland Vikings have in their sights. With a fresh spark provided by a nice group of incoming transfers, the Vikings know that even with some tough district match ups this year they still have a chance to achieve their goal.
A young Mourning team is ever bit as capable of turning heads this season in their district. The Sharks have slowly come along over the past few seasons, and they have the right pieces in place to contend now.
Goleman



2013 Record: 18-7
Manager: Jose Lopez
Coaching Staff: Damon Braxton, Dario Martinez, Armando Troncoso
Key Returners: Sean Carrasco, Erick Delgado, Joshua Guia, Kevin Gomez, Daniel Guerrero
Newcomers to watch: Kevin Perez
Team strengths: Pitching
Fresh off their second consecutive district title, the Goleman Gators will face a new challenge in 2014.
The Gators got caught in the wave of district realignment and will move down two classes from District 8A-14 to District 6A-15. Despite the change, Goleman's objective remains the same: win their third straight district title…[Read More]
Carol City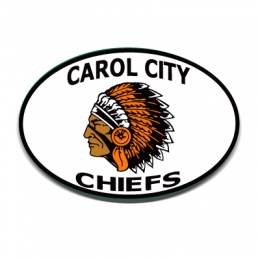 2013 Record: 0-7
Mascot: Chiefs
Newcomers to watch: Rashad Fenton
Outlook: The Chiefs return to district play in 2014, but this club has struggled to field a consistent group in recent years. The program is far removed from its glory days, but if ever there was an opportunity to begin that turnaround, this is that season.
Miami Norland



2013 Record: 7-15
Manager: Dave Dresner
Coaching Staff: Andre Payne, Kelvin Harris, Michael Jordan
Key Returners: Felix De La Cruz
Newcomers to watch: Cleveland Westbrook, Darius Pryce-Lewis, Dillon Belle, Max Gordon
Team strengths: Depth & Versatility
The Norland Vikings brought in some new faces that will change the look of their team in 2014. For a team that's looking for its first winning season since 2008, that change is welcome to a program that has dealt with its share of adversity.
Manager Dave Dresner enters his second year at Norland after finishing 7-15 last season, which was up from the club's 2-12 record in 2012.
"The baseball intelligence and the talent we have this year is something we haven't seen since 2008," Dresner said…[Read More]
Miami Springs



2013 Record: 12-11
Manager: Willie Vazquez
Coaching Staff: Ivan Chavez, Eric Reyes, Willie Mizrahi
Key Returners: Juan Kirk, Domingo, Cedano, Julio Mendez, Ronald Acosta, Austin Voeller, Marlon Castillo
Newcomers to watch: Yoandry Perez, Anthony Diaz
Team strengths: Speed
As a Miami Springs grad, second year Manager Willie Vazquez has seen the Golden Hawks play a great brand of baseball over the years. In years past, it was almost written in stone that Springs would make a deep playoff run after appearing in the regionals year after year.
With talented players such as current San Diego Padre and Springs grad Yasmani Grandal donning the garnet and gold, the Golden Hawks earned a reputation as one of the better baseball teams in Miami-Dade County…[Read More]
Mourning



2013 Record: 5-18
Manager: Edwin Bonilla
Key Returners: Alex Vallejo, Matthew Castrorao, Andrew Feldman, Jose Reyes
Newcomers to watch: Kevin Moreno, Jim Varona
Team strengths: Pitching & Defense
Like a great white shark lurking in the deep blue sea, Mourning High has worked under the radar this offseason as they prepare to make a big splash in 2014.
Under the guidance of Manager Edwin Bonilla, the Sharks are slowly building a contender as they look to make their first playoff appearance since the school opened just five years ago.
"Last year, we were just happy to compete. Now, we're no longer happy with just competing, we want to get the program to the next level," Bonilla said. "This is the year we are going to try and put the program on the map for the first time."…[Read More]