Monsignor Pace Has Only One Goal In Mind In 2015
At the start of every new season Monsignor Pace Manager Tom Duffin is straight with the parents of his players as far as the goals for the year. At Pace the goal is not to win games or win a district title; it is to win another state championship.
"That's how it's always been since I've been at Pace, and as long as I'm here we're going to strive for that," Duffin explained. "I don't care how young or experienced we are, that's going to be our main goal. The kids are going to have to be the ones who believe that; there is only so much you can preach. They're going to have to buy into that, and not just with words. You have to work towards that. You've got to put in the time and the hours and hopefully by doing that it will pay off in the long run and you will achieve your goal."
Coming off his first losing season in his 21 years at the helm, the Spartans return most of the guys on a team that is still very young and relatively inexperienced. The bar remains set right where it always is. Everyone is hungry to succeed, and eager to work. The team endured a grueling seven-week summer workout program every Monday through Thursday, where they worked on conditioning and skills. It was a great turnout that helped to get everyone on board for the year ahead.
There are so many things that come into play heading towards the start of the spring, and the program is going to have to wait and see what team it has come January. Either way, it understands that it is still a young group with a lot to prove.
"We had a lot of young kids that we were growing," Duffin said. "We have pretty much everybody back and all of them are one more year mature then they were last year. The one thing is that they are a year under the belt, but they are still young. Now they're sophomores, but how much did they mature and how far have they progressed? Or did they regress? Those are all questions we are trying to find out here in the fall. Our number one guy Lorenzo Hampton, it was his first full year being the number one starter. So hopefully it will give us some good things to look forward to in the future."
A lot of guys are going to try and step up, and they're looking for that guy who can lead the way. They really don't know who that's going to be yet. The need for leadership is as important as ever after the recent loss of senior Elliott Cutillas, who will miss the season following shoulder surgery. Heading into the 2015 campaign the coaches are still waiting to see who amongst this young group will take the leadership reigns in Elliott's place. If there is any consolation Elliott can take in having to miss his senior year of baseball, it is the fact that his teammates all acknowledge how different it is not having him out there on the field leading them.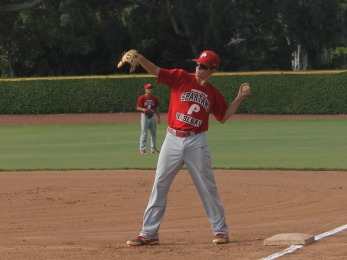 "Without Elliott, it is going be tough," senior Leroy Garcia said. "He's always been one of our leaders since last year. But the way our team is showing is for all of us to be leaders. We know what we have to do and we're ready to show it throughout the season."
The Spartans are just two seasons removed from a great run to the Class 4A state title game, and the kids are working and trying to reach that goal again. While the 2013 campaign was the first losing season in Pace history, there was no question that the team rapidly improved during the course of the year. Guys got better every game and by season's end they were just a few outs away from pulling off an upset and returning to the district championship. In the end, inexperience hurt them and some costly mistakes thwarted those chances. Now Coach Duffin is hoping the kids have learned from that and they can handle the pressure and let their natural abilities take hold.
"Hopefully we can get a couple more wins this year and go back into the playoffs, and go a little deeper into the playoffs then we did last year," said Duffin. "The one thing I was proud of my coaching staff last year was we continued to work and we never took days off. We worked harder and harder, and the players did too. That's how it's going to be. If you want to get out of the cellar and get yourself back on top then you've got to be able to work and handle the pressure. If you can't do that you shouldn't be coming to Pace High School. It's as simple as that."
Spartans do not make excuses, and every man on the roster is eager to do their part to maintain the high standards of the program. Pace has won a total of six state titles in its history, and tradition and legacy are sacred to everyone involved. Guys come to the field everyday hungry to be a part of the next link in that legacy chain, eager to leave their mark with their time on that timeline.
"Baseball is what got me into this school, just the tradition and the coaches, and we want to keep that up this year," said junior pitcher John Merrill. "We lost a little bit of that last year, but we look to make a good run of it this year. We caught a lot of bad breaks last year, but we've gotten stronger over the summer and I feel like all the little mental errors we made last year are going to be plays we complete this year."
Merrill is one of many capable arms that figure to anchor the team. With Hampton leading the way, the Spartans also have right-handers Alex Aponte, Brandon Cruz and Mater Lakes senior transfer Ricky Rodriguez, as well as southpaw hurler Matt Darder and Nicholas Fusco. Pitching is key to any successful baseball squad, and the Pace coaches are pleased with what its staff has shown them so far.
The infield defense has also begun to grow into form, even despite the loss of Elliott Cutillas. Stalwarts like Garcia and Eddie Cutillas have shown a knack for backing up their pitchers and gobbling up every ball sent their way. The team figures to be young in the outfield, where all three spots are still up for grabs. Yet no one is making excuses or trying to hide behind their youth. Guys are competing against one another, pushing each other and striving to be the next great Spartan.
"We've taken away a lot of the youth from last year," said Garcia. "A lot of the kids have got all of that rust out of them and they know what to look forward to this year. We're ready to go this year, believe me."