Reagan Buying In Under New Manager Rafael Mesa
Being able to overcome challenges made the Reagan baseball team stronger and better last year. The Bison celebrated a milestone achievement in making it to the regional playoffs for the first time in school history. The team accomplished this feat even though there were no assistant coaches on staff and the program does not enjoy the same benefits as others around them. Rather than make excuses, the players rose up and carried each other by being accountable, dedicated and supportive.
A new year has brought mostly new faces to the field, yet the goal remains the same. First-year Manager Rafael Mesa has taken over the club after spending the past four years coaching at Miami Sunset. Mesa spent three years as an Assistant Coach under Armando Pelaez, and then served as the softball coach last year. When Coach Lopez from the Bison football team let Mesa know there was an opening at Reagan, he quickly applied and was thrilled to get his first chance at the helm of a baseball team.
Mesa wants the expectations to remain the same. When he took over he told the guys that there's no reason why they shouldn't be back into the district championship again, no reason why they shouldn't be able to get back to where they were able to last year.
"That's what I expect from them," Mesa said. "We have a strong senior class. We don't really have a junior class, but I expect them to get back to where we were last year. Being my first year I have to learn the ropes, learn the kids and figure out where they play best at. I have to figure out their personalities and try to mesh everything together to hopefully put together a successful season."
A welcome change is the addition of Ossie Alfonzo as an Assistant Coach. Mesa admits he is very grateful to have another guy there to help the team, especially since they are both former college guys. Alfonzo comes from Point Park University and Mesa from Dominican College, and both are doing everything they can to help the seniors try and get into college too. Plus now the players have more than one coach to work with.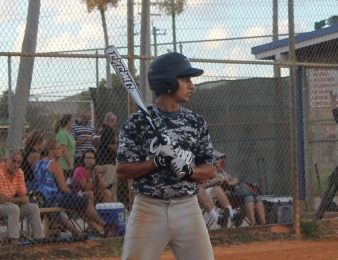 "It doesn't have to be a battle for attention," senior Carlos Mancilla said. "When someone is hitting fungoes to the infielders he can be helping out the pitchers. Coach Mesa has great energy for the game and lots of passion. Practices are going to be long and tough, and it is the best thing for us."
Coach Mesa jokes that the guys are drinking the kool aid and buying in to his system. They are believing and they are buying into the program, and that is the most important thing. If he is able to get the guys to buy into the new system it will make them successful. The players are incredibly mature and composed and Coach Mesa remarks that sometimes he cannot believe that they are high school kids. Overall much of the roster is young, but they are eager to work and willing to learn.
Mancilla and fellow hurler Alex Kowalski are two veterans who have taken charge to help set the example for the new players. Having gone through a year where guys helped out by acting as extra coaches on the field, they have learned a lot about the focus and maturity it takes to be disciplined with the little things. With only one coach last year, it was easy for guys to get away with things. But instead the players held themselves to their own level of accountability.
"A lot of our seniors who graduated last year were good leaders, and what I did was I watched and saw what they did," Kowalski said. "I try to bring that to the younger guys we have here. Whenever they make an error I just try to be there to pick them up the best I can and show support for anything that they do. When they do make mistakes they understand what they did, and they work every day in practice taking ground balls and hitting in the cages and improving themselves. The guys here are all respectful and they know when to mess around and when not to, which is a good characteristic for the team that we have."
The majority of the positions are up for grabs, particularly in the outfield. The team returns a few veterans to the infield, such as senior catchers Hector Avilan and Nicholas Fermin. Sophomores Nicholas Bolano, Arthur Quinones and Benjamin Meza are all earning larger roles on the club this season. The rest of the pack is in a dogfight to get on the field, and the competition is exactly what the team needs.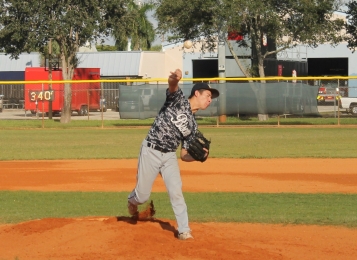 "Our team is very young, and our lineup is mostly sophomores and juniors. There are very few seniors," Mancilla said. "You have to get them practicing, and that is the only way we are going to get better. As captains, me and Alex just get them out there, hit fungoes to them when they need to and hit them fly balls. Most of them are new to varsity so they are not used to the intensity and the speed of the game, but they've got to get used to it."
While small in overall numbers, the pitching staff is an area the team has the most experience. Kowalski and Guillermo Delgado are both left-handed starters, while Mancilla is a very herky-jerky righty with a nasty changeup. Those three are expected to be the primary starters, with veteran Kevin Feireabend and Quinones coming out of the bullpen.
"To have a successful season the starters have to go far, because our pitching staff is small," Mancilla said. "So the only way we can be in ball games is if the starters keep us in the games. That's what I am going out for is six or seven innings every game."
The team will get a good chance to show what it is made of right away this season, as Mesa has loaded the beginning of the schedule with preseason games against Gulliver Prep and Killian, as well as facing American in their first district contest. This will allow the players to show what they can do and for Mesa to see what he really has. The team has also loaded up with a good mixture of games against public schools such as South Miami, Braddock and Miami Sunset. Since the school traditionally has played many of the northern schools in the county, Mesa also wanted them to get a chance to see some different arms, some different people and some different talent and see what it looks like playing some of the teams he knows in southern Dade.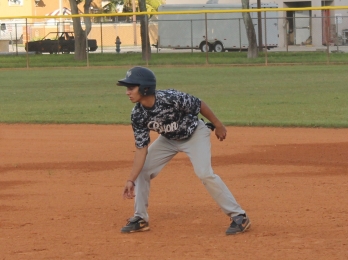 The primary focus is to win the district games. Mesa reminds his guys that they could win all their district games and lose every other game and they will still be in first place.
"If you don't win your district games then you are not going to have a successful season," Mesa said. "I preach it to them all the time. We have to win those games, even against American. We look forward to facing them and beating them twice. That is the mindset you have to have to be successful in our district. The district games are what counts. That's what gets you into the playoffs and gets you into regionals."
The Bison figured that out last year, and now the players are eager to make it a regular thing. The team is not afraid to set high expectations and then work towards them, and they are hungry to taste the same thrill that comes with finding success after putting in the work it takes to earn it.
"It was a big achievement for us to be the first time into regionals in school history," Mancilla said. "It was a big achievement. The fact that we lost so many seniors makes it hard to get back there, but that's our goal."