Mater Lakes Welcomes A New Cast Of Talent In 2015
Mater Lakes Manager Cesar Temes appreciates what his program has been able to accomplish in its short seven-year history. The Bears are still a young program, but everybody knows they are competitive, that they give teams a good game, and that they have respect for the game. In years past it was a struggle to break in with some of the more competitive programs in the area, but now the club has earned their respect and they play each other regularly.
The Bears compete in a very tough district full of former state champions. The program is still chasing after their first title in baseball, but they also appreciate the progress the club makes every year. They're hungry and are fighting to break through.
"We've gotten close to making the trip to states a couple of times, but it just hasn't happened. The ball hasn't bounced our way," Temes said. "We are still a young school and are only seven years old, and for us to be just seven years old and competing with the schools that we compete with is great. Our games are always competitive and very good games. One of these years the ball is going to bounce our way."
Mater Lakes graduated 15 seniors this year, but also brings 15 juniors to the roster this year. It is not that they are young in baseball terms, but rather that they are young with varsity playing experience. They are going through growing pains as they get used to what varsity baseball is like, but the coaches like what they have seen from them. There is a lot of talent, and the coaches are throwing them all in there and letting them battle it out to see who wins.
While the team is light on experience, they do have great leadership from veterans in key positions. Senior pitchers Jesus Hernandez, Felipe Perez and Ricky Hernandez are all coming off of good junior campaigns, and all three will be counted on to take the leadership on the mound and eat up the bulk of the innings. They all proved they can handle a lot of innings last season and the coaches expect them to do the same thing this year.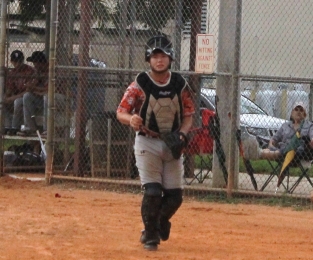 "Their best thing is they are all very mature," Temes said. "Their heads are always in the game, they stay cool and they lead by example. They are good guys to have. They've been through it and they have plenty of experience. They set the tone for the pitching staff."
Senior shortstop Marlon Romero is another guy who is setting the example for the squad. Temes admits that Romero is the one who sets the tone for the team, and that every coach wishes for twenty guys like that on their team. Romero led a very dangerous offense last year, combining a nice compliment of power and speed to his arsenal. He is a scrappy player and he appreciates the fact that is the style of play for this team.
"We have to be scrappy in order to win a lot of games," Romero said. "We are going to have to bunt the ball, steal bases and play team ball. I think this team is more united then last year and we are like a family here. That is what I like about this team. There are lots of young guys in their first year on varsity, so I have got to help them out with the plays they don't know. I help my team and bring them up when they are down. They don't see this kind of pitching in JV, so when they are down I have got to bring them back up and set the tone for the team."
Another area where the club is particularly strong is in the catcher position. Mater Lakes has four juniors all battling for the spot right now, and the fact that all four are very solid is a nice problem to have. Coach Temes admits that they have always been very lucky when it comes to the catcher position, as he has always had at least one backstop that anchored the defense and battled in the middle of the batting order. This year the team is fortunate to have several guys like that.
One of the things this program has always succeeded in doing is getting production out of young guys on the roster. The Bears are not afraid to put underclassmen on the field if they show they are ready and they can handle it. With so many new guys coming up from junior varsity, they all appreciate that they are getting a chance to compete and earn playing time right away.
"I love playing for this because they give a lot of young guys a chance, and not a lot of schools do that," said junior Christian Santana. "We've got a chance to prove ourselves and we've got a really good environment and the team fits well together. I like pitching for them and I like helping the team out. It's like playing with family. All of us are really close together and we love each other like family. We just play good together and we have that chemistry on the field. It feels like you are playing with your brothers."
Santana is one of the guys getting his first varsity action this fall. The versatile right-hander also plays the outfield, and has shown a lot of promise so far. Guys like Santana and Alek Sierra are giving the coaches plenty of reason to put them in the starting lineup right away. They are proving they can handle the jump up to the varsity level, and that they are ready for it this spring.
"It's not that big of a difference," Santana said. "You just have to adjust to the different speed and adjust to the different level of pitching. It's not much of a transition; you just have to get used to the higher level. The speed is definitely a big part of the adjustment you have to make, but you get used to it after a while."
The thing that Coach Temes appreciates the most about this group is that they all have a very high baseball IQ. They have all been in the program since their freshman year and they've worked with the coaching staff for a while. They are used to the coaching staff and what they expect, and they know how the team likes to do its moves, pickoffs and game signs. Even though they do know have varsity experience, they have plenty of experience in the Bears' system. They know what the coaches expect of them and in that sense they are very prepared.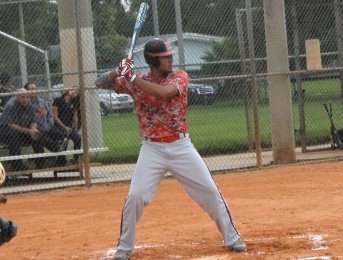 Knowing the coaches that all compete in their district, the teams all share the same mentality to schedule the toughest non-district opponents they can get in order to prepare for the grueling challenge presented within their district. Temes feels in order to be the best you have to beat the best, and the team schedules accordingly. They want to know what kind of team they have by the time they get into the playoffs, that way they know what they have and what they can do when that time arrives.
"Our district is solid top to bottom; everybody is good," Temes said. "Everybody knows we graduated a lot of seniors and also had some losses to transfers. I know everybody is thinking we may be a little young and inexperienced, but we have plenty of talent. We can pull it off on anybody. I think everybody in our district has that respect that on any given day anybody can beat anybody. You have it from the coaches and you have it from the players. Our district is just very competitive."
The players admit they love the challenge that comes in competing in a district that includes Florida Christian, Monsignor Pace, St. Brendan and LaSalle. Even though the team lost a lot of seniors, they have two pitchers ready to lead the way. The district is tough and they welcome that challenge.
"It's an adrenaline rush to play our district teams. We don't have a bad team in our district and you have to come and play hard," Marlon Romero said. "You have to bring you're 'A' game every time. It's hard for the young guys who haven't been there to see that competitiveness yet. But I think we can do and we have a chance this year. We have strong leadership and the seniors set the example just like I do."
The Bears are still chasing after postseason accolades. In their short existence the program has established itself as a legitimate contender, and every year they are right there competing with the best of them. Now it is just about putting it together at the end and making their mark.
"None of us charter schools had baseball state titles and then Mater Academy got it last year," Temes said. "They are the older school out of all of us and they have always set the example. Now we are trying to follow it and trying to break through. It's been hard for us but we are trying to break through. I know we have the respect and it takes a little bit of luck at the end too. We just keep on shooting for it every year."