Miami Springs Thinking District Repeat In 2015
The veterans on the Miami Springs baseball team admit they will never forget being able to pile up after winning the district championship last year. The Hawks came together at the perfect time to play their finest baseball at the end of the season when it mattered the most, and that ultimately led them to a district crown and a playoff run into the regional semifinals.
Following a rough 0-4 start to the 2014 season, Miami Springs Manager Willie Vazquez made some changes that helped get the team rolling again. But he also admits that more than just doing his things as a coach, it was about the players uniting and also about getting that little bit of luck that every successful team needs.
After losing the majority of the guys from that squad, the team will look to replicate that magic with a new cast of characters in 2015. Little by little they are getting by and putting the pieces together where they need to. The players are aware that they now have a district title to defend, and this realization only makes them hungrier and drives them to soar to the same heights as a season ago.
"We overachieved last year, and it's great to get back with the guys again and plug in the spots we need to plug in," Vazquez said. "The great thing about it is that we have all of our pitchers back. I've got a couple of freshman that came in and a couple of sophomores that were here last year that have all been doing pretty good in the fall. It's a young team, but with a very experienced pitching staff, which helps out a lot. Those guys are being the leaders of the team now, which is great."
The core of the club's vaunted pitching staff comes in a pair of juniors whom Vazquez has dubbed The Dynamic Duo in Dylan Carter and David Cervantes. Though only sophomores on a very senior-laden squad those two ran the pitching staff and pitched great games to keep the team afloat all season long. They didn't shy away from any pressure, and a year later they have matured to where they feel absolutely no pressure at all. They simply want to repeat everything they did last year, only better.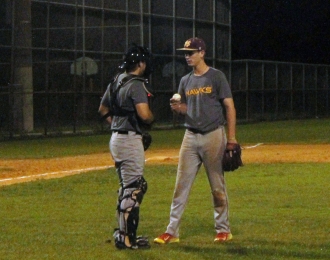 "Now they are a little bit older and more mature, a little more confident. We'll see how it goes," Vazquez said. "Dylan Carter has always been the outspoken one, even though he was just a sophomore last year. They may not have listened to him as much because he was kind of the baby on the team, but he has rallied the freshmen and sophomores around him this year and they are following his tune. He is a guy you want to follow."
Carter earned his stripes by tossing a complete game in the district championship, after he had assured his coach he was going to go out and go all seven innings to deliver them that title. The fearless right-hander faced a tough Goleman lineup that bunts, steals, hits for power and does everything an offense needs to in order to win. Coach Vazquez saw his starter was in the zone and he left him alone the entire game, which was the only time all season that happened.
"When I go out there I just think about pounding the strike zone," Carter said. "I have got defense and I like to use everybody on the field to play the game. I'm not out there by myself, I am with my team. I love my team and I am out there to get everything done right, to hit my spots and listen to my coaches. The coaches will help us win all the time."
Vazquez knows that pitching is crucial in baseball, regardless of what other strategies coaches put into play. Teams have to pitch and play solid defense, and in high school baseball the likelihood is that most teams can scrounge up a few runs in support. Team with tough pitching and defense are the ones with a championship pedigree, and last season's accomplishment magnified that belief.
"Being the main guy that pitched that big game I feel like I have a lot of responsibility to bring our team back and make us succeed more and more," Carter said. "We lost a lot of good players, and this year we are younger. But we are more of a team and we're more of a brotherhood. That's what I like more."
Even as dominant as Cervantes and Carter both are, Coach Vazquez admits it is tough to have two juniors as the top guys on a pitching staff. But those guys are team players, and the rest of the hurlers work well behind them in relief. The Hawks have only one senior on the pitching staff in crafty left-handed closer Alex Iruela, and will also count heavily on lefty Bryan Garcia and right-hander Joseph Fernandez. Iruela will serve as the closer.
"I can't really say I am the captain of the pitchers, because at the end of the day there is no one person who is better than everybody else. You are only as good as your weakest link," Iruela said. "But being a relief pitcher is the job that if the team needs me there. I am going to be there and do the best I can to give the team my all, and come out and throw strikes. It's an advantage to be a lefty, because a curveball from a lefty is different than a curveball from a righty, and the changeup and fastball are different. It's a nice advantage and adds more difficulty for the players to get used to it."
Iruela is one of the most tenured guys on the squad, after working his way up from JV as a freshman. Due to a shortness of arms he was given a chance to play as a sophomore and he earned valuable experience there.
"I got to be under the wing of a couple of seniors and see how to be a leader of a team and set an example, not just on the field but in school as well," Iruela said. "Now it's my turn and it feels good to have all the kids looking up and being under my wing. It is nice to be a role model for them. It takes a little time for the new kids to get used to it. But at the end of the day they just want to be good and get better, and that's what everybody is trying to do."
After graduating 11 senior starters from a year ago, Miami Springs will field many young new faces to the varsity diamond this season. The club has just four returning seniors, as well as senior catcher Mario Negueruela, who transferred back to the team from Hialeah Educational Academy. Despite this youth, Vazquez has not shied away from putting together a schedule that pits his guys against many of the top teams across the county.
"I want to bulk up my schedule just to let them get that feel of a big game," Vazquez said. "The way I see it is every game you play is a big game. You want to learn to put yourself into a mode that every game is a big game, no matter if it is a playoff game or in the preseason. They have to have that feel, because when it comes to playoff time it doesn't matter who you are playing they are going to play you hard. You might as well not take them for granted and face every team like it is a Columbus, or a Coral Gables or Florida Christian."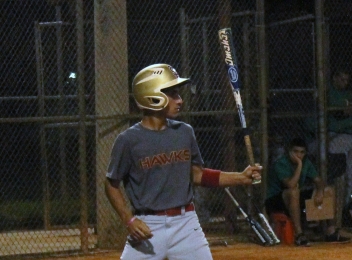 Having the dominant pitching that they have gives the rest of the club more confidence, as well as taking some of the pressure off of them. Meanwhile both Cervantes and Carter are hungry to prove that the best is yet to come. After losing to eventual 6A state champion Mater Academy in the regional playoffs, Carter uses that as extra drive to push himself and his teammates to get back to that point and seek out some revenge. They are not going to sit back and be intimidated; they want to be better than where they are now and what they did last year.
The unique and special skill set that both team aces possess also helps them to further motivate one another. It is a friendly and healthy competition, and their friendship and encouragement only makes them that much stronger as they work on improving more every day.
"We are older now and we talk about bigger things. We are trying to go to states and be a one-two punch," Carter said. "We are going to take our team the farthest we can. We both have the same goal and that is to get to the Major League level. We work the hardest we can and we just want to be the best guys that we can be. We try our hardest every game to give it our all."
The few remaining veterans have not forgotten what is capable when their two top hurlers are performing at their best. As young varsity players it led them to a coveted district crown, and that sort of success has them all pushing for moments like that to come again.
"It was honestly one of the better feelings that I have had in my whole life," Iruela said. "When my friend Dylan threw that last pitch I couldn't run out of the dugout fast enough to pile up and celebrate with my team. Every day I think that I cannot wait to do it again, and hopefully we get to celebrate even more this year. Hopefully we get to end this year on a good note."