Carol City Building Back Into Contention Under Rodriguez
It has been a welcome home party for Randy Rodriguez this past year. The Chiefs' second-year Manager finds it awesome that he can walk the Carol City hallways and be a familiar face to so many. Only ten years removed from his own high school playing days, many of Rodriguez's former teachers are still at the school. People recognize him and know who he is.
The players look at Rodriguez differently knowing that he also played there. They have more respect for him as a coach just knowing that he once wore the same uniform they do.
"We weren't a powerhouse when I was playing, but we weren't the worst either," Rodriguez said. "We were still sending guys to college and fortunately I was able to go. So I had an experience a lot of guys didn't get a chance to have. I am very grateful for that, and it happened because I had great teachers and a great coach who cared. So I'm trying to replicate that by coming back."
After graduating nearly every guy from last season, the Chiefs are as young as ever. There are only three or four guys with any organized baseball experience, as most grew up in a community where it wasn't available. So most guys are picking it up for the first time, and while it is proving to be difficult it is also showing to not be impossible. Many of the new guys are bright and very athletic, and it helps that they take information well and replicate it.
"Obviously there are going to be some bumps in the road because they are doing it for the very first time," Rodriguez said. "But even with some of the guys who I have in the bullpen who have started off really bad, as I kept repeating the same information they started to throw hard strikes. It took them some repetitions but then it finally clicked. I know it is going to take more than one session, but the good thing is a lot of these guys are underclassmen. So we are not building a team for today; we are building a team for tomorrow and thereafter."
The club has only two returning players this season, one of which is also its only senior in veteran slugger Wesley Gaines. Gaines is an easy guy to look up to at 6'3", and he is a big powerful guy with a huge skill set. The Chiefs' other veteran is junior Ayeobele Randolph, a third-year starter who splits time on the mound and at shortstop. As much as guys admire Gaines, it is Randolph who Rodriguez admits the players tend to gravitate to.
"Ayo has been a huge help, and he is extremely aware and hungry for information," Rodriguez said. "He was one of those guys who was rough around the edges, but as we coached him from last year and all over the summer and fall he has really sharpened his skills. Players are starting to look up to him as well. Ayo has something where people really gravitate to him and really listen to him, and I think it is because a year ago he was exactly where they all are now. He has really improved and has shown it, and it really shows on the field."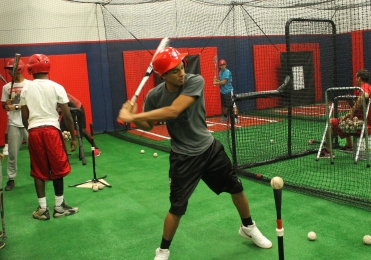 Having both Randolph and Gaines has been a huge help for the squad. They have been coached by Rodriguez for over a year now and they understand what is expected. So they send that information over to the younger guys, so now they are starting to understand what is expected of them.
"My freshman and sophomore year I did not have to be vocal because we had so many seniors," Randolph said. "This year I am a junior and we have only one senior, so Coach already told us that we have to be more vocal and help him out to bring people along so they can catch up to the speed. When I hear about the history of this school it just makes me more motivated to get a win, because we haven't had a win in like three years. It just makes me work harder, and I have been working since the summer to be better and help the school get that first win back."
It is true that the program has not won a game for several seasons. The program has never endured a losing streak like this before in school history, and it is a program that has won a few state titles before. So to get that first win under their belt would be a huge monkey off of their backs. The question then becomes, where do they go form there? Does one victory constitute a good season, or how many wins would that take?
"Our only goal is to win ball games," Rodriguez said. "But if we can take one district game, that would be an accomplishment in and of itself. That would show we are going in the right direction and we have something to build upon. We only have one senior, so we have something to build off of. The better we can prepare this year is the better we can prepare for next year."
With the season right around the corner the team is working to get as many reps as possible. The team understands it is going to be tough to compete in the district right away, but that does not mean they cannot compete and make those other teams earn their wins.
Pitching is always a big part of winning baseball, and the Chiefs have a lot of new hurlers on the roster. Yet these guys have shown a lot of progress and ability to throw strikes, and it may not take as long for them to follow the same path that Randolph took a season ago.
"Last year Coach told me I was going to pitch, but I didn't know he was going to put me out there as early as he did," Randolph said. "It helped for me to learn, and when somebody hits a bomb it is OK and I just have to move on to the next person and keep pitching. As the season progressed I got better and better. I'm very comfortable and I just need to keep working on my fundamentals, staying cool and calm."
An added advantage that should help the program is the unveiling of its new state-of-the-art baseball field. Since Rodriguez graduated from the school, the campus was remodeled and a new building went up on the site of the former baseball field. Now the school is close to completion on the new field, which the Chiefs are hopeful will be ready for the start of the season.
"We finally have a field again," Rodriguez said. "We have a brand new athletic facility and baseball field, and it's never been played on before. It has Bermuda Grass, and if you want a good field this is as good as it gets. It's great to have a new field but it doesn't mean anything if we don't win ball games. So we have to go out and protect it."