Key West Returns As Dangerous As Ever
Before returning to the team he loves last year, Conchs Manager Ralph Henriquez had not coached for about seven years. Every day back has been even more enjoyable than the previous, and the veteran skipper is really enjoying working with the players again.
Key West is coming off its most successful season in years, in which the club won 24 games and advanced to the regional championship. The club's hope at adding their 11th state title ended when host North Broward Prep hit a walk-off home run. As painful as the extra-inning road loss was, it does not take away from the great baseball the team played last season.
There was excitement in the community, and everyone agreed the team was back to playing Conchs Baseball. Heading into a new season there still remains much of that electricity in the air. Everyone is excited for the start of the season and confident the team is maintaining tradition.
"Those are the standards that we've had here for years, and when I coached here previously those were the standards," Henriquez said. "Even though we didn't get to win a championship, it was that kind of a great season where the kids were playing well and going off to college. That's the type of season we strive for and we were thankful we were able to do that last year, and hopefully we will do it again this year."
The team only graduated four guys from last year's roster, with three of them now off playing college baseball. This season they feature several talented seniors and underclassmen who have also established their college plans. Senior left-hander Brandon Presley is headed to Southwest State College, senior right-hander Jay Feathers is going to Pratt Community College, and senior transfer Kyle Pierce is off to Indian River Community College.
Junior Greg Veliz is already committed to the University of Miami, and senior Andrew Freeman is mulling several college offers.
All of these guys head a deep and dangerous pitching staff. Most of these guys got good productive innings last year, and now return even better. Presley has made leaps and bounds, and Freeman is the school's starting quarterback who returned to play this season and just keeps getting better and better pitching, swinging the bat and playing center field. Feathers, junior Hunter Sellers and Pierce are all experienced varsity hurlers. Meanwhile Veliz is the most lethal of all with a 92-mph fastball, and he has also added a breaking ball and a changeup to his arsenal this year.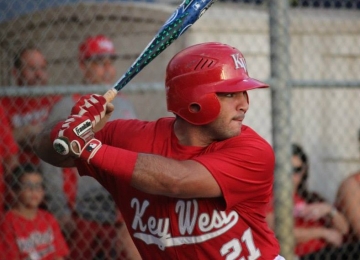 The future of the pitching staff is just as promising. The program also welcomes freshman Kyle Irrabino, a young guy with three pitches and a lot of potential.
"Kyle Irrabino is one of the most focused young kids I have coached in a long long time," Coach Henriquez said. "He's all business on the mound, he's got a good curveball and an outstanding changeup, and he's got three pitches that he throws for strikes and great command for 14 years old."
With so much pitching, Coach Henriquez implemented a piggy-back system that he used to use back when he used to coach for the Atlanta Braves. It's a system where a righty may start and go the first four innings, and then a lefty will close things out. The next time around the lefty will start and the righty will close the game. It gives pitchers more work but also saves their arms. They are developing guys but also protecting their arms and their futures.
This system worked well for the team last season, and they will continue to use it this year. Even with so much focus on pitching and defense, they also swing the bat pretty good. Last year they hit 16 home runs as a club an several guys hit over .400, and many of those bats return to the lineup.
"We have good balance," Henriquez said. "We have a few guys who steal bases, guys who bunt and put pressure on defenses and we have those guys in the middle of the lineup that can swing the bat pretty good. I like to have balance offensively, and with the pitching that we have and the defense that we play we don't normally have to score a whole lot of runs to win."
Veliz and Sellers both hit for a lot of power, and Presley has also developed tremendous power to fill a role in the middle of the lineup. Junior Anthony Henriquez moves from second base to left field and will hit second in the lineup, complimenting the speed at the top with a consistent bat. Anthony Henriquez is also one of the best bunters on the club. Senior catchers Chris Varela and junior Patrick Edwards both also return.
The team has high standards and they know what to do. The players have high expectations, and they know that the entire community is pulling for their success. Last season revitalized the enthusiasm for Conchs Baseball, and this year the club expects more of the same. The team hosts many strong teams in weekend double headers, and it will also host Gulliver Prep for an HSBN Game of the Week showdown.
"We drew thousands and thousands of people for the playoffs last year," Coach Henriquez said. "The program had been down for a little while, but once we started playing the type of baseball that we were playing and were winning, the community has always been great. We were drawing thousands of people a night. This community comes out and really supports this team and we draw a lot of people. They like their baseball down here, but it's got to be winning baseball."