Miami Beach Building To Come Full Circle Again
This season feels a lot like the first year for Miami Beach Manager Willy Baez. After coming over from Hialeah Gardens in 2012, Baez knew in his first year that he had a good group of players there were going to have good seasons in the years to come. But that first year was going to have its share of struggles, and the same thing could be the case with the young group this year.
What that group was able to accomplish last year should serve as perfect motivation for the current players. Despite the lowest seed and a losing record overall, the Hi-Tides came together to play their best baseball in last season's district playoffs, shocking top-seeded Hialeah Gardens and earning a spot in the regional playoffs. The club then put in the game of their lives, leaving it all on the field in a tough nine-inning, 2-1 defeat to the heavily-favored Flanagan Falcons.
"We were working for that second year, which was last year, so that was a big push," Baez said. "I knew in the future that team was going to do something special, and getting into the regionals against Flanagan and losing 2-1 in the ninth inning, that's what you want from a ball club that you brought up your first year. We worked all summer and fall long after we had a bad season that first year, and we had a lot of games we could have won except for the inexperience. That second year came around we did what we wanted to do."
It meant a lot to the team to bring some success back to the baseball program. There has been strong support from the athletic department of the school, as well as from the principal, and it was rewarding them with last season's success. They have brought a baseball mentality back in the school, and lived up to what Beach Baseball has always been known for.
When Coach Baez arrived from Hialeah Gardens he wanted to try and get the winning tradition back at the school. It had been some years since Beach Baseball was talked about much, but he knew that was not always the case. Previously, the club had once been run by Skip Bertman, a coaching legend who is now at LSU. He won the program's only state championship during his tenure, and former Hi-Tides Manager and current Flanagan Manager Ray Evans also had very solid and productive years. Lou Sanchez and Skip Mart are other coaches who left their mark with the program, and now Baez can include himself in that group.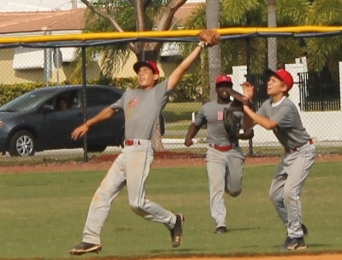 Coach Baez admits he often wondered if the team was listening as the losses piled up early on each of the past two seasons. Then the Hi-Tides fought just to make the district playoffs as the lowest seed and upset the number one team in their district. All year long the coaches had preached that they just needed to get there and believe, and that the baseball takes funny bounces sometimes. The guys proved they believed, and they were able to walk away knowing they left their mark with their final games.
"It's an awesome feeling that your seniors get to leave with a smile on their faces," Baez said. "You want to get a little bit more and get deeper in the playoffs, but even so. We definitely were leaving those three seniors that are going to be missed this year in our center fielder Gabriel Obregon, our catcher Leoni Lammana and our pitcher Jonathan Gonzalez. Those are three solid players up the middle there that we need to replace."
Fortunately for the Hi-Tides, there are solid guys ready to step into these vacated premiere roles. Veteran outfielder Themi Pineda has waited for his chance in center field, and this year that time has come. Jonathan Varela and Matthew Rordiguez are competing for the top catcher position, and each is pushing the other and making that decision very difficult. Senior shortstop Trent Bryan will be a big part of the lineup and will anchor the infield defense.
"I have been here for a while and we have really grown as a team," said Bryan, a four-year starter who is committed to Harvard. "This year I am fortunate to be one of the senior captains and the starting shortstop. We have good talent, but we've got to start bonding. It's just a matter of that team bonding and getting together and making each other feel like a family. We are up to the challenge and it is exciting because I think we have a pretty good club. We again are the underdogs, but if certain things come together and we all start doing our part we can be pretty good."
On the mound the staff is led by Blake Brattain, the ace that is hoping he can improve from a season ago when he led his club into the regional playoffs. The right-hander faced tough teams like Hialeah, Columbus and Mater Academy last season so he could grow from facing the best of the best. Now he will anchor the staff that also includes freshman Manny Alonso and veterans Franley Romero and Alex Beer. With most of the guys still finding their way on the hill the coaches are not asking them to go seven innings every time out. The Hi-Tides will likely have to piece it together and rely on everyone to get the job done.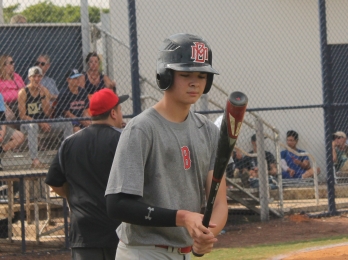 After going seven strong in the district playoffs last year, Brattain admits it has given him plenty of confidence as he grows into an even better pitcher this year. He feels as though he can go out and control the game, and he helps take pressure off of the guys around him if they make a mistake. Brattain goes by the thinking that you have to stay humble and keep your head up, and not to let one error bring you down.
It is a young team with a lot of incoming freshmen, and many of them have never played serious baseball before in their lives. They are learning the game and they understand that they are not the most talented team in Dade County right now. Some of them are learning the game for the first time, and others are playing baseball at a much more competitive level then ever before. But it is a coachable group, and guys are putting in the right kind of effort.
The coaches put in a lot of time with the guys this fall. Playing in tournaments such as the HSBN Fall Classic and also at Barry University and FIU also helped tremendously. The young guys needed innings and the coaches know that field time will pay off during the season. The returning veterans wants to be better than last year, and to be able to tell the players from that team that they went even farther. But for that to happen the young players will have to step up and grown quickly.
"We have to work harder to win the game, and we feel if we give 100% every time the game will go in our favor," Brattain said. "As a leader you try to make it better for them and try to make it easier for them to learn. There are little things to do, things that change the outcome of the game. You have to make the play and have to stay in front of the ball, and you just try to make contact when you're hitting. If you're looking at strike three then you're not swinging. You have to play with heart, that's one of the biggest things."
The guys are competing against one another and they have to prove they belong in the starting nine. There is the possibility that some of the new guys could push out a veteran, so it has everyone focused and working hard. When Baez came up playing at Monsignor Pace, he learned the mindset to always strive for big accomplishments and large success. This means winning a state championship, and that is what the team will work for. Baez admits he loved how new Chicago Cubs Manager Joe Madden immediately spoke about winning the World Series when he took over the job this off season, and this is the same way that his team will operate.
"The biggest challenge for us is how fast our young guys can catch up to this," Baez said. "Are they going to listen to the guys that have been here before? Are they going to be the ones following and making sure they are pushing those guys that have started from last year? That's what I want is for these young guys to buy into the system as quickly as possible, so when we get into the season and move over into districts hopefully they are there and we are talking about districts and regionals."