Miami Country Day Progressing Behind Its Young Talent
At first glance one might simply see the abundance of youth on the Miami Country Day baseball team. The squad does not have any seniors on its roster, so they are considered young. Despite their ages, the majority of the guys on the Spartans squad are seasoned veterans with plenty of varsity playing experience. It is a group that consists of mostly juniors, and nearly all of them have been playing and contributing since they were freshmen.
"These young guys contributed the minute they got to our field," Spartans Manager Paul Barrios said. "It's basically a junior staff, and these are the guys that we are looking to help us. The guys are coming and making a contribution, and we just need to keep the guys upbeat and getting better. Playing in the summer and fall has made that much easier."
The Spartans have played a lot of baseball together as a group, and they have seen it all on the baseball diamond. Whereas most younger players on a varsity squad are still getting their feet wet and adjusting to the speed of varsity play, these guys have already gone through those trials. As an example, the team's starting first baseman Kian Anderson is only a freshman, yet he already has two full seasons of varsity playing experience. On this team most guys make the jump to this level earlier than most, and that bodes well for the future that is now beginning to become the present.
"With us not having a JV team but having a middle school team, we have done a pretty good job of that," Barrios said of bringing guys into the varsity mix. "Our leaders will be here for this year and for next year as well, and that is guys like Kian, Jose Oronoz, Juztin Gross, Jordan Sale, and Jesse Grosman. We have a lot of young talent that I can't wait to see develop. There is time for them to grow physically, and the biggest thing is the mental part where they learn how to prepare."
The Spartans coaches talk about everything in working to prepare their players for the mental aspects of the game. Talk ranges from nutrition to the approaches at the plate. The guys are all athletic, and absorbing the mental side is where the maturing process comes along. Coach Barrios focuses to make sure they understand how to maintain an approach at the plate so that guys do not let a 0-for-2 start to a game turn into an 0-for-4 game or an 0-for-the-week. He reminds guys that they may go hitless their first three at bats and then come up again with the bases loaded and a big chance to change the game. He reminds them that nobody remembers the previous three at bats after a guy drives in the winning runs with a big hit.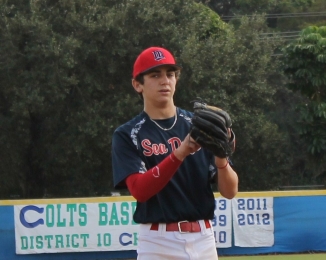 "It is just about becoming a smarter baseball player and being totally confident," Barrios said. "You have to have thick skin and you have to forget quickly. It's a great game and it's not like football where you wait a week to play; you play the next day or the day after. Today maybe you don't contribute, but the next day maybe it's you."
Barrios admits the most rewarding part of his job is watching when a guy reaches that moment where the light bulb comes on and a guy steps up and he's got it. That guy steps into a big moment in a game with a clear focus and understanding of what it takes to execute in that situation, and then they follow that approach by making it happen that way.
The team graduated eight seniors from last season, and a year ago at this time almost none of the guys on this current roster were even expected to fill such prominent roles. Yet as last season progressed, the coaches were pleased to watch so many of those young players rise to the occasion and prove that they are the ones who can be counted on most.
A great example of this evolution comes in team leader Juztin Gross, a junior who has risen to assume the role as the lead pitcher on a deep pitching staff. The right-hander is a bulldog on the mound, fearless against any opposition and also a natural leader. Barrios admits that Gross has to be one of those type of guys for them to succeed, and his demeanor perfectly exemplifies what the coaches are looking for from the guys.
"Confidence definitely plays a huge part in it," Gross said. "Not being cocky but still knowing you can trust your stuff and throw it in tight situations is huge, and also knowing that you're going to get the help from your defense and that the catcher is going to do his job as well. Its nice having guys behind me that I can trust everyday. I don't feel like it adds any pressure or gives me any power over anybody, but it reminds me to do my thing everyday and set a good example for the team. I allow that to be my way of acting as a leader; not being really vocal with the team but letting my actions speak louder than my words."
The rest of the pitching staff is also gaining plenty of confidence. The team has a very deep crop of capable arms they can turn to, and everybody is going to pitch this season. It helps having that much depth, and the team took advantage of that by playing guys all over the field throughout the fall in preparation for the season. Guys have gotten used to multiple roles, and it has made the playing experience that much more fun knowing they are all capable of helping the team in numerous areas.
Another example of this comes in sophomore Jordan Sale, a third-year starter who is a key member of the rotation and also the club's starting shortstop.
"Jordan Sale is still young and he's only going to get bigger and stronger," Barrios said. "I would love to get more innings out of him, but he is going to help us either at the top of the order or at the very bottom of the lineup. He can move anywhere, so that's the guys we've got to have. We are a small school so these guys have to learn how to play all over."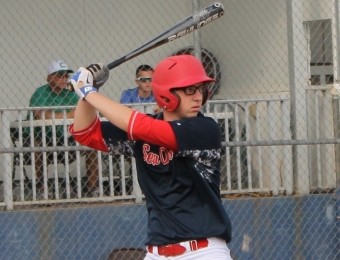 Despite coming from a smaller school, the roster has plenty of depth at key positions. As many as seven guys can be counted on out on the mound, including junior Jose Oronoz, the freshman Anderson, and also sophomores Jesse Grosman, Colton Katcher and Patrick Basile.
"I think it helps the team overall to know that nobody has to feel like they need to go out there and throw a complete game," Gross said. "We have enough guys where we can piece together a game when we need to. If a guy is tired or if he doesn't have his best stuff we have guys behind him to support him. It also helps to take some of the pressure off of the older kids on the team that have been pitching for a few years now. We're letting the young guys get some experience in tense situations, and I feel it is beneficial to have a bunch of arms that are ready to throw everyday."
The team is also deep at the catcher position, where Gross will share time with sophomores Austin Pollack and Griffin Sennett. Katcher, Basile and newcomer Brian Macias figure to lead the outfield corps, while the infield will typically rotate based upon what guy is on the mound at any given time.
"These guys have to be versatile and they have to carry three gloves around," Barrios joked. "They all have to learn how to compete, because our district went up to seven teams with SLAM in there now. What I like about our district teams is they all have great coaches. It makes it tough for the district tournament but it makes it fun. I love it, and I also love our conference that we play in. But our guys have got to be ready for all of them too."
Another aspect that has Barrios more excited for this season comes in the addition to the coaching staff of Chuck Sennett as Director of Baseball Operations. Barrios will serve as the Associate Head Coach, a slight change in his role in the program but one that he feels is a perfect adjustment. Coach Sennett will handle more of the outside baseball operations, while Barrios will be able to focus more of his time directly to the matters on the field of play. Both bring so much to the team, and Barrios also jokes that now Coach Sennett can play the 'bad guy' role and he can be the nice guy this year.
"Coach Sennett and I are both guys who see the glass as has full each time, so if that doesn't rub off from us I don't know what. It has to," Barrios said. "The ceiling is high for these guys, and these guys have come a long way from when I first got here. The work ethic is there. The mental part is what I have to get to these guys."