Mourning Bringing Along A New Core Of Stars
When Mourning Manager Edwin Bonilla first met with his young new team this fall, one of the first things he told them was to give him two years and they can win a district title. After losing a large portion of the guys from a season ago, the Sharks will field a younger roster this season. There will be growing pains and guys are going to learn and mature from them, and Bonilla is hopeful by this time next year they will be more mature and ready to chase after a district title. The ultimate goal is a state championship, but the shorter goal is to win the district.
"It's a brand new squad, a brand new team. It is like night and day and we lost a lot," Bonilla said. "We still have potential and early in the fall it was hard and frustrating. This is my fourth year here, but if it was my first year I would be more frustrated. But right now I am calm and more laid back, and right now we are just trying to find our leaders. We have no seniors on the team and it's still kind of hard right now."
Last season culminated with seven seniors graduating from the program, all of them starters. The team was competitive and united, and it marked the end result of a long process they had grown through together to reach that point. In many ways, Bonilla understands that it is like the dial has been reset and they must do that all over again.
"It makes me understand more of what we need to do to get to that level again," Bonilla said. "At the end of the day I think these guys will gel more and the chemistry will be a lot better. Right now they all show up and they're all motivated, and after school at practice we will do two-a-days and they are motivated to do it. I think in a couple of years they will know what our work has been about and it will take them a long ways."
It can be more difficult to step forward as a leader amongst your peers. Typically the guys who set the tone for a baseball squad are the oldest and most experienced guys on the roster, the veterans who are familiar and comfortable with the system. But for the Sharks, there aren't guys like that so some of the younger players have worked to step forward and set that proper example. Part of that role is based upon performance on the field, and with so little varsity experience returning that has limited the options even further.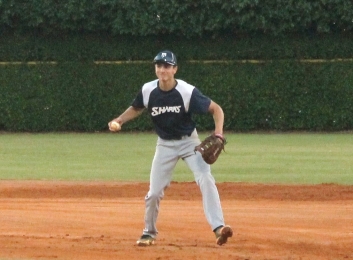 Even when he came into a similar situation in his first year coaching the team, that process was helped a lot by the team's lone senior step forward to lead the way. The main guy Coach Bonilla has leaned on to set the tone is sophomore shortstop Jim Varona, a Derek Jeter-type who has not found as much voice as he has in showing what he is capable of when on the diamond. Varona will also be the team's go-to guy on the mound, a guy that Bonilla has confidence to throw a strike and get an out when they absolutely need one.
Another guy that Bonilla is counting on to step up and set the tone is sophomore catcher Max Liff. Bonilla sees enormous potential for Liff to grow into a great high school baseball player over the next few years, and already he is showing the sort of leadership qualities that come with that. He is vocal and attentive, and he helps keep everyone on the same page.
"Together as a team we are like a family, and usually we work really well together," Liff said. "The pitchers have been doing good but the errors have been what are killing us. We just have to brush it off. Our coach tells us to just turn the page. If you make an error or even if you make a good play, forget about it and move on and go play by play."
Bonilla accepts that the team has to crawl before it will walk and then eventually sprint. The key at this stage is to establish who the primary pitchers will be. There are several guys who have thrown well this fall, and the coaches are just trying to decide who the main arms will be. The versatile Varona will be used all over, while Brandon Rios is figuring to be the team's ace. Marcel Guadarrama, Anthony Antigue and newcomer Thomas Blythe are also in the mix.
"Really the only guys who pitched last year were seniors, so it has made it hard for us this year," Varona said. "The pitchers this year have to step up and I'm trying. Last year I pitched a lot on JV and I felt good pitching. I just try to throw strikes and be on the same page with my catcher. Max and I both started off the same year and we're really good friends, and I think that chemistry helps because he knows what I like to throw. I know what he likes to call and where he likes to frame it, and I think it helps a lot."
Liff agrees that it really does help what good friends they are. During games, at practice and even outside of the practice the guys are all friends. It is not just with the pitchers, but with everyone that he feels this friendship, and then notices how it shows on the field of play.
"Really there aren't a lot of pitchers on this team that I haven't caught for," Liff said. "Last year we played together all over the summer and all this fall we've been playing together. We have a lot of young pitchers, but they work hard. Really it is a lot of communication between us and we all have close bonds. If you want to go up and talk to a guy on the mound, it is hard if you aren't close. But since we are all really close we can talk to them as friends."
It's a tough position for these young guys to be thrust into leadership roles, but is also encouraging to know the coaches have so much faith in them even as younger players. It sets a good example for the other young guys, as many of them will also get their chances this season. Brandon Sims, Blythe, Christian Abreu and Sebastian Nunez are all younger guys coming up from JV this year. Michael Mendez is another guy who started a couple of games for the Sharks last year, and he got a big hit against Fort Lauderdale to help them win that game. He'll be playing a lot now this year in the infield.
Bonilla is confident in the guys who are coming up from the JV squad. They have always proven themselves in the past, and often quickly grow into prominent roles.
"Jose Marquez is a guy who came up late from JV last year," Bonilla said. "He is a great kid who wants to get better and he is getting better. He is going to be one of the outfielders, and right now he is our centerfielder. He has good speed and we're looking for him to lead off for us and put the ball in play. He's a scrappy hitter and he's real smart."
The focus right now is simply for the team to find its identity. Bonilla is intent on getting the pitching and defense in place, and allowing the hitting to come along. Last year the team thrived on its pitching and defense, and it helped them beat some good and established programs. This will always be the focus area for Bonilla and his teams.
To help build the team chemistry with this new group, one of the things they did this fall was to band together on Thanksgiving morning to help feed the less fortunate. Coach Bonilla wants to promote the lessons to his players that they should be grateful for all that they have, and always be willing to give back to their community. For the past four years the Sharks have donated their time in this way on Thanksgiving, and now the new players understand a little more what they stand for as a program.
Now the Sharks simply need to grow together on the field, and learn how to win together. The bond is there and the chemistry is strong, and it sets a nice foundation for the success they hope will come. The players work well together and are true friends.
"We communicate with each other, we talk to each other and we pick ourselves up. That's just the key to winning," Liff said.