North Miami Beach Returning Most Of The Roster
Every time the North Miami Beach baseball team takes a step on the field for a game or practice they take a step forward. This is what third-year Manager Alex Rodriguez preaches to his guys, and they are doing it. They are nowhere near where they want to be yet, but every day they come out to the field is another move in the right direction.
The Chargers only graduated three guys from a season ago, and they return a lot of guys this season. But they only return one senior on the entire roster in four-year starter Danny Perez, and overall they are still very young. It is a strong junior class, led by Edwin Medina, Eliakin Brown, Jesus Morel and Jose Abreu. Most of the guys are still learning the game and the team focuses on fundamentals in its approach.
"We've got to be solid with our pitching and defense to keep us in games," Rodriguez said. "We've got to learn how to have good pitching, not beat ourselves on the mound, good defense behind them that make the routine plays, and on the offensive side how to manufacture runs. We have to get the leadoff guy on, move him over and drive him in. It's going to take a team effort on the offensive side to put up runs. But right now my concentration is on the bump and on the defensive end."
Rodriguez brings a very disciplined approach to his craft, and he demands his players push themselves and hold themselves accountable for every action. There is a mutual understanding that there is a learning curve taken into consideration just as much as there is the expectation that guys are not going to make excuses for themselves. This current group seems to handle that balance just right.
"Coach is strict, but it's a good strict," Perez said. "We have to play his way so we can win games, because unfortunately we don't have the best talent. If we play his way we are able to come out with victories."
A lack of a junior varsity squad hurts the program's ability to groom and instruct guys at the lower levels. Many guys give it a chance after playing football, and only some of them have any baseball experience. Most are picking up a glove and bat for the first time, learning the basics as quickly as possible. Thankfully the school will start to field a JV team beginning next season.
Rodriguez and his staff continue to be rewarded by the progression of their guys. Abreu is one example of a guy who worked hard in practice and learned what the coaches are implementing, and then applied that during games in the fall. As a result Abreu is working his way deeper into the lineup, and setting an example for other guys working to improve and impress the coaches.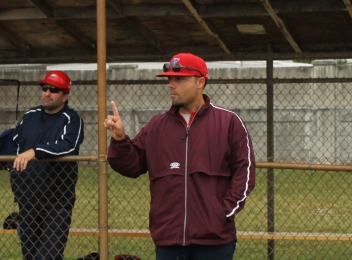 "When we first started in the fall it was rough," Rodriguez admitted. "I had guys not in position where they needed to be, which again comes with the lack of experience. The walks were up and we were hurting ourselves on the defensive side. But as the fall progressed, it got cleaner."
The guys work hard, they show up and they understand what the goal is every year. They understand what it takes to get there, and it's just a matter of continuing to progress day by day and that goal will get closer and closer as the year goes by. Like every year, their goal is to get into the district playoffs. The Chargers have missed that opportunity the last couple of years and have been that fifth seed in a district that only takes the top four clubs. So now they are trying to crack that group and get in and then hope for anything to happen once they get in.
"I would love to say that our goal is to go to the state championship, but right now we have to take our first step forward and make the playoffs," Rodriguez said. "It is something that we have not done in quite some time, and once we get that foot through the door anything can happen. But we have to get our foot through that door first, and that's something we haven't done yet."
It is a tough task to ask such a young team to make that push, but it is also exactly the type of challenge they welcome. The team has the right type of leader in Perez, a guy who Rodriguez says embodies the concept of always taking a step forward. The senior is the team's number one pitcher on the mound and hits in its three-hole in their lineup. Perez is versatile enough to play all the positions in the infield and is the team captain.
"Danny's a great student and a great leader for the team," Rodriguez said. "The guys feed off of his energy because he brings it every day. When Danny first came to us he knew very little about the game, but he was eager to learn and he worked hard. He's a good example of what we are trying to achieve as a team, and it would be wonderful to have more like him."
Perez is a great example of where the rest of the guys can reach. He started baseball for the first time in his life when he was a freshman, and he was one of three freshmen to make the team. He was happy just to have made the team, even though he did not get much playing time to start that year. Now coming into his senior year Perez plans to lead his team to something he has not done since he first joined the team and that is to get into the district playoffs. This goal is very important to him.
"The team this year is very young so sometimes I feel like I have a little bit of pressure on me not to mess up," Perez said. "The guys on the team look up to me and they follow the things that I do, so it's very important for me to be a leader. It's been a good time so far and we had fun playing in the fall season. We have won just playing the game, whether we were losing or winning. We joke around a lot, even if the freshmen get out of hand."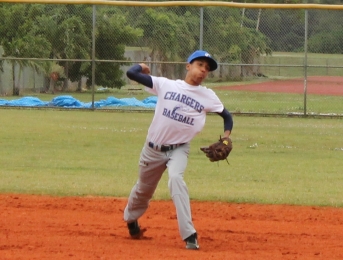 In fitting fashion the team also has a bright new freshman on the club who is quickly making a name for himself in Manuel Santana, the Chargers' new shortstop. In a sense, Perez is able to pass the torch in his final high school season to another guy with the potential to start the next four seasons for the team.
The infield is where the defense is growing strongest. Jesus Morel is in his second season at first base, and is also hitting second in the lineup. Meanwhile catcher Eliakin Brown has done a nice job of keeping the ball in front of him as he continues to make progress from a full season behind the dish.
The Chargers do not know just what their true identity will be come season's end. The foundation is beginning to harden into place and the future is bright. The team knows this could be that season it finally returns to the district playoffs, and every action is working towards making that goal a reality.