Varela Focused On The Game, Not The Opposition
Varela Manager John Barbato reminds his guys that they are only playing the game of baseball. They are playing high school baseball and it does not matter who they are facing; the game is the same all the time. When the guys are on the field they need only to remember that fact and play the game the way they have been taught.
Barbato is in his 29th year of coaching, after getting his start at Coral Park in 1986. He is in his 12th season at Varela, and has been the Manager of the program for the past nine seasons. He is a graduate of Columbus and has been involved in the South Florida baseball community nearly all of his life. He has been coached by the best, and he tries to do them all justice by passing on what he has learned.
"I have been fortunate to have some very good coaches mentor me," Barbato said. "That's the thing is that you hope to teach them the right way. Then one day when it comes time for them to make a decision, hopefully because of mine and the assistant coaches mentoring they will make the right choice. That's what it's all about."
The Vipers compete in one of the area's toughest Class 8A districts, and the right mental approach to their tough schedule helps keep thing sin perspective. When the team travels to Homestead to face defending 8A state champion South Dade, they need to remember that they are still just facing another high school baseball team.
"If you play the game the right way you will always have a chance to win no matter who you are playing," Barbato said. "A lot of kids get intimidated because of who they are playing and they forget they are playing the game of baseball, and what we try to teach is to just play the game of baseball and let everything else fall into place."
Barbato understands that baseball is a game of failure. He teaches his guy that they do not want to accept failure, but to learn from it and move on. In this game they are always facing another team that is trying to beat them just as hard as they are. Far more is learned from a loss than from a win, but Barbato also jokes that he doesn't want them to be the smartest guys out there either.
The players embrace this respect for the game. It goes hand in hand with respecting themselves and their parents and classmates, and they carry themselves with a fair amount of poise and dignity. The guys are a tight group with great team chemistry.
"If you notice we're very together and we're like a family," senior JC Garcia said. "Everybody has friends, but when we go out we go out as a team. We're always together at somebody's house, looking at film or whatever. Hopefully this brings us some wins this year."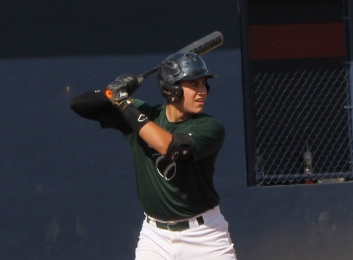 Garcia returns to the team this season after leaving the team during the 2014 campaign for personal reasons. The shortstop is a scrappy player who has grown and matured from his tough experiences last year. He has realized how quickly it all can be lost and he has learned from his mistakes and been welcomed back to the squad. Barbato welcomes his vocal leadership and presence on the infield defense, and he believes Garcia could play on the right side of the infield in college someday.
"It's amazing to be back with the team," Garcia said. "I had a bad year last year and I didn't get to play, but this year we're going to make strides and hopefully be a state contender. I'm one of the seniors and it's my last year, and I've been a captain since my sophomore year, so we're just trying to help the young guys become good players. They are great and they all listen. Any of the small things they all follow, and it's great having a team that you can just tell them and they just follow like it's your kid or something."
The squad has its fair share of leaders. Some are quiet guys who bust their butts and lead by example. The core four guys on the roster are juniors who burst onto the scene last season, including center fielder Chris Allende, right fielder Tony Mejias-Rivera, catcher Hector Vazquez and starter Chris Gomez. These guys all help solidify key positions on the field and in the lineup.
Gomez is the front guy in a very deep pitching rotation. The club has as many as four guys who could handle a heavy workload, and there may not be enough innings to go around. Barbato believes this is the deepest pitching staff he has ever coached and that this fact has him as excited as ever. This group includes seniors Nicholas Leon, Joshua Rosquet, Krystian Negron, and junior Franco Velasquez.
"We were young last year, but we have a lot of arms this year and we should be really strong," Negron said. "We have a lot of strong arms and a lot of versatility. My role is just to help the young ones out, to teach them and help them with anything they are doing wrong. I just do whatever I can to contribute to the team and they put me wherever they need me. I'll do my job wherever it is. It helps a lot knowing anybody on your team can come out behind you and shut them down."
Negron is a four-year player and second-year starter, and he embraces his role as one of the veterans on the club. The guys all get along very well together, and they seem to understand how important that unity translates into success on the field.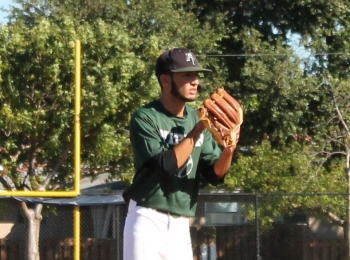 "We're a family over here," Negron said. "We go out together and we are always at each other's houses. We are always going out to eat together and before game days we are always together. We've been working hard and we all have a goal that we want to reach the state championships, and we're willing to do whatever it takes to make that happen."
Barbato admits he would be lying if he claimed he doesn't want to win a district championship. He feels this is how every coach should feel and it is the reason they spend the long hours with their programs. The goal is a state championship, and that starts with winning the district. To win the district they have to first qualify for the district playoffs. They have to reach one plateau at a time and take it from there.
"I'm excited about this coming season and to see what these guys have become and how they have been improving after working hard all fall," Barbato said. "The time in the weight room is important in the offseason, as well as taking case of your body and your arm. I think they are all starting to understand that and realize that, and that is all a part of the maturation process. It doesn't always happen over night, but it is starting to happen. Hopefully we can be even more competitive than we were last year."