American Not Content With Just One Title
What the American baseball team was able to accomplish last year was special. Returning to the state tournament for the second straight season and the third time overall under Manager Ricky Gutierrez, the Patriots finally returned home with the state championship. The team had pushed all year long with that goal on its mind, and finally it had realized that dream to bring home to its community.
As everyone knows, nobody knows how to celebrate something like they do in Hialeah.
The party only got bigger and better as the state tournament wore on, as a record four Miami-Dade teams won a state title. With the excitement enhanced to include the entire county, the faithful Patriots fans only became more proud for their team.
"The whole community was ecstatic that we won a state championship in baseball," Gutierrez said. "It was tremendous. It goes to anyone that ever went to the school and played baseball, including myself, and it was a lot of years coming to bring back that trophy. A lot of alumni have reached out to us and were happy about it."
With the big accomplishment comes the responsibility to live up to the reputation as a champion. American got a taste of that during the fall. Teams came to play them this fall, even though it was only fall baseball. The players cannot hide that American name and logo on the front of their jerseys. They won it all, and now teams want a chance to beat a champion.
With this added challenge also comes the positive reverse aspect of knowing the team has done it once already, and that it is capable of doing it again. Last year they went to the state tournament in Fort Myers with confidence, after getting the experience of playing there the year before. They did not panic; they simply focused and executed. Now the trick is to harness that same mindset and go back to work.
"This year we have a lot of guys who played but who weren't starters, and they went through the battles and know what it takes," Gutierrez said. "We have a real talented team, but we just don't know who is going to do what. We don't have that Ronnie Williams from last year, but we still have good pitching and defense. If the bats can come alive we can score runs, but I really focus on pitching and defense. That won a lot of games for us last year."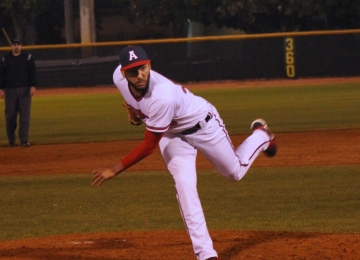 Gutierrez likes to live and die by strong pitching, and this season the Patriots are aided in this department thanks to the addition of several solid new hurlers. Senior Danger Guevara comes over to the squad from Mater Lakes, and he figures to fill the role as team ace vacated by Williams. John Ham also joins the squad, solidifying third base and adding more depth to the mound, where he teams with strong returners such as Mike Rodriguez and Mike Diaz.
The offense has some solid holdovers, as well as few big additions. Senior second baseman Johny Jhones comes to the squad from Goleman, while Gianlucca Borelly, Ariel Lauries and Victor Cabrera slide into more prominent roles. Left fielder Mike Montes also joins the team, bringing a lot of pop and ability with him.
Last season American excelled playing behind its big established star in Ronnie Williams, and the season before that it had done the same with slugger Kendrick Gutierrez. This time around the club again has a high-profile player that captures the spotlight and leads the group, and this is senior shortstop Roman Gonzalez. Gonzalez led the team in hitting last year, and he hit with a lot of power. He learned from those guys ahead of him and is ready to be a leader for his squad.
"I try to follow in their footsteps," Gonzalez said. "I'm not a ra-ra guy and I don't like to talk. But I lead by example and hustle and lead the team. Last year we had a really special team. We had a lot of guys leave, but I think we can repeat. We just have to do what we do."
Gutierrez admits that they will lean heavily on Gonzalez to lead them all year. Although he is a quiet guy, he leads by example by the way he goes about things and the way he swings the bat and plays defense. The team feeds off of him, and for this reason Gutierrez has moved him up from clean-up into the leadoff position in the batting order. The move to shortstop also comes after Gonzalez played third base all last season, which helped to solidify the team into a champion-caliber defense.
Both changes this season were more than welcome by the big team captain.
"They still want me to hit the same way as I did last year, so I have the same mindset," Gonzalez said. "Being the first batter you get a lot of at bats, and they have to attack you. Shortstop is my natural position and I'm happy I can play at short and show what I can do there too."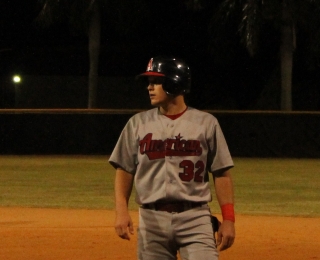 What he just may do is play his way to the point where Gonzalez will hear his name called in the June Pro Amateur Draft. American is no stranger to this, after Ronnie Williams was drafted in the second round last year. Coach Gutierrez also enjoyed a lengthy professional career in the Major Leagues.
"Roman works hard and all the pro scouts are after him," Gutierrez said. "So the sky is the limit for him. Roman has to have an outstanding year for us to go anywhere."
Gutierrez knows that there will be ups and downs throughout the season, and his teams typically put it together after Spring Break. That is usually then the guys come together and tighten up to play their best baseball. It happened the last two years, and that ultimately led to an experience that none of them will ever forget.
"Last year was something special for us," Gutierrez said. "We got big hits when we needed it and we pitched incredible. We had a goal when we started out the year and we finished it. This year we have the same goal and we just have to see what happens."