Miami Beach Shuts Out North Miami In District Opener
Thursday's district opener was a big moment for both the North Miami and Miami Beach baseball programs. After the Hi-Tides had to take the long road to reach the district championship last year, the club has focused on putting itself in a better position this time around. Meanwhile, the Pioneers were playing their first district game after competing as an independent for a long time.
With great contributions from some key players, the Hi-Tides rolled to a convincing 10-0 victory on their home turf at Miami Beach's Flamingo Park. Starter Blake Brattain tossed a complete-game no-hitter in the contest, which was concluded via the mercy rule after five innings. The Miami Beach offense backed Brattain with 12 hits against a tough Pioneers starter in Victor Sam, as every starter reached base on the afternoon. The Tides now find themselves with an early leg up in 8A-14.
"Our mindset today was just thinking about going 1-0 in the district," Miami Beach Manager Willy Baez said. "We were not worrying about next week and who we are playing in the district, but just focused on North Miami. You have to give them credit for their pitching, because he is a good pitcher there who can keep a game close. You never know if you come in sleeping and you are not waking up for this team, and they will take care of you."
There could be no better host location for the special occasion than at Flamingo Park. This baseball landmark that has been the home to three pro teams during Spring Training decades ago, and dozens of local stars in the generations since. The stadium was originally built in 1925 and then rebuilt in 1967, and the echo of so much great baseball that was played there over the years seems to fuel the action every time out. So it seemed only fitting that new Pioneers Manager Antonio Alfonseca began his head coaching career on a field with Major League ties, as Alfonseca is a former MLB pitcher.
North Miami is a young team with many guys who are still learning the game. While the game had significance for historical purposes as the club's first district contest, to the players all the excitement was simply in being able to come out and see their first action of the season. Alfonseca and his assistants Hector Arroliga and Giovanni Obando were eager to see guys in action too, willing to anticipate some mistakes while seeing what their young guys can do in live play.
"I'm here to teach the guys, and a lot of them have only played football," said Alfonseca. "This team has only had two weeks of practices, and they can't do anything right now. They need more practice every single day and then they will be more ready. So this first game we are taking it as just another game. Nothing will happen yet."
Miami Beach (2-2) took control early with a pair of unearned runs in the bottom of the first, and it never looked back from there. Gabriel Cooper led off the second with a shot deep to center field for a triple, and Osmey Diaz sent him home with an RBI knock to right field. An infield error extended the frame and the Hi-Tides tacked on three more runs to pull out with a 6-0 advantage. Trent Bryan had an RBI single and Themi Pineda followed that with an RBI double.
Pineda led all hitters by going 3-for-3 with a pair of doubles and two RBIs. Bryan was 2-for-3 with two runs, and Cooper and Eduardo Rodriguez both scored twice.
The Hi-Tides found plenty of holes in a young Pioneers defense, but still had to do plenty of work against the tough right-hander Sam. The senior went the distance in the loss, surrendering just one earned run and also issuing just one walk. Sam recorded five strikeouts, and threw 64 of his 106 pitches for strikes.
Part of the challenge and reward of Alfonseca's new job is to work to help guys like Victor Sam get a chance to play at the next level. Alfonseca appreciates the chances that he got in his life, and now he is working to help other guys get their shot too. There are four seniors on the squad this year to work for; and the rest of the guys are mostly young with a lot of time to progress them.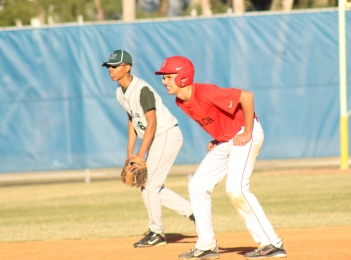 "Right now Victor Sam is the number one prospect for me and for the school," Alfonseca said. "I am pushing him so more people can see him. I just tell him to throw the ball and what happens in the back to just let it pass. I want to push him more, and not just for him but for the whole group. If he throws the ball like he did today, any team would want to pick him up."
Sam also drew a pair of walks in his two plate appearances, the only guy to reach base for the Pioneers. Brattain was consistent in finding the zone, leading to 13 strikeouts for the junior right-hander. With Brattain locked in zone, the defense was rarely needed.
"It was a North Miami team that is well-coached, and maybe the talent is not there yet but he is working hard," Baez said. "Like I told him after the game, we had our bumps our first year and we only won like three games. With the hard work they will get around."
The Pioneers showed some promise with its young group. Freshman third baseman Abraham Arroliga made a couple of nice plays on hard bit balls right at him, snaring a liner in the second and then getting a nice glove on a roller along the chalk for a 5-3 putout that ended the frame.