Norland Has Plenty More To Show
It was a special season last year for the Norland baseball team. The program had been down for a while and interest in baseball just wasn't evident at the school. Then last season a young team followed the charge of its senior ace Cleveland Westbrook to post a winning record and play some fine competitive baseball.
Suddenly there was a buzz about the community, and the joy of baseball was washing through the Norland scene. Much of the buzz focused on the amazing hurler Westbrook, who posted incredible pitching numbers as the team's big-game horse. But behind their star, the rest of the team showcased a lot of talent that showed what they truly had altogether.
In his third year at the helm, Manager Dave Dresner was stating to make his mark with the program. Any regular Vikings fan could plainly see that this was a deep and talented team. There proved to be plenty of fans, too.
"Our school is coming out to support us," Dresner said. "It was good to see 40 or 50 people come out for a home game last year. That was the first time that happened since I have been here."
Westbrook is now gone, leaving one last important lesson for his former teammates with his departure. The impressive right-hander impressed a scout and earned a scholarship to Jacksonville University. That final lesson is, get good grades, work hard and you could play college baseball too.
It also doesn't hurt to have a blazing fastball.
The club does not have that one dominant player anymore. But what it does have is a deep and balanced roster, with more experience and a world of potential. The Vikings very likely will be even better than the team they were last season, and meanwhile most of the guys are young and will be back for another season or two. This includes all of the team's pitchers.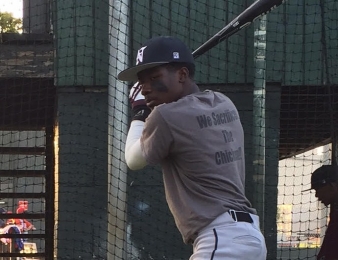 "Maybe I lost a fire-thrower, but I gained four solid pitchers," Dresner said. "We don't have our All Star anymore but we've got some up-and-coming guys. I'm happy about having more room to grow with younger guys. That's why those other teams are successful year in and year out, is they have infrastructure."
Norland has four guys who will see the majority of the time on the mound this year. Veteran Brandon Carter figures to lead the way, with Jhon Cruz, Max Gordon and Tyrone Miller also in the mix.
Speed is a big part of what the Vikings do. The team runs a lot on the bases, and this speed and athleticism shows up in much of the defense too. Since many of the guys have now been playing for a while for Dresner, they have harnessed their natural physical ability into making baseball plays. With execution has come confidence.
The Norland lineup may not showcase a recognized All Star yet, but the truth is there are plenty of guys in the batting order that are capable of changing that opinion. Junior catcher Dillon Belle headlines the offense, and is the general for an infield that includes newcomer Khalil Harris, Ishmiel Bellamour, Jahmarr Bien-aime and newcomer Dimitri Duverger. Junior Mehkai West also splits time at the dish, as well as serving as the designated hitter. The outfield group is equally deep, with junior centerfielder Roderick Lucas leading the way with senior Corey Wesly and freshmen Dwayne Hickman and Rigoberto Perdomo.
Part of building a foundation comes in the help you get. For Dresner he knows how crucial his coaching staff has been, as assistant coaches Andre Payne and Michael Jordan have proven their dedication and commitment. Payne has been coaching at the school for decades.
"We have a good coaching staff," Dresner said. "Those guys are right there for me and the team. We are all working hard. There is always work to do. We got to last year and now we look to get even further."
Norland fell in the district semifinals 3-1 to eventual district champion Miami Springs last season. While there is pride to be taken away knowing they played a tight and competitive contest, they also do not shy away from realizing the little mistakes that cost them runs.
"We lost by two runs and we had our chances," Dresner said. "We just did not get that big hit when we needed it. We have worked hard on our hitting, and coming through in those big moments in the game. We can get guys on base, but they can't score on their own."
Norland is heading in the right direction, and as a team they are unified and committed. It is a team that is coming into its own and starting to play some solid, consistent baseball. They are starting to win some games, and now they want to take that next step and win playoff games.
"We're not celebrating until we are on the bus, finished with districts and on the way to regionals," Dresner said. "There are small victories. Baseball is great and it's an individual sport, but as a team we are not satisfied until we are on that bus. There are no pile ups. Baseball is real at Norland, we just have to keep proving ourselves. It's a good motivator."