Goleman Takes 6A-15 Lead With Win Over Mourning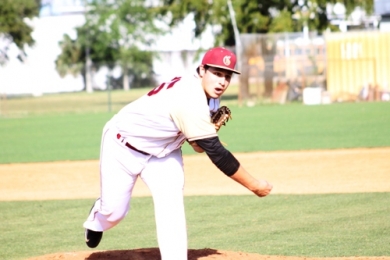 Photo Gallery
Goleman and Mourning came into Wednesday's match-up as the top two teams in 6A-15, and something had to give. Goleman sent Ricardo Garcia to the hill to oppose the Sharks captain and ace, Brandon Rios. The two pitchers dueled for four innings, and in the end it was the Gators who came away with a 2-1 victory, and sole possession of the top spot in the district.
"Today was a battle," said Goleman Manager Jose Lopez. "It was another step in the right direction for us, but we have no time to rest; we face a much-improved Norland team on Friday."
Goleman was coming off of a week in which it fell behind to Broward's number one team, Archbishop McCarthy, 7-0. The Gators, however, rallied for seven runs in two innings, and although they eventually lost, the team gained a lot of confidence from that game.
"That game was big for us," said Garcia. "We never gave up, and that gave us a lot of momentum and confidence coming into this week."
On Wednesday, it was Garcia who led the way for the Gators. After giving up a run in the first inning, he settled in and only gave up two hits the rest of the way. He finished the game striking out four of six batters in the sixth and seventh innings, preserving the 2-1 win.
"He threw the ball well today," said Lopez. "We spoke to him about the fact that he had not been as sharp early in games, and that maybe we need to get him going and warmed up a little more before games so he can get into a groove as the game starts. But later in the game, he really came on strong today."
Garcia threw a complete game, striking out six, while giving up only five hits.
"I knew I had the backing of my teammates today, as I have all year," said Garcia. "They had my back defensively, and all I had to do was throw strikes and let them hit the ball, and my defense did the rest. It was a team win."
Mourning, who came in with a chance to overtake Goleman for the district lead, had trouble all day with Garcia. The Sharks' batters made 10 of their 21 outs through the air. Their best success came in the first when lead-off hitter Jim Varona singled, moved to second on a one-out single off the bat of Marcel Guaderamma, and scored on an RBI base hit by designated hitter Alex Perez.
"It looked like we were going to get to Garcia early, but then he settled in and pitched a great game against us," said Mourning Manager Edwin Bonilla. "These games are important, but for us top four teams, it is really just about seeding. Any of us can beat the others when the playoffs begin."
Goleman answered Mourning's run in the first with a run of its own. Justin Bereneche reached on an infield hit, moved to second on a balk, stole third, and scored on a well-executed sacrifice fly from Thomas Hernandez.
In the fourth, the Gators took the lead for good when Kevin Gomez walked, stole second and third, and scored on a clutch two-out hit from Brandon Paez.
"I have been trying to work up the middle and the other way lately," said Paez. "In that at-bat, I was just able to get something out over the plate, and was able to drive it up the middle."
The Sharks had a chance to take the lead earlier, in their half of the fourth. They moved pinch runner Brandon Sims to third base with one out, but a suicide squeeze attempt was popped up, and Sims was doubled off third to end the inning and the threat.
"That's our game," said Bonilla. "We teach and play small ball and situational hitting. Aaron is one of our best bunters on the team, but the pitch was up, and he couldn't get on top of it."
The win moved Goleman to 5-2 overall, and 3-0 in the district. Mourning dropped to 5-2, and 2-2 in the district. Goleman plays Norland on Friday, while Mourning's next three games are against teams with .500 records or below.