Gulliver Breaks Through With 5-3 Win In Key West
Saturday night's HSBN Miami-Dade Game of the Week between Gulliver Prep and Key West had a little bit of everything for baseball fans. There were big hits, defensive gems, and enough tension to fill the air in Key West, where over 1,200 fans turned out for what has become one of South Florida's most heated rivalries.
After withstanding the elements of what many believe is the most hostile environments for visiting teams, Gulliver broke through for two runs in the top of the tenth inning, then held on to defeat Key West 5-3. The Raiders took control of District 4A-16 in the process, improving to 3-0 at the top of the district.
"We have not had any success down here in a long time," said Gulliver Manager Javy Rodriguez. "The kids withstood a lot of things tonight, and I am proud they were able to rise up and finally break through down here. We know we will see these guys again, but tonight was just a great baseball game."
The tension between the teams dates back several years, and with each match-up comes a different set of story-lines. On this night, the teams were not only being showcased in the Game of the Week, but they were also likely playing for the top seed in the district playoffs next month. That was a fact not lost on one of the heroes for the Raiders Saturday.
"We knew what this game meant," said Gio Soto. "We had this game circled for a long time. This was a team effort, and we knew that if we could win this one, we could set ourselves up for some big things later in the year. This game changes the rest of the season for us. The sky is the limit."
Soto played hero on several different occasions in this match-up. In the third inning, with starting pitchers Greg Veliz of Key West and Evan Kravetz from Gulliver cruising, Soto started the scoring with a two-run single to left.
"He has been coming up big for us a lot lately," said Rodriguez. "That triple really was the difference in the game."
The triple Rodriguez was speaking of came in the top of the tenth. With each teams squandering opportunities to win the game late, Soto led off the tenth with the three-bagger. Pedro Pages then singled Soto home, and later scored on a throwing error.
Even with the big game, Soto insisted he had plenty of help.
"Tonight was a team win," said Soto. "A lot of guys came through at different times of the game. No one player can take credit for this one; it was a complete team effort."
Things may have been different for the Raiders had it not been for highly-effective relief pitching and timely defense.
The starter Kravetz went the first 3.1 innings, and was relieved by Robert Touron, who gave up one run in 2.2 innings. From there, Davis Brown pitched an inning, and worked out of a jam that could have ended the night before extra innings. Davis walked Anthony Henriquez to lead off the seventh. After a flyout and a Henriquez stolen base, Andrew Freeman blooped a single down the left-field line.
With runners on first and third, and the score tied at three, Rodriguez decided to play his middle infield back. Chris Varela then hit a slow roller to second baseman Pages, who, along with shortstop Javy Valdes, turned an inning-ending double play. The throw to first retired Varela by a half step, and suddenly momentum that had been on the side of Key West for much of the game shifted.
"That double play changed the game," said Key West Manager Ralph Henriquez. "We thought we had a good opportunity to do something there, and when we hit into that double-play, it took a little out of us."
Once Davis finished his inning of work, he turned the game over to Valdes. Valdes moved from short to the mound, and threw two innings of shutout ball to pick up the win.
"We all knew we were going to have to be ready today," said Valdes, of the four Gulliver pitchers used in the game. "The coaches do a great job of preparing us, and letting us know when we will be used. Everyone that threw tonight did their job."
The Conchs had plenty of fight in them as well. As is the case with any heavyweight battle, this game had highs and lows for both teams. Trailing 2-0 in the fourth inning, Brandon Presley tied things up with a one-out base hit to left, scoring Veliz and Andrew Freeman. Key West took the lead in the fifth, when a Veliz sacrifice fly scored Carlos O'Farrill. In the sixth, Gulliver once again tied the game with a Pages walk, a Stephan Alfonso single, and a Brown groundout to short.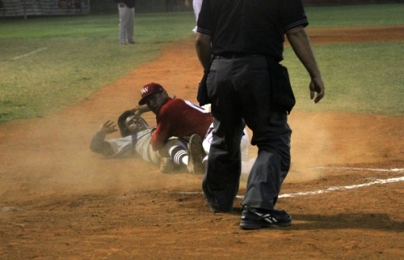 The score then stayed tied at three until Gulliver won it in the tenth. This was the second year in a row that the teams played a double-digit, extra-inning game, as last year's district title game went 11 innings.
"That's just the way the rivalry is," said Henriquez. "The teams are evenly matched, and we've come to expect these type games every time we play Gulliver. They got us tonight, but like I told my guys after the game, we will see them again, and we will be ready."
Key West will now turn their attention to next week when they face Homestead, before heading out West to play a Spring Break tournament in Arizona against some of the top teams in the nation.
Gulliver will continue their gauntlet of a schedule next week, when it goes on the road to face American Heritage Tuesday, and then hosts Mater Academy Wednesday.