Hialeah Educational Earns First-Ever Regional Berth
Hialeah is a city that loves baseball and supports its teams. This unique community has had plenty to celebrate with its baseball teams over the years, and on Wednesday afternoon it got a new reason for a fiesta.
In only its second year of district play and sixth year as a program, Hialeah Educational Academy reached a program milestone by earning its first regional playoff berth. The Bulldogs stormed past Sagemont for a 12-7 victory at Slade Park, advancing Hialeah Academy to the district championship while also earning the club a spot in regionals. Playing in front of a huge crowd of passionate fans, Hialeah Academy gave them more than enough to cheer about.
"This feels great. It was a lot of hard work, a lot of dedication and a lot of hours put into it," Bulldogs Manager Reggie Rodriguez said. "They played well today, and it was probably the best game we have had in two or three weeks. Now we are going to play a good team tomorrow in SLAM."
The Bulldogs (17-9) will face SLAM Academy in the district championship Thursday night, also at Slade Park. The Titans also enjoyed the same accomplishment on Thursday, winning their first-ever district game over Westwood Christian 12-2. Regardless of the championship outcome, history will be made on the field on Thursday.
"It's amazing to host districts at your home field," Coach Rodriguez said. "We got the community involved, the school is backing us up, the administration, and everybody comes and supports. We have a great environment and that is one of the reasons I wanted to host districts this year. Tomorrow is going to be a fun day, and either way we know we go on to the next round. But still, tomorrow is another big one and we are not done. So hopefully we have another great environment and we get it done."
The Bulldogs wasted no time in taking control, scoring five runs in the bottom of the first to take a lead they would never surrender. Damian Delgado sandwiched a single between walks to Danny Ramos and Kenny Goodrich to load the bases, bringing Tony Gonzalez-Fumes to the plate. The senior catcher delivered with a double deep to the right field corner to clear the bases and get the momentum working in the Bulldogs favor.
"First of all, I love hitting against pitchers in the stretch," Gonzalez-Fumes admitted. "I'm a guy that loves that pressure with guys on base, and my motto is middle and away. I'm a big guy so I know they are not going to pitch inside to me. I got one in the middle and I hit it the opposite way. It is a nice feeling to get things started for the team."
Angel Estevez and Brandon Valdez added RBIs in the frame to stake starter Miguel Rodrigez with a big lead. The right-hander did his part on the mound, keeping the Lions (13-9) off the scoreboard until the fifth inning, when Edison Rodriguez and Stefan Revelo delivered RBI singles to get their club on the scoreboard. Miguel Rodriguez earned the win, striking out five while allowing six hits and three walks.
Three of those hits belonged to Sagemont shortstop Luis Tuero, who went 3-for-5 with a run to lead his team.
Hialeah Academy put the game out of reach with a five-run fifth inning. Alfredo Barroso walked to lead off, and Aaron Rodriguez and Estevez both singled to load the bases. Brandon Valdez and Danny Ramos supplied consecutive sac-fly RBIs, and then Delgado reached on an error to keep things going and bring Miami-Dade's top hitter to the plate in senior Peter Baldrich. As he has done all season long, Baldrich came up big with his bat by clubbing a three-run home run over the left field fence.
Baldrich also enjoyed the thrill of catching the final out of the game, a moment that seemed perfectly fitting considering how much he has meant to the program during his career.
"This is my last year, and I had never won in districts before," Baldrich said. "Last year we got upset by Westwood, but this year we were able to pull it off. This is great. Alfredo Barroso and I have been here since we were freshmen and we have seen this team grow and grow. Last year Tony Gonzalez-Fumes came in and he has been able to help us, and we have a lot of great juniors too. They were all able to come up and produce good things today."
Barroso also had a home run, a solo shot in the sixth. Like most of the upperclassmen on the squad, the opportunity to attend such a unique school and also play on such a competitive baseball team has been a reward in itself. Now the club will be able to add its first trophy to its display case.
"This feels amazing," Gonzalez-Fumes said. "I love this school and it is an amazing place. I hope we just continue to win."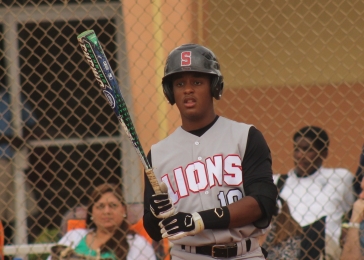 For Sagemont, the defeat comes one year after the Lions stormed their way to the district title themselves. This season the club came back with a much younger cast of characters, and even despite some growing pains the players showed they have grasped how to play Saemont-style baseball in how hard they competed on Wednesday.
Even despite trailing by a large deficit most of the way, the Lions refused to quit. Down to their final outs, the club rallied one last time to score four runs and threaten a miraculous comeback. Angelo Pagliuca and Chris Iacono had RBIs, while Pedro Martinez came up with a two-RBI single.
Although the comeback ultimately fell short when Baldrich caught a fly ball to center to end things, Lions Manager Wesley Morejon knew how important those efforts were for a young team that will return most of its guys next season.
"My main message was that we only have three seniors and we are young, so we're going to learn from the mistakes in this game," Morejon said. "There weren't many, and in a tighter game they might have been a much bigger deal. Besides that I just told them to battle no matter what the situation is. We had the bases loaded a few times, and it was more of a pitching thing that kept us behind. But we kept on battling. That is all you can ask, because anything can happen in the game of baseball."