Mater Academy Returns To Regionals With 8-3 Win
The Mater Academy Lions are the defending 6A champions, so there was nobody that was going to take them lightly in the 6A-16 playoffs. Unlike in previous years, however, Mater entered the district playoffs as the #4 seed, and on Monday the Lions had the task of facing the district's top seed, TERRA Institute.
Early in the year, TERRA sent a message when ace Frank Bartow shut down the Lions in a Wolves win. The defending champs, however, avenged that loss with an 8-3 victory in the district semifinal game played at Belen on Monday.
"I tell my wife in the morning every time we are in these elimination games 'This could be the last day of our season'," said Mater Manager Mike DiRosa. "And today was no different. This was the #4 team in Miami, and we knew they are well coached and we were in for a battle."
In the first match-up between the two teams, TERRA jumped out to an early 5-0 lead and then rode Bartow to victory. In the semifinal game, the Lions flipped the script, putting up five runs in the third inning.
"I think the kids came into this game with a chip on their shoulder because of how they handled us earlier this year," said DiRosa. "Obviously the runs early in the game were the difference in both games, and today we were lucky to be the ones that jumped on top."
The five-run inning began when Tyler Perez reached on an error, and moved to second on a wild pitch. Danny Reyes then singled in Perez with the game's first run. Alex Rodriguez drove in Reyes with a one-out base hit of his own. After a second out, Joey Jimenez doubled in Rodriguez, making the score 3-0. A two-out error allowed Jimenez and Deyvid Silva, who reached on a walk, to score, upping the lead to 5-0.
"That took a little wind out of our sails," said TERRA Manager Ernie Padron.
The Wolves fought back in their half of the third, scoring two runs without the benefit of a base hit. Yasser Santana and Nick Lopez both worked walks, and later scored on an infield error.
With the Wolves back within striking distance at 5-2, Reyes changed the game in the top of the fourth when he delivered a two-run home run to left-center.
"That home run was a back-breaker," said Padron. "We score two runs, and then you hope to go out and have a shut-down inning and keep momentum, and that didn't happen today."
For Reyes' part, he knew exactly what he was looking for heading to the plate.
"I saw in the first inning that they tried to come inside hard," said Reyes. "When I went up there the second time, I said to myself, 'If they come in again, I am not going to miss it this time'."
Reyes' blast extended the lead to 7-2, and from there the Lions turned it over to their ace, Kevin Fuentes, who had an interesting stat line for the game. He gave up no hits, but walked nine batters.
"Kevin didn't have his best command today, but he was effectively wild," said DiRosa. "And it says something that he didn't have his best stuff and was able to work out of some jams by making big pitches."
In the fifth, Fuentes ran into his biggest threat of the day. TERRA batters patiently worked two walks, and two hit batters cut the lead to 7-3. Like they had done so many times this season, the Wolves were poised for a comeback. That is when DiRosa went to his bullpen, and brought in Perez.
The junior proceeded to get the two biggest outs of the game, both by strikeout, escaping the bases-loaded, one-out jam with no further damage.
"I knew at some point I would be pitching today if Kevin needed some relief," said Perez. "I was just trying to hit my spots, and I was able to do that."
Perez then closed out the game with two innings of one-hit ball.
"Tyler did what we needed him to do today," said DiRosa. "He worked out of a big jam, and gave us a big lift."
The win moves Mater one step closer to their goal of repeating as state champions. But with a long road still ahead, and the experience of the playoffs on their side, the Lions know what to expect next.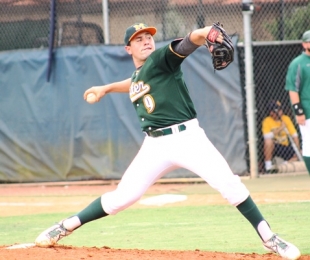 "We know how to win at this time of year, and we know what it takes," said Reyes. "But we still need to focus on playing good baseball and executing. We can't look past our next game."
Their next game will be Thursday, in the 6A-16 title game, against the winner of Tuesday's match-up between Doral and host Belen Jesuit.
As for TERRA, first-year Manager Padron had perspective on his teams' season.
"We had an outstanding year,' said Padron. "It is frustrating that we didn't play our best game today, but that doesn't take anything away from what these guys have accomplished this year."