Miami Stingarees Win Back-to-Back 8A-14 District Titles
There is one word that can define the Miami Senior Stingarees' season against 8A-14 foes: perfect.
On Wednesday The Stingarees continued their undefeated record in the district with a 6-2 win over The Hialeah Thoroughbreds to capture their second consecutive district championship. As soon as they recorded the 21st out, Manager Frank Suarez opened up a large box and started tossing bright yellow shirts with the words "Back-to-Back" to all his players.
"It feels phenomenal winning the district," Suarez said. "We had to do it this year going 10-0 in the district."
Starting pitcher Christopher Rodriguez put his shirt on and then had an ice pack attached to his right shoulder that pitched a complete game. Rodriguez also went a perfect 3-for-3 at the plate.
"I just tried to make contact every time," Rodriguez said, while also reflecting on his outing on the mound. "I have to thank my catcher for calling a great game. My teammates just kept encouraging me stay strong and stay mental."
Rodriguez finished the night with 12 strikeouts and allowed no earned runs. Suarez says the Thoroughbreds players definitely prepared well for the game, but Rodriguez's off-speed pitches proved to be too much for them to handle.
"That team came ready to hit the fastball, but Chris adjusted and started throwing the off-speed pitches," Suarez said. "I really congratulate them. They fought through to the end."
Both starters put in solid efforts and battled through tough innings. Thoroughbreds starting pitcher Erislandy Rivas pitched into the sixth inning and allowed just two earned runs. Hialeah Manager Ozzie Borrell said Rivas did a great job keeping them in the game the entire time.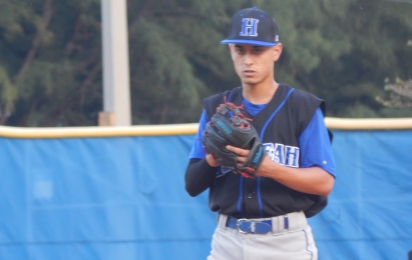 "It was Chris Rodriguez's game, and no one can take that away from him," Borrell said.
The Stingarees jumped out to an early 2-0 lead in the first inning. Argenis Hernandez roped an RBI single to left field and Christian Torres recorded a sacrifice fly, the first of his two RBIs on the night.
Both pitchers were stingy and did not allow another run until The Thoroughbreds scored two runs in the fourth inning. Damian Irigoyan came in to run for catcher Carlos Reyes, and he scored on a wild pitch. Deivis Rojas later scored on an infield error. This tied up the game headed to the bottom of the fifth, and that was when Rodriguez began to help his own cause.
Rodriguez started the inning with a line-drive double to left field, and Torres followed him with an RBI double to deep right field. Holding on to a slim 3-2 lead headed to the bottom of the sixth, Rodriguez got the rally started with a sharply-hit single to the outfield. Torres once again followed that with a double off the right field wall that was just a few feet away from being a home run. The Stingarees kept on making contact and ended up with three runs to create some separation, as Rodriguez headed to pitch the final inning of the game.
"Every time we needed him, he got us back in the game at the plate, then he went ahead and finished it off," Suarez said.
Both teams now will begin to shift their focus towards the regional playoffs and the drive to play for a state championship. Just two seasons ago, the Stingarees were 1-9 in the district. Last season, they made it to the regional semifinals.
For The Thoroughbreds, Borrello had the team make a huge improvement from last season's 5-18 record. He feels the Stingarees are a strong team that will cause many problems in the regionals; however, Borello would also like to have another chance to play and eliminate Miami.
"At the end of the day, I would take a win in regionals and maybe face them again," Borrell said. "That's going to be tough. They are a really good team, and they deserve it."