SLAM Wins Its First District Playoff Game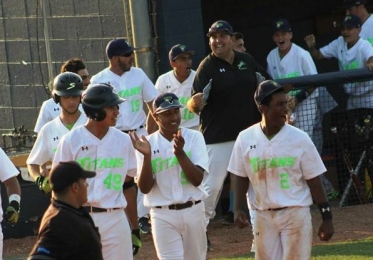 Jonathan Fernandez pitched a six-hitter with five strikeouts as SLAM won its first district playoff game, 12-2 Wednesday against Westwood Christian in 3A-15.
In in only their second year of existence and first in district play, the Titans (20-6) will compete for the district title at 4 p.m. Thursday at Slade Park. SLAM will face Hialeah Educational Academy, who downed Sagemont 12-7 to also win and advance. The Bulldogs are also competing in their first district championship, meaning the victor will be a first-time district champion.
Shortstop Jeter Downs powered the Titans at the plate, going 2-for-4 with a bases-loaded triple that cleared the bags in the fourth inning to put the Titans ahead. The Titans were trailing by two runs going into that inning and tied it on a one-out double by senior Andrew Velez. Velez finished the day going 2-for-2 with two RBIs and two walks.
Sophomore catcher Jose Garcia belted his county-leading ninth home run and drove in his 52nd RBI of the season, which also ranks first in Miami-Dade County. Garcia finished the game 3-for-4 with a single, double and a two-run home run. He was a triple away from the cycle.
Andres Santana went 1-for-2 with an RBI. Adrian Del Castillo, who was coming off a stress fracture and missed about two months of the season, went 1-for-4 with an RBI. Fernandez went 1-for-3, and Juan Osorio went 1-for-3 with an RBI. Senior right-fielder Kevin Garcia went 1-for-2 with an RBI.