South Dade Holds Off Killian To Reach District Final
The playoffs have officially arrived, and Monday afternoon's 8A-16 semifinal illustrated that fact as well as any. Longtime rivals Killian and South Dade battled on the neutral field of district host Coral Reef, with another close and exciting contest that came down to the very finish. On both sides of the field were rosters full of senior veterans playing in their final chapter of the series.
With the season on the line, South Dade's Kendrick Pico faced the winning run represented in a Killian hitter at the dish. The Cougars had already plated one base runner and had two more on the bases in the bottom of the seventh, while down to their final out. Pico was able to induce a weak flyout to shallow right field, and South Dade held on for the 7-5 victory.
Pico came on in relief of starter and eventual winner Jose Gorordo in the fifth, working out of trouble to quell a big inning and keep his team in control. Down to their final swings, Killian rallied back one last time. Freddy Zamora sent a liner past third for a leadoff double, advanced to third on a Sneaky Guzman groundout and scored on a sacrifice flyout from Eddy Demurias. An error extended the inning, and Keith Stevens followed with a double to the left field corner to keep things going.
Pico thought he might be coming out of the game at that point. But when Bucs Manager Fred Burnside showed the confidence to stay with him, he regrouped and got that crucial final out.
"He gave me the chance to finish it," Pico said. "It means a lot to me, because I know we have a lot of guys in the bullpen ready to go who want to pitch as bad as me. This is big; we take them out of the playoffs and we get to regionals. Now you never know what can happen after that."
Although Burnside paid a visit to the mound prior to the final out, he admitted that he had every intention of sticking with his reliever. The visit was simply to set the defense behind the right-hander, a move that paid off perfectly.
"We were playing to win," Burnside said. "The strategy was, do we play deep or play up and play for the win? We decided we were the visiting team, so we played up. But that was the only strategy. Pico was still strong. We had AK throwing, but at that point there was no thought of going to him."
It was perhaps the biggest moment in Pico's career. Knowing his skipper had the faith to leave the game in his hands gave him the confidence to do the job and reward his team and Burnside.
"He just said that one out and this game is over, so settle down and get the out. He said it doesn't matter what it takes," Pico recalled. "I just tried to make the guy hit the pitch that I wanted him to hit. I went first-pitch curveball and got it over, and after that it was whatever I wanted to throw. I got him to hit what I wanted him to hit and we got the out."
The Bucs (17-6) came out swinging in the start of their playoff defense of last year's state title, and they opened a big lead early. Sergio Lopez jumped on the first pitch of the game for a leadoff double to deep center field, and then scored on an RBI single from Danny Vaughan. Vaughan also scored on an error to give South Dade a 2-0 lead that was cut in half in the bottom of the first when Demurias drove in Guzman on an RBI single to right field.
South Dade plated the deciding runs during a four-run third that put the team in control. Vaughan walked and then went from first to third when Gabe Cruz singled on a liner up the middle. Alek Manoah laced an RBI single to left and, after Artie Paula reached on a fielder's choice, Christian Ibanez followed with an RBI single to center. With two runners in scoring position, the Bucs gambled on a base-running play that resulted in two more runs coming home on a throwing error.
"That was a play," Burnside admitted. "We stumble off of second base trying to draw the throw, and they threw it into centerfield and we scored two runs without a hit. It ended up being a big play. It's something we work on. They've got to believe in the system and put the time in. You never know when something is going to click, just like it did last year. You just keep working hard and stay with the fundamentals."
With chances running out, The Cougars (19-9) regrouped to stay in the fight. One of many senior veterans on the squad, Keith Stevens began to motivate his teammates in the dugout. The right-hander came on in relief of starter Joey Gonzalez on the mound, but it was his leadership on both sides of the lines that helped to keep Killian in the game.
Not ready to lie down and accept defeat just yet, the Cougars kept pushing one another. Like a brush fire spreading slowly, the veteran group began to talk and motivate one another in the dugout and on the field. Each little contribution helped draw the team closer, and although it still ended in defeat the players could take comfort knowing they went down standing up.
Stevens got things going in the fourth after he reached on an error to start the inning. Eddy Arteaga clubbed a double to center and Sebastian Gonzalez followed with a grounder to the right side to push courtesy-runner Ruben Trillo across the diamond.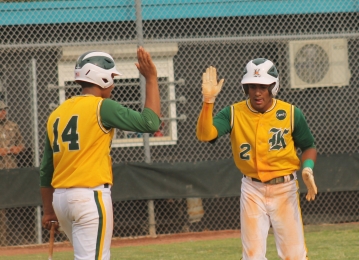 Killian added a pair of runs in the fifth after Zamora and Guzman each drew walks to set things off. Herbert Iser had a nice, clean swing on a pitch to drive it up the middle for an RBI single that drove in Zamora, and Guzman later scored on a wild pitch to pull Killian within 6-4.
In need of some more run support and momentum, the heart of the Bucs' order delivered again. Cruz cracked a double to left field in the top of the seventh, and gave way to courtesy-runner Wesley Dacosta. Manoah then delivered a single to right, which allowed Dacosta to come home following a throwing error.
Back up by three runs, South Dade had afforded itself a larger cushion. The Bucs knew the rival Cougars would make one final push, but were able to stymie it in time to secure the victory.
Now South Dade can make plans for the regional playoffs, and focus on chasing after the district title. Even while earning the coveted state championship last season, the team finished as district runners-up last year by falling to the Cougars. The Bucs will face either Varela or Palmetto, both worthy foes that combined to win three of the four meetings this season.
"Like I told them, the best team does not always win; it's the team that plays the best," Burnside said. "We had to step it up today, and the kids did. Both Palmetto and Varela are worthy opponents and they are very talented, scrappy high school teams. We'll see."