Flanagan Tops Hialeah 1-0 In Extra-Inning Duel
The Flanagan Falcons hosted the Thoroughbreds of Hialeah High School on Friday afternoon. They did not realize how long their guests were going to stay. Flanagan and Hialeah locked themselves into an eleven-inning pitching duel that was decided by a walk-off single by Ricky Presno.
The Falcons move on to host the regional semifinal against West Broward, a team they have played and beaten three times this year.
The marathon contest was highlighted by excellent pitching and stellar defensive plays. The game featured inning-ending double plays, strikeouts with runners on and clutch, run-saving defense plays. The only thing that was missing was lots of runs.
The heroics came down to the bottom of the eleventh inning. Reliever Erislandy Rivas was still taming the Falcons in his third inning of work and had retired the first two batters of the inning. Arrison Perez then recorded his fourth hit of the day with a shot to left field. Rivas then walked pinch hitter Alex Hernandez, and another pinch hitter, Jorge Gonzalez. This brought Ricky Presno to the plate, and the sophomore second base man came through in the clutch to win it for the Falcons with a base hit to left field.
"This feels good," Ricky said. "To tell you the truth, I was a little bit nervous up there. But I put my previous at bats out of my head and concentrated. I got a good pitch to hit and it worked out."
Hialeah starting pitcher Anselmo Suarez tossed seven and-a-third scoreless innings. He yielded five singles in his pitching stint, struck out one Falcon batter and walked three, two intentionally.
After Suarez departed, left handed pitcher Andres Rodriguez came in for one batter. Rodriguez gave up a walk and passed the pitching duties to sophomore Erislandy Rivas. Rivas, a five-foot, seven-inch right-handed pitcher came in with two on and one out in the eighth. He proceeded to get a come-backer to the mound that he turned into a force at second. With runners on first and third, he promptly struck out the next batter, to close out the inning and end Flanagan's rally. Rivas recorded scoreless innings in the bottom of the ninth and the bottom of the tenth, before coming back to the mound in the eleventh inning.
Flanagan pitcher Gentry Fortuno was a work horse. Fortuno hurled eleven scoreless innings while holding the Thoroughbreds to four hits. He recorded nine strikeouts and did not walk a batter.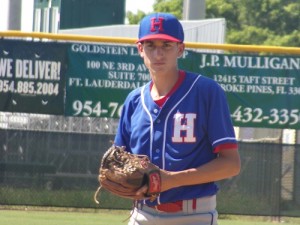 Fortuno was supported by some standout defensive plays. In the top of the sixth, Thoroughbred third base man Adrian Gomez hit a high chop ground ball to Arrison Perez. Perez quickly snatched the ball and tossed it in one fluid motion to nip Gomez at first. In the next inning, right fielder Hunter Platts supported Fortuno's bid for a shutout.  With no outs, Hialeah catcher Carlos Reyes hit a line drive in the gap between center field and right. With an excellent jump on the ball, Platts dove to his right and made an outstanding catch by extending himself to the ball. On the next batter, Platts took what looked like a single to short right field and rifled it to first to get the out.
"My goal was to do everything I could to save this game for Gentry," Platts said. "He's been working four years for this opportunity and I am glad that my play contributed to the win."
Fortuno also got assistance from shortstop Mark Vientos on a hard-hit short hop that he made look easy. On the next play, second baseman Ricky Presno stopped a drive up the middle and wheeled around to throw Adrian Gomez out at first.
The Thoroughbreds were just as adept in the field. They completed two sparkling double plays, one in the sixth inning when Flanagan had the bases loaded and one out. Second baseman Daniel Nieto handled a two-hop shot and gave a perfect toss to shortstop Arnaldo Brito, who completed the double play by firing the ball to Ramid Alvarez at first base.
"This was an awesome game. I am proud of my team," Hialeah Manager Ozzie Borrell said after the game. "You have to hand it to their pitcher, he pitched a heck of a game. But we hung in there and we showed what we are worth."
The young Thoroughbreds will return to Hialeah to set their sights on next year. They will do it with their heads held high, as they battled the veteran Flanagan team and showed they will be a force to be dealt with next season and beyond.