Gulliver Walks Off Calvary To Return To States
This deep into the playoffs most coaches understand that there is only so much they can do to prepare themselves. No matter what team it is facing, it is always an opponent that is also good enough to earn its place in such a big playoff game. The preparation for those moments is often done way in advance, through the course of the season's action that led up to that point.
Facing a tough and gritty Calvary Christian team in the 4A regional championship Tuesday afternoon, host Gulliver Prep was up against perhaps its greatest challenge all season long. Yet, at the same time, it was just like every other team the Raiders have competed against this season. Gulliver played one of the toughest schedules of any club in South Florida this year, and the experiences from those challenging games showed in the grit and composure the Raiders maintained on Tuesday.
It was a seesaw affair that saw several lead changes and numerous momentum swings. Gulliver weathered each challenge and responded to bring a tie contest into the bottom of the seventh. With a pair of runners on base and down to its final out, Gulliver's Oscar Marchena rolled a single up the middle to bring home Tyler Grant to end the contest. The Raiders walked off with a 6-5 victory that propels them back to the state tournament.
"This is indescribable, and at the same time I knew we would be here," Marchena said. "The character we have on this team, it would be too hard for us not to be here with all the hard work we put in. We thought we would be here, and we are now. We just have to get those two more games and we're state champs."
Gulliver (23-6) returns to the state Final Four for the first time since 2010. The Raiders look to add their second state championship in program history, having won it all back in 2004.
"That's been our goal from day one is to go to states, and we knew we had a team good enough to get there," Gulliver Manager Javier Rodriguez said. "We accomplished our goal, but now that we're there we might as well win it. It's one of those things where you try to put the pieces together, and they came through at the end. Everything fell through how it was supposed to and we're happy we won."
Sophomore Raymond Gil got things going in the seventh with a hot-shot that ate up the third baseman and went for a one-out single. Grant came on as a pinch-runner, and the speedster put his wheels to work by advancing from first to third on a throwing error. Three batters later Marchena came to the plate hitting out of the bottom spot in the order. Even though the senior was hitting last on this day, it is attribute to the coaching strategy for Marchena's ability to constantly turn things back over to the top of the order.
"Oscar is by no means a nine-hole hitter; he has hit leadoff, second or third for most of the year," Rodriguez said. "We moved him to be our nine-hole hitter to turn the lineup over, because he is a great leadoff guy too. Oscar has been great for us all year. He's a great kid and an All-Academic guy."
The coaches have plenty of faith in the second baseman, and with one big swing Marchena rewarded that faith when he sent a roller straight up the middle and out of the reach of the Eagles' middle-infield defense. Afterwards Marchena reflected on the good fortune that saw the most unlikely spot in the order coming into such a pivotal moment in the game.
"They still have to throw it and I still have to hit it," Marchena said. "Whatever it takes and wherever Coach puts me, that is what has to happen. Today, as you can see it, that was the best way to go. We are going to go along with him and do whatever it takes to get that state ring for him."
Throughout the season pitching has been the dominant factor that has often led the way for the Raiders. Up against a Calvary team with just as lethal a pitching staff, the game seemed likely to be a low-scoring affair. Yet both sides found plenty of success throughout the day, combining for 21 hits while loading the bases a combined total of five times.
"The whole year we have had good pitching, and we have always relied on the hitters to support them. This game was a good example of that," Gulliver outfielder Gio Soto said. "I don't even know how to explain it. We just came out as a team the whole year, and it is a dream come true for all of us today."
Soto played a huge part in helping his team realize that dream. Trailing by a run with two outs in the fifth, Justin Fernandez singled through the right side to bring Soto to the plate. The junior unloaded on a pitch and drove it over the left field fence for a two-run home run that put his club back on top, while shifting the momentum back to the Gulliver side.
"I wasn't trying to do anything big," Soto admitted. "I came up to the plate and I just tried to put the ball in play. I ended up hitting it over and it shifted the whole momentum for us. Our schedule this year was unbelievable, and I guess that helped us to get to this point. That made us prepare for situations like this. The next game is up and hopefully we can do the same thing and continue winning."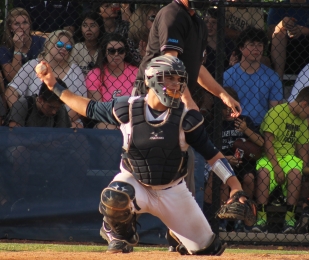 After both sides stranded the bases full in the second, Gulliver finally broke through to get on the scoreboard in the bottom of the third. Soto singled up the middle, Pedro Pages blooped a single into right field and was replaced by courtesy-runner Chris Lorenzo, and Brian Nido reached on an error to load them up. Gil followed with a liner to deep center field to clear the bases and put the hosts up 3-0.
Calvary (23-7) responded with four runs in the fourth to jump in front. After Soto's blast, the Eagles answered again to tie things up with a run in the top of the sixth.
Although Calvary kept making plays to respond and stay in the fight, the Raiders never showed any sign of panic in them. The team has grown accustomed to competing in close games this season, and it was nothing new to the players and coaches. All year long they have learned how to produce in such situations, and all of that experience came back to guide the way for them to do it once again.
"We won a lot of one-run games, and out of the six games we lost it was by a total of seven or eight runs, so we have lost a lot of one-run games," Rodriguez said. "But we know how to play in those games, and that's why you want to play great teams all year is for when opportunities like this arrive."
The next opportunity that will arrive for this club will be a state semifinal against Bishop Verot on Monday. It is a challenge the Raiders have worked towards all year long, and one that they are ready for.