Mater Academy Headed Back To 6A Regional Final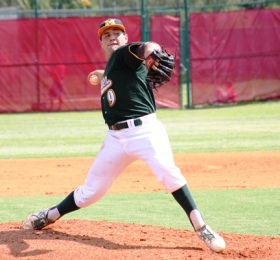 Mater Academy came into its regional semifinal match-up with rival and district champion Doral Academy with a chip on its shoulder. It was the Lions that are the defending 6A state champions, but the Firebirds had made a name for themselves by defeating Mater twice this season, including in the district final.
On Wednesday afternoon, the Lions and ace Kevin Fuentes made sure that lightning would not strike three times. In a game that lived up to its billing as a pitchers duel between Fuentes and Doral ace Christian Cubas, the Lions flexed their championship pedigree and came away with a hard-fought 2-1 win.
"Today was a good game between two very good teams," said Mater Academy Manager Mike DiRosa. "Doral played well, and we didn't want to lose to them for a third time. We played a pretty clean game, and Kevin threw a great game. That allowed us to get the win today."
Fuentes, who had struggled recently with his pitch location, was spot on Wednesday. He threw a complete game, working ahead of most Firebird hitters, and only giving up two hits on the afternoon.
"We didn't want to go home today, and I knew that it was going to be a low scoring game," said Fuentes. "I was just focused on getting ahead, commanding my pitches, and I knew our offense would score enough to get us the win."
The offense managed to scratch out seven hits off of Cubas and reliever Eddie Escribano.
The Lions' two runs came in consecutive innings in the third and fourth.
In the third, leadoff hitter Michael Escarra walked to open the frame. Tyler Perez followed with a single, and Christian Cabrera loaded the bases with a one-out base hit. Escarra scored their first run of the game on a wild pitch.
In the fourth, Deyvid Silva worked a lead-off walk, and then scored on a double by Escarra.
That was the extent of the Lions offense, but it was enough for Fuentes. Perez, who finished the day 2-for-4, believes experience may have been the difference.
"For some reason we play better in big games," said Perez. "The bigger the game, the more focus we seem to have. It has been that way all year. We expect to win, and having played in all these big games gives us a lot of confidence."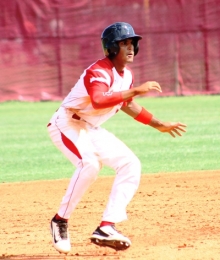 Mater had an opportunity to host the regional final, but that opportunity fell Wednesday night when Pembroke Pines Charter, the team the Lions beat in last year's 6A regional final, fell to Jensen Beach. Mater will now travel to Jensen Beach on Friday with a trip to states on the line.
"For us, it doesn't matter who or where we play," said DiRosa. "We are going to try and play the same clean game regardless of the opponent. When you get this deep into the season, every team is capable of winning, and it's the team that plays the best that day that is going to advance."
Doral could have been that team, but its offense could not muster enough off of Fuentes to defeat the Lions for a third time. Despite the loss, Manager Ralph Suarez had nothing but good things to say about his teams' performance.
"Christian has been dealing with some back spasms, but he threw a great game, and Eddie did a great job in relief," said Suarez. "It's hard to beat a defending state champ three times in one year, but it doesn't take anything away from what these kids accomplished this season. They put Doral back on the map, and we are only going to go up from here."