Miami Springs Aiming To Return To District Championship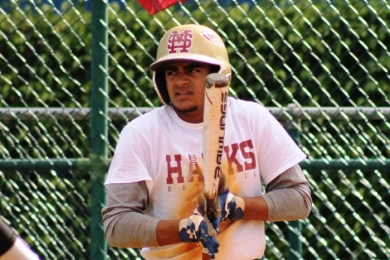 Photo Gallery
Three years ago Julio Mendoza was the youngest manager in Miami-Dade as a 21-year old at the helm of Miami Jackson. After a few seasons back as an assistant, Mendoza has returned an experienced veteran coach back in the lead saddle as the new manager at Miami Springs.
Mendoza admits he is as prepared as ever and content with where he is as a coach. While knowing there is always more to learn, he approaches the season with the right attitude that he will continue that process every day as he and the team grow together.
"Taking a step back from being the head coach and being able to be an assistant coach again was actually great for me," Mendoza said. "I've benefited a lot these last two years coaching with Ernie Padron at Coral Reef and then with Luis Padron at St. Brendan last year. I was able to learn a lot. Ernie Padron is probably one of the most knowledgeable coaches, right up there with Fred Burnside. I learned so much in my one season with him at Coral Reef then I probably did in my five years total coaching high school baseball. It was definitely good for me coaching under Ernie, and then Luis Padron was a very different style of coaching. So I learned from him as well, and especially how to carry myself."
Working last season at St. Brendan also gave Mendoza the chance to work and learn from fellow assistant Tito Rodriguez, who is now the manager for the Sabres. What he gained there was an understanding of how to communicate best with the players, as well as gaining more overall baseball knowledge.
Overall the team is very young this season, and even many of the older guys lack much varsity playing experience. But the team is very talented and it will just be a matter of them figuring things out on the field. The team will play a fast and aggressive style of baseball that has come to be Mendoza's trademark style, and the players have adapted well to this approach.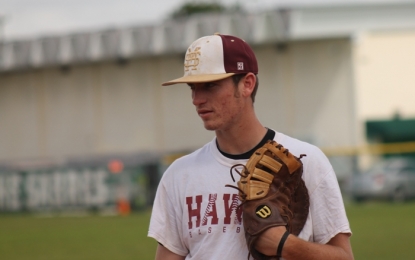 "It's a good problem to have when you have too many good players," Mendoza said. "Miami Springs has depth and a lot of guys who are selfless. They are not selfish and are all for the team. You can only put nine guys out there so there will be a good amount of guys on the bench. We have a lot of guys competing but our corner spots have a lot of depth, as an example. So there will be guys who play there one day and don't the next. At Miami Springs we're just trying to score more runs than the other team and play good baseball, and it doesn't matter who are the nine out there."
The strength of the club comes on the mound, where they have a proven ace and leader in senior Dylan Carter. The lanky right-hander is committed to Barry University, and he has been the core of the pitching staff for the past three seasons. Carter has pitched in many of the club's biggest games over the past three years, including the team's district championship victory two seasons ago. He will also play first base and contribute in the center of the lineup.
"This is my hometown and I get emotional to think that I could win another district championship with this team," Carter said. "I just try to put everything I have out there on the field. I couldn't leave my senior year, couldn't leave my friends, family and people I have grown close to. I didn't feel comfortable leaving and I felt this was the program I needed to be at to help it stay healthy and to be a proud alumni as well."
Behind Carter the club has a reliable number two in veteran Frank Lopez, who will also get a good bulk of the innings. The Hawks spent the fall working out the details of where all the other returning guys will fit in, and the bullpen figures to be strong with veterans like George Gonzalez and Andre Ramirez. There are some youngsters like Michael Filgueira and Javier Prevost, and also two good, hard-throwing lefties in David Remus and Bryan Garcia. After the top two arms the rest of the guys are fighting for innings, which is good. That competitive atmosphere tends to make them all work harder.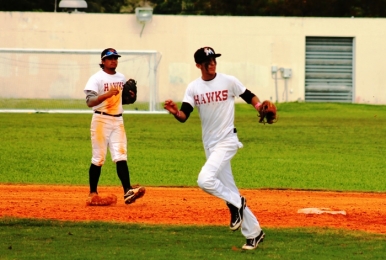 "The pitching staff is more settled now, but we are going to go into the season testing waters with some of our guys and seeing what fits best," Mendoza said. "But for the most part Dylan will be our ace, Frank will be our number two and Andre Ramirez will be the first guy out of the bullpen and also get some spot starts. George Gonzalez is another top arm and we have some other good lefties that will be coming out of the bullpen. The have good curveballs and decent velocity and I think as a whole our pitching staff is going to be solid."
As with many young clubs the offense is expected to take a bit longer to round into form. Having such depth and ability on the mound will help take some pressure off and allow the guys to find their swings and learn how to contribute at the plate.
"For this season we are just trying to play good baseball and see how far that can get us," Mendoza said. "We're trying to do things the right way and I think the guys are very confident that if we can do that the results will be there. But more than anything we are just trying to build a good program in general. So far we are off to the right track for that."