Villar Throws Gem, Lifts Sunset Past Dr. Krop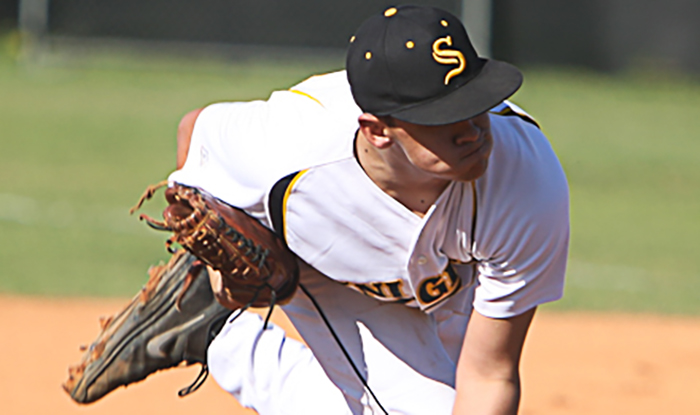 Junior lefty Marcus Villar threw six innings of two-hit ball and senior Marcos Restrepo made his first hit of the season count as Miami Sunset blanked Dr. Krop 4-0 Wednesday afternoon in a non-district game at Raul Ibanez Field.
Villar struck out five, walked three and hit a batter but was in complete control after the second inning to help the Knights even their record at 2-2 for the season.  Villar threw 95 pitches but coasted after yielding two walks and a single in the first two innings.
He retired 10 of the next 11 batters before giving up a double to Lightning catcher Mateo Torres. A two-out walk gave the visitors their best scoring opportunity. But Villar got out of the jam and finished his night with a pick-off at first base.
Villar said he hit is groove after the second inning and his confidence grew with each inning. He said he worked through early difficulties by focusing on the next pitch.
"I settled in and didn't think about it," said Villar, whose breaking pitches weren't getting the calls over the first two frames. "You can't really think about the umpire, just pitch my game. I just tried to keep my composure and think about the next pitch."
Junior righty Andres Lopez finished up with a perfect seventh inning, ending the game with a strikeout.
Dr. Krop couldn't put anything together after stranding runners on first and second in each of the first two innings. A Nicholas Dimartino single, to open the second inning, was the only other hit for the Lightning (1-1).
"We were too lackadaisical," said Lightning manager Bryan Medeiros. "They put two runs on the board and we never fought back. We didn't have the proper mental approach at the plate."
Meanwhile the Knights collected six hits by six different players, including a second-inning single lined off an inside fastball by Restrepo that produced the game's only RBI. It was his first hit of the season and Restrepo said his approach at the plate was simply to move Justin Marcano to third base after his one-out double.
"I was just trying to do my job and move the runner over," said Restrepo. "I was just looking for anything good to hit."
In typical fashion, the Knights made good use of its six hits, five of which were singles.
"We play a lot of small ball," said Knights Manager Armando Pelaez. "We're aggressive on the bases. We work on that a lot."
Erick Orbela, Ken Centeno, Mike Rodriguez and Luis Diaz also added singles for the Knights, who scored twice in the second inning and added single markers in the fourth and fifth innings.
Sunset pushed across the fourth-inning run without the benefit of a base hit. Designated hitter Renzo Rodriguez crossed the plate after being hit by a pitch and racing to third on a throwing error. He scored on a wild pitch.