CS Charter, South Miami Advance To Black Bracket Final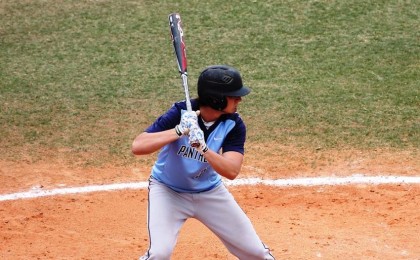 The young Coral Springs Charter team is starting to grow up a little bit.
The Panthers, composed of five seniors, four sophomores, a freshman and a bunch of juniors, have won five of its past six after an uncharacteristic 0-6 start.
The latest victim was Coral Reef, whom the Panthers beat 6-2 on Tuesday in a Black Bracket semifinal of the HSBN March Madness Shootout. The win puts Charter in Wednesday's championship against South Miami at Pompano Four Fields on Field B. South Miami made it to the final after defeating Miami Senior 5-1.
"The kids are starting play together," Coral Springs Charter manager Mike Higgins said. "We're starting to know them more as a team and starting to put the pieces together. We never had a huge emphasis on winning, but we're trying to get a little bit better each day."
Meanwhile, the South Miami Cobras rode the arm of Delvis Jacomino, who pitched a complete game, striking out five, walking five and allowing four hits.
"This win means a lot because it gives us confidence and bonds us together as a team," South Miami manager Howard Cuervos said. "I started here in January and we struggled a bit, so this win clearly brings us closer. The team is very happy with how we've been playing and I've very proud of their efforts."
South Miami took a 3-0 lead with single runs in the first three innings. With two outs, Kevin Capote singled in Aaron Cox, who got on with a leadoff base hit.
The Cobras (7-9), winners of their past four after a six-game losing streak, did their damage with two outs again the next inning. Michael Rodriguez walked and the scored on Cox's triple. Leandro Lopez reached base on an error and then scored on Rodriguez's single in the third for a 3-0 advantage.
After a scoreless fourth, fifth and sixth, South Miami plated two more in the top of the seventh, yet again scoring with two outs. Julio Romero singled to score Lopez, and Capote came home on an error.
The Stingarees (5-11) kept up the fight until the end. Gamaliel Rivas reached on an error before Javier Alvarez walked to lead off the bottom of the seventh. Christian Torres' hard grounder to third brought in Rivas, but a groundout by the next batter ended the game.
The Panthers (5-7), who piled up 14 hits, built a 6-0 lead through two-and-a-half innings as they came out with a bang. Lopez earned the win, pitching a complete game, striking out four and walking one.