Darrius Rhome: 9/24/1997 – 3/23/2016
Darrius Rhome is remembered as a guy who treated everybody the same, and who always had time for his loved ones, teammates and friends. Known simply as Rhome, he is remembered as a quiet person with a big heart.
On Wednesday, March 23rd, the Carol City senior passed away as a result of a tragic swimming accident in the Haulover Inlet near the Port of Miami.
Rhome and his friend jumped from a seawall into the inlet to swim without realizing how strong the current was. While his friend was able to fight his way ashore, Rhome was unable to also make it out of the water.
"We are all devastated," teammate Joshua Williams said. "I keep dreaming about him and I can't get him out of my mind. I still cannot believe he is not here. I was just talking to him Friday at our last practice. I see him every day at fourth period and we meet face-to-face, and I won't be able to do that anymore. He had a bright future and he always had some words to lift you up. He loved baseball and he was heading on the right track."
While he was typically a quieter man of few words, it was a different story come game time, as Rhome's competitive nature brought out the fire within him.
"He looked forward to every game and he always had something to prove because he was a competitive dude. He did everything he could," Joshua Williams said. "At this point on it is just to play for him. We know he'll play his hardest for us so we'll play our hardest for him. We'll pray to the Lord and do it for him."
Darrius joined the baseball team his junior year as part of a large new group of players for Carol City alum Randy Rodriguez, who took over as manager last season. The baseball program has struggled in recent years and has not won a regular-season game for several seasons. Only once in his career did Rhome enjoy the thrill of victory, when the Chiefs defeated Miami Central in a preseason contest this year. Rhome reached base three times, stole a base, scored once and also drove in a run in that game.
"Darrius is the kind of player you want on your team and hope others follow in his path," Rodriguez said. "I was blessed to have been a part of his life as he was a part of mine. Darrius made an impact on many lives. All you had to do was talk to him for a few minutes and you would realize why everyone gravitated towards him."
His ambition is something Rodriguez remembers best. When he started with the baseball team Rhome had a 2.1 GPA, so he spent the entire year and also part of the summer taking night classes and Saturday school to improve his academics. This last semester he was listed with a 2.8 GPA.
"I was extremely impressed!" Rodriguez said. "I've never seen any student raise their GPA that much in a short period of time. Darrius really cared about his future and he just wanted the opportunity to play baseball at the collegiate level."
This season the Chiefs shared great memories that Rhome was a part of. Through the assistance of the Jon Jay Challenge Program, Carol City brought back the Miami Inner City Baseball Preseason Invitational tournament at Gibson Park. The team played a showcase game at Miami Marlins Park in early February, where Johnson recalls how the entire team relished their day to be a pro and do what the pros do. Rhome also participated in the first-ever HSBN Media Day in January, where he posted impressive results with a 4.01 30-yard dash and a 7.11 60-yard dash.
Baseball was very important to Rhome and his family, and his mother, Valencia Dixon, has been a fixture in attending most practices and every game. Every player on the team has come to know and recognize her, and she made sure the team kept her updated on everything going on with them.
"The most important factor I saw during his time with the Chiefs was the support he had from his family, especially his mother," Rodriguez said.
Darrius' contribution to the baseball team is much larger than stats and wins or losses. Along with his teammates, Rhome committed to help Carol City build the baseball program back into a contender. Even despite most losses being difficult and lopsided, the players have dedicated themselves to stay the course and restore honor and glory to a program that won state championships in 1975 and 1982.
Along with the other nine seniors on the team this year, Rhome accepted that the hard work he put in would set an example to the younger players with several more years to improve and help mold the team back into contention. These seniors will all be gone and graduated before the team turns that corner, but it will not be possible if not for the foundation the players began setting last year.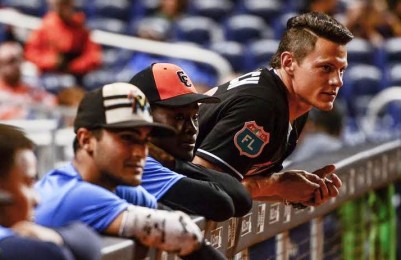 Coach Rodriguez works at All Star Warehouse, a baseball facility that many of the Chief players enjoy to help improve their baseball skills. Ever since he first tried out for the team Rodriguez was impressed with Rhome's speed and coordination. With his improved grades his mother began to bring him to the warehouse regularly, and the focus recently had been in teaching Rhome how to hit to the opposite field and use his speed to his advantage on the bases. All of a sudden not only was he making more contact with the baseball but he would hit it with authority.
Rhome was still learning the game even as his final season neared its end, and his improvement serves as great notice to what hard work and dedication can lead to. Over his final five games Darrius found his swing to go 4-for-8 with three runs and the first two extra-base hits of his career. He also walked three times and only struck out twice over that span. In a district loss to Mourning he was 2-for-2 with a double, and in his last game in his final at bat he delivered his greatest career performance by driving in two runs with a triple.
It is never easy to say goodbye to a teammate, a friend or a loved one. Picture Darrius smacking the ball past first base and into the right field corner, rounding the bases while watching his teammates score, triumphantly reaching third base and then pushing himself to try and score on an inside-the-park home run. Even though he was caught out at home on the play, that effort and desire to always strive for more will be the lasting impression that his teammates will never forget.
"I honestly think he was safe," Williams said of the play. "It showed his progression, and he improved in each and every game we played. He was leading up to something, and it is sad. It is going to be unusual to not see Darrius at the field anymore."
Rhome carried himself well and professionally, as if he was preparing himself for the next level. He never got upset or blew up in a game, and if he made a physical or mental error he would brush it off and try to make the next play. He was the first to pick up a player and instill a little confidence.
"Darrius was also hilarious," Rodriguez said. "We played Norland last year at Scott Park and while playing center field a ball was crushed to straight-away center. He turned around completely and started running, tripped and fell, but got up and started running again. Then he stopped directly underneath the ball and caught it. It was impressive! When he came back into the dugout I told him he scares the crap out of me sometimes in the outfield. He just laughed and said, 'Yeah, I'm sorry Coach'. But he always managed to make the play no matter how unusual it looked."
The Miami-Dade baseball community has reached out in support. Even coaches, players and families from opposing teams have offered support and condolences.
"It is as if we all lost a member of the family," Rodriguez said. "But the beauty of it all is that the baseball community is close. They've heard our cry and pain and are with us as we go through this difficult time. In regards I would like to thank everyone, as the Carol City Family is grateful for the help and moral support during our time in need."