HSBN March Madness Gold Bracket Recap – March 21st, 2016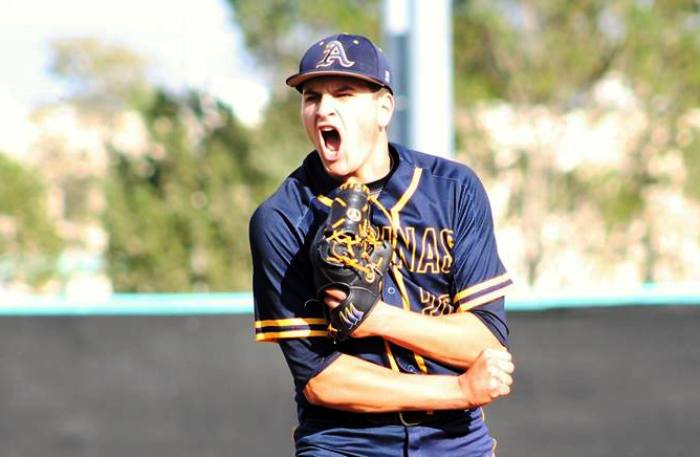 Photo Gallery
LaSalle and Monsignor Pace pulled upsets Monday as play continued in the Gold Bracket of the HSBN March Madness Shootout. #1 Archbishop McCarthy improved to 15-0 and advanced to the semifinal by beating #8 Killian 5-4. #10 LaSalle edged #2 Douglas 1-0, and will now meet #6 Monsignor Pace after the Spartans beat #3 SLAM 9-3.
Jacob Perea went the distance to earn the complete-game, shutout victory.
"This has always been about fundamental baseball, about believing in each other and having a short-term memory when things do not go your way," LaSalle manager Hernan Adames said. "This year twice we have slipped two in a row, and then we come back strong. The key thing is our defense has to be there for us."
That defense was there on Monday, when a big play with a runner on first kept the momentum in favor of the Royal Lions (11-5). Douglas star Colton Welker roped a shot screaming to the left side. But third baseman Jesus Villacis made a great catch to rob the hit and then throw across the diamond for the inning-ending double play.
Villacis also drove in the only run of the night, lining the ball back off of the pitcher with the bases loaded to plate the lone run.
"In baseball, when you work so hard and you go over every little detail in practices and then a abig game shows up, those things should happen," Adames said about Villacis' play on Monday. "And to no better kid than Jesus, who is from Venezuela and he has had some family struggles. Now he is living large playing second and third, and today we put him in the four-hole. Guess what, it worked for us today."
Adames credits all the hard work since the summer to the fuel that has his team surging, as LaSalle has won seven of its last nine. The Lions know they are facing a team they have already faced this year in matching up against Monsignor Pace.
"Miami-Dade County baseball is tough," Adames said. "You play these big games there and then we come up and play some teams in Broward that we have never seen before. It was a great victory, but congratulations to Douglas; they have a great ball club."
Part of the excitement of the Madness Shootout is seeing great teams play each other for the first time. While there they know about one another, they may not have the familiarity that comes with other teams played more regularly.
"High School Baseball Network does such a great job that when we prepare our team for an opponent they know exactly who the key guys are," Adames said. "I know some coaches don't like to put their stats in there; I do. If you're going to be the best, the best have to know who you are."
#5 St. Thomas squeaked past #13 Chaminade-Madonna 1-0 as Bryon Giles tossed a two-hitter. Cameron Krzeminski tripled and scored on Daniel Lowry's sacrifice fly in the first inning. It held up as the winning run. The Raiders will take on top-ranked Archbishop McCarthy in a semifinal at 7 tonight at Pompano Field A.
#7 Goleman overcame a 4-1 deficit in the first inning by plating 10 in the top of the second to go up 11-4 en route to a 16-6 win over #14 Belen. Kevin Perez went four and two-thirds innings, striking out five to lead the Gators (14-2). Michael Avendano went 2-for-3 with a home run, two RBIs and two runs, and Jasiel Perez went 2-for-3 with a stolen base and two runs. German Villar added two hits, drove in four runs and scored once.
#4 Boca Raton nipped #15 Port St. Lucie 6-5. The Bobcats rallied from a 5-1 deficit with a three-run third and a two-run sixth to overcome the Jaguars. Anthony Acino, who walked, scored on a wild pitch before Noah Richman singled in Ricardo Gonzalez and Phillip Santiago sacrificed Zach Zientarski home. Brendan Hughes scored on an error, and Austin Dilbert scored when Santiago was hit by a pitch with the bases loaded. Boca will play Suncoast, and Port St. Lucie faces Trinity Christian today.