Seventh-inning Rally Lifts TERRA Past Braddock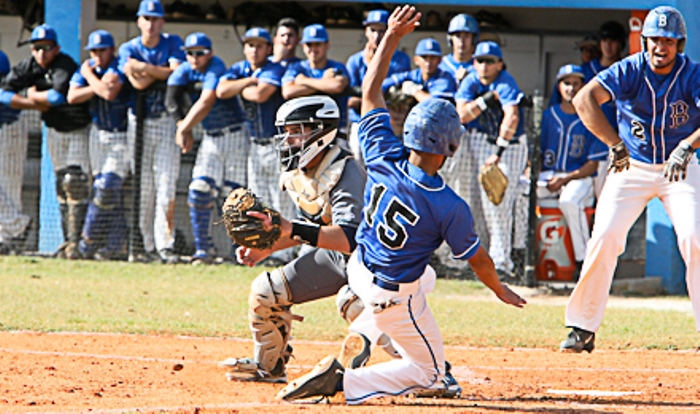 Matthew Muina and Lance Curtis delivered clutch RBI singles in a three-run seventh inning to lift TERRA past Braddock, 6-4, Wednesday afternoon on the road in a non-district game.
Trailing 4-3 in the top of the seventh, the Wolves (7-5, 2-1 7A-16) put their first two batters on base. Andre Perez (2-for-2) singled and Luis Trujillo reached safely when his sacrifice bunt was mishandled allowing Perez to score the tying run.
Muina followed with the game-winning RBI, a single that plated Trujillo with the go-ahead run.
"He was throwing a lot of strikes while he was warming up, so I thought if I get a good pitch I'm going to take it for a ride," said Muina, who did just that, spanking a curveball to left field. "I just try to find ways to pick up my team all the time and try to find good pitches to hit, being tough with two strikes, and just trying to get out here and get a W every day."
The comeback extended TERRA's win streak to four games.
"It's great, we're just building everyday and trusting the process; trying to get better every day," said Muina, who went 3-for-4 to lead the Wolves' 11-hit attack.
Curtis (2-for-3) then completed the comeback with his RBI single that scored courtesy runner Juan Cueto.
The Wolves are 4-3 this season in games decided by two runs or fewer.
"It's been that type of season and everybody's doing their part," said Terra Manager Jesse Fernandez. "We've had a couple of nail-biters the last couple of days. It's been fun. The kids are starting to buy in and you could really see the effort."
Braddock (5-4, 4-1 9A-15) took a 2-0 lead in the first inning. Hianny Olivares sandwiched an RBI single between doubles by Yandy Morales and Miguel Rivera.
The Wolves tied it with two runs in the second inning. Curtis and Danny Pichardo both singled and scored on RBIs by Perez and Angel Navarro.
They scratched out a run in the top of the fourth inning to take a 3-2 lead. Navarro singled and moved to second on an error. He was advanced into scoring position on a Pichardo sacrifice bunt and scored on a sacrifice fly by Perez.
Braddock regained the lead in the bottom of the fourth. Rivera (2-for-2) walked and courtesy runner Steven Jorge scored on a wild pitch to tie the game. Back-to-back doubles by Nelson Alvarez (2-for-3) and Marlon Gutierrez gave the Bulldogs a 4-3 advantage.
It was a lead they held until the Wolves rallied in the seventh.
"I just told the guys to just bounce back put it behind them and learn from their mistakes," said Braddock Manager Tony Casas. "Up to this point we've been playing very well. We've just got to continue to execute both offensively and defensively."
Evan Ortega picked up the win in relief for TERRA. The senior worked two innings out of the bullpen, retiring six of the seven batters he faced.
"I came in with a positive attitude, just looking for some good fastballs to throw in the strike zone," Ortega said. "My teammates got the job done; some good ground balls and I thank them."
Andres Perez earned a save, working the seventh inning while striking out two.