S. Dade's Burnside Wins #500 With Rawlings Tourney Championship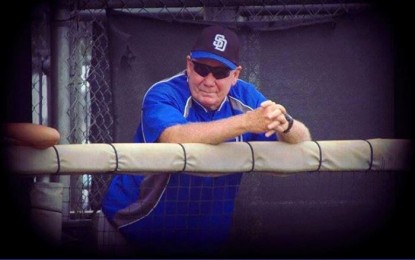 Saturday brought special results for the South Dade baseball program and its manager Fred Burnside. The Bucs completed an impressive tournament run by claiming an 11-4 victory over Merritt Island to win the championship of the Perfect Game Rawlings Classic Select tournament in Lake Point, Georgia. The win also gave Burnside his 500th career coaching victory.
"That made it a little more special," Burnside said. "It was neat, but I said it is about the kids and it is not about me. My only wish would be that it was my first one."
Coach Burnside began his coaching career at Killian in 1969, and he got his head coaching start at Miami Southridge. He then fluctuated between college and high school coaching over the next 30 years, spending time at Miami-Dade College, back at Southridge, and then at Southern Louisiana. For the past eight years, Burnside has been the manager at South Dade.
While he appreciates every moment and every stop along the way, the veteran skipper admits he and his coaches relish the South Dade community they are a part of. The program brought home its first and only state championship in 2014 and the team is widely recognized as a dangerous and worthy contender each season. Burnside says none of it would be possible if not for the contributions from the community that supports them.
"When I first went there, the field was in shambles, but now it is one of the best in town. That's a result of that community," Burnside said. "They are very supportive and that is part of it, is to do it for them."
The Bucs (16-1) wasted no time in giving all their fans back home another big day to enjoy. South Dade scored nine runs over the first two innings to take a commanding lead it never relinquished. Danny Vaughan walked and then scored on an RBI double from Gabe Cruz to erase a 1-0 deficit in the bottom of the first. Ricardo Sobalvarro followed with an RBI double to push across courtesy-runner Wesley DaCosta for the lead, and Chris Allende added an RBI single to plate Sobalvarro.
The team put things away in the second. Willy Escala had a two-RBI single and then scored on an error, and Alek Manoah added another big exclamation point with a towering three-run home run over the scoreboard to give South Dade a 9-1 advantage. Manoah went 2-for-4 with four RBIs, Escala was also 2-for-4 and Joel Rivero went 3-for-4 with two runs.
As thrilling as the final results were for the team, Burnside admits his favorite part of Spring Break trips is the chance to get out of town and let his team bond together. The experiences they share make them stronger as a group, both on and off the field. Even though baseball required most of their time while they were away, the Bucs were able to get a chance to go to the movies together to see Batman Vs. Superman: Dawn of Justice.
But when it was time for business, the Bucs took care of it. South Dade edged Enterprise, Alabama, 5-4 in the opening game of the tournament, as the club was able to get by the Wildcats ace and Chippola signee Parker Warren. Next the club got big offensive contributions from Willy Escala and Jose Zepeda to lead to an 8-2 win over Hersey, Illinois. The Bucs turned right around following that win and earned a 13-6 victory over O'Fallon Township, Illinois, as ace Chris Gomez battled through the flu to deliver four strong innings on the mound and lead them to Saturday morning's championship.
"It was great competition and that facility at Lake Point is second to none," Burnside said. "The idea for something like this is to get you ready for the stretch run here, and we have two big district games next week. You want to face good competition, and I like to get away and see some out-of-town teams. Plus, getting out of town, different people get to see your kids and it's a little more exposure."
While the club enjoyed major contributions up and down the roster, Burnside pointed out the big week that Ricardo Sobalvarro had at the tournament. Sobalvarro was 10-for-15 with three doubles, a home run, four runs and four RBIs over the four games.
"He was unbelievable, and if they have an MVP it should certainly be him," Burnside said. "They almost couldn't get him out, and 10-for-15 is really unheard of. There were some good performances there and it was all pretty good."