St. Brendan Avenges Early Season Loss To LaSalle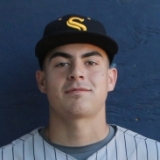 The St. Brendan Sabres put an end to a four-game skid on Tuesday night. Better yet, they did it on the road, powered by a dominant, four-hit, two-run, complete game by starting pitcher Frank Melero. Perhaps even better than all of that is that they did it by ending a five-game winning streak for their district rival LaSalle Royal Lions.
The Sabres, who lost to their 5A-15 rivals by a score of 7-5 earlier in the season, made up for it by taking control of Tuesday's road trip in the second inning and never looking back en route to a 7-2 win.
Melero gave up two first-inning singles that turned into runs on a passed ball and a bases-loaded fielder's choice, but curtailed the Royal Lions' bats the rest of the way. He struck out eight batters during his time on the mound and came away with his second win in as many starts this season.
Facing the 2-0 hole, the St. Brendan's offense slowly chipped away at the lead before jumping out on top for good. They plated a run in each the second and third inning to draw even and put three up on the board in the fourth to take a comfortable lead.
The run in the second came courtesy of a Nick Bermudez triple and RBI single by Brandon Denis. Aside from that RBI, Denis also went 3-for-4 on the night. He scored the first run of the fourth by singling and then coming home on a sacrifice fly by Michael Torrente. Jordan Lopez recorded the first of his three RBIs with another sac fly two batters later.
The Sabres scored two unearned runs in the sixth to put an end to the scoring.