Westwood Holds Off Brito 10-8 To Take District Lead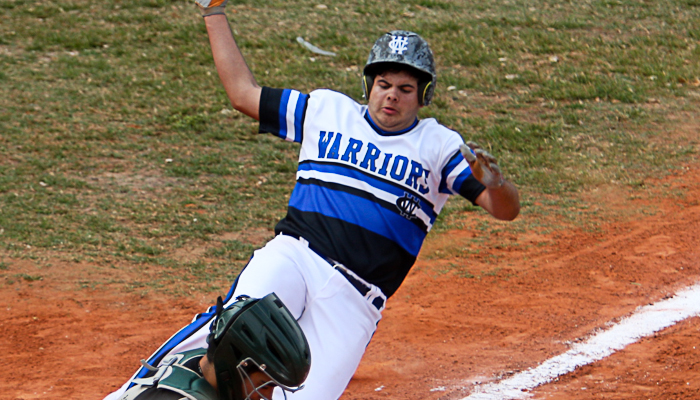 Westwood Christian used a six-run second inning to take a big lead early and then had to hold off Miami Brito for a 10-8 win Tuesday afternoon at cozy Westwood Christian High. The Warriors (7-2, 5-0) extended their win streak to seven games with the key district victory and remain in sole possession of first place in the 2A-8 standings.
The Warriors made good use of four hits, three walks and an error in a 3-3 tie and took a commanding 9-3 lead. With another run in the third inning, the Warriors held a seven-run advantage after three innings.
But there was no quit in the Panthers (6-3, 4-2), not after junior Onelio Perdomo belted a three-run home run in the fourth inning to make it a ballgame again. The Warriors tallied twice more in the fifth inning, but left the potential tying runners on base in the sixth inning before the game was halted by darkness.
"They got to an early lead and we played catch-up the whole time," Brito Manager Pedro Guerra said. "In a ballpark like this you never know what's going to happen; short fence all the way around."
Perdomo, who also doubled in the first inning, cleared the 255-foot sign in right-center field with his homer. It is 225 feet down the right-field line.
"They battled," Guerra said of his team. "It's a shame we couldn't get the last inning in. I think if we could have gotten that seventh inning in, we were just getting hotter as the game progressed, I think we would have made a push for it."
But another slow start doomed the Panthers.
"We started off slow," Guerra said. "That's kind of been the story of the year so far. We start off slow and get hotter as the game goes. But we play in a lot of parks that don't have lights. It catches up to you."
The Warriors jumped out to a 3-0 lead in the first inning, highlighted by RBI singles from senior catcher Matt Fernandez and Michael Mejias. Fernandez walked in the second-inning explosion and doubled in the third.
He said the game plan called for short swings and driving the ball to right field, getting the ball in play and putting it on the ground. It worked well. The Warriors banged out 10 hits over the first three innings.
"It was a little hectic at the end, for sure, but I think what helped us get through was a strong start," Fernandez said. "We followed the game plan and had a lot of success with it."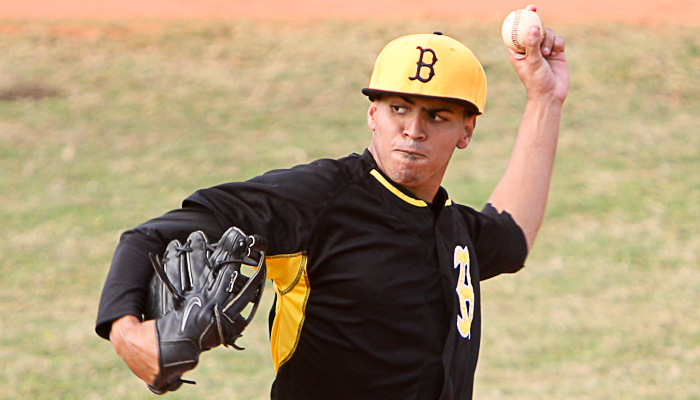 Fernandez battled back from a 1-2 count in the first inning, driving a single to score Peter Esposito with the game's first run.
"I had a good two-strike approach," Fernandez said. "He threw me a couple of tough pitches and I fouled them off. Then he threw me a curveball that hung a little bit and I took advantage of it. I drove it to left-center."
Fernandez, Esposito, Steven Jimenez, and junior Matthew Mejias delivered two hits apiece in the Warriors' 10-hit attack.
"It was a crazy game," said Mejias, who in addition to adding to the offensive fireworks, also earned a save with one-and-two-third innings of relief work. "We came out here just looking for a win, trying to get the top seed in the district. We got a good lead, followed the game plan, getting good hits and bringing in runs."
Starting and winning pitcher Nick Mejias added to the hit parade with a two-run single in the second inning, and Michael Mejias contributed with a first-inning RBI single. Nathan Pereira lofted a sacrifice fly and an RBI in that fateful second inning, while Humberto Di Mare walked and scored in the frame as well.
"We were geared up for their starting pitcher," said Westwood Christian Manager Julio Andrade. "We hit him pretty good and then they brought in the lefty and he kept us off-balance."
Brito senior lefty Juan Carlos Valdez put a halt to the Warriors' attack. He threw four innings of relief, allowing just one run on just two hits. He retired the final seven batters he faced to keep the Panthers in the game.
"They showed a lot of effort," Fernandez said. "They didn't quit, which I applaud them for. They were down big in the third inning and they came back."
The Panthers tied the game with a three-run second inning. Senior Ariel Rocha and freshman Luis Ruiz delivered RBI singles from the bottom of the Panthers' lineup. The two combined to go 5-for-6 with three RBIs and three runs scored.
Christian Alvarez, who opened the inning with a walk, and both Robert Hernandez and Richard Nunez followed with singles. All crossed the plate to make it a 3-3 game.
Playing in their fifth game in six days, the Warriors were short-handed on the mound, but both Nick and Matthew Mejias were courageous in their efforts on the hill for Westwood.
"My pitchers were really gutsy today," Andrade said. "They were running on fumes."