Arriera's Shutout Leads Westland Hialeah Past Cooper City
Giovanni Arriera broke some hearts on Wednesday.
The Westland Hialeah ace threw another gem to lead his team to victory, as the Wildcats held off Cooper City 1-0 at Hialeah's Walker Park in an 8A regional quarterfinal.
The right-handed Arriera went the distance on the mound, needing just 90 pitches for the complete-game shutout.
The Wildcats (19-9) advance to next week's regional semifinal, where they will host district rival Mater Academy back at Walker Park.
The Lions advanced with a 5-2 victory over Nova in the other quarterfinal on Wednesday.
"I love pressure, and last year we went home early in the first game of regionals, and it didn't leave a good taste in my mouth," Arriera said. "We got past the first round and it tastes a lot better. We're moving on."
Both sides played clean and competitive playoff baseball to its finest, and a run in the first inning proved to be the only score of the entire game. Ronel Rodriguez singled up the middle and moved to second when Bryan Lavastida lined a single past the shortstop. The Cowboys got a big bounce-back thanks to a smooth 4-6-3 double play, although Ronel advanced to third on the play. A wild pitch brought the leadoff hitter home for the lone score of the day.
"That was an amazing game. It was hard-fought on both sides," Westland Hialeah manager Jose Alvarez said. "They wouldn't give an inch, we didn't give an inch; we just scraped one out and that was the deciding factor. I just keep telling the guys that we're not done yet. Let's keep having fun, let's stay out here and be out here as long as we can."
The Cowboys (14-11) also played like a team eager to advance and keep thew season going. Cooper City did not commit an error on defense and also got excellent pitching to stay in the game to the very end.
"I'm proud of them," manager Chris Delgado said. "That was a good arm we faced there and we just tried to come up with something to get it going. We finally got lucky in the end there and put a couple of things together, but it was a tough game all around from two pretty good teams."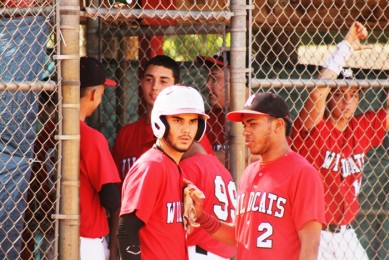 Arriera was perfect until two outs into the fifth inning, when Richard Silva lined a single into left field. The Cowboys got their only other hit when Cameron Stadler dropped a flare into left field to spark a seventh-inning rally. Trevor Reto worked a walk and Silva sacrificed himself with a bunt that advanced both runners, putting the tying run at third and the go-ahead run in scoring position. But Arriera recorded a swinging strikeout to close the day out.
"All in all they didn't really do anything to lose the game," Delgado said. "We just couldn't get the timely hits. If we would have hit a little bit we could have come on top."
Arriera had a lot to do with that. He was tough to make contact with, and he surrendered just one walk. The senior piled up 14 strikeouts while pounding the zone on 63 of his 90 offerings. Although he pitched with the lead nearly the whole way, it was the only cushion he got.
"My team gave me a run and I worked with that," Arriera said. "I know they will have my back in the future so I have their back whenever I can."
Westland managed just three hits against Cowboys starter Jeremy Brower, and none against relievers Jake Walker and Angel Almonte. The Wildcats still managed to put runners on base in nearly every inning, with their best chance of scoring coming in the sixth as they pressed to try and tally a valauable insurance run for Arriera.
Lavastida worked a walk and then stole both second and third to get into scoring position.
"He's been awesome on the bases all season," Alvarez said about Lavastida. "He's got a knack for swiping bags, so I just let him go and let him do his thing."
Jorge Diaz also walked, and then was replaced on the bases by Kevin Novoa. With the pressure on, Cooper City got a big rally-killer when Reto fielded a grounder and fired home to hold the lead runner, before Silva gunned the ball back to him and the shortstop made a nifty back-handed tag to erase a runner and record a valuable out. An infield putout ended the threat and kept it a one-run game for the Cowboys' offense heading into the top of the seventh.