Goleman Handed Regional Quarterfinal Loss By McCarthy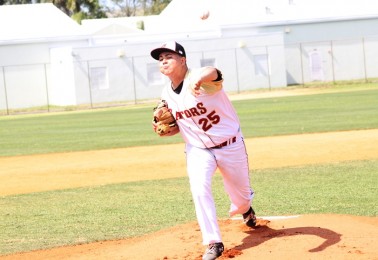 Photo Gallery
There are certain teams that when they walk on the field, they command respect from those in the other dugout. Sometimes, facing a five-time state champ can make even the best of teams shutter.
That was the case Wednesday afternoon when Archbishop McCarthy rolled into Florida Memorial with their championship pedigree and walked out 11-1 winners over one of Miami's top teams, Barbara Goleman.
"We have the utmost respect for Goleman," said Manager Rich Bielski. "Today, we were able to score runs early, and our freshman came up big on the mound. We take everything one game at a time, and today was a good day for us."
That freshman was Yordani Carmona. The lefty went the first four innings, allowing only three hits and one earned run against a strong Gators offense. Carmona and teammate Joe Perez are both new to the Mavericks this year, and are surrounded by a roster full of players that won a state title last year.
On Tuesday, however, it was Carmona and Perez, who had four RBIs on the day, that led the way, showing that their teammates championship aura had worn off on them.
"These guys have all been great," said Perez. "Every day we know that it can be someone different that can come up big. Today was my turn, tomorrow it will be someone else. That is what being a great team is all about."
The Mavericks set the tone in the first inning when Kobe Lopez, who was on base four times on the afternoon, walked to lead off the game. Alex Carballo followed with a sacrifice bunt, and one out later, Perez hit a single up the middle, giving McCarthy a 1-0 lead.
"Having a lead early always helps when you are on the mound," said Carmona.
If having a 1-0 lead was helpful to Carmona, then having a 5-0 lead after two innings gave the lefty all the runs he would need in this one. The Mavericks squashed any ideas Goleman had of an upset with the five run inning, which was highlighted by a double from Carmona, and singles by AJ Hendricks and Ubaldo Lopez.
Giving up five runs in two innings was uncharacteristic of a Gators team who had lost only two games all season.
"Sometimes, when you are in a situation of a winner take all game, things don't go your way. Today, we just did not play our best game, and it was a tough time to have this type of game."
While Goleman was figuring out what went wrong, McCarthy kept piling on the runs, scoring a single run in the fourth, three in the fifth, and two more in the sixth to close out the Gators and advance to the 6A regional semifinals.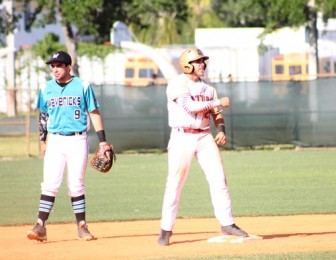 Although Bielski likely had an idea his Mavericks would be heading towards another winner-take-all showdown with rival American Heritage, the skipper played it coy when asked about that possibility.
"I haven't even thought ahead past this game until just now when we broke the huddle," said Bielski. "We were focused today on a very good Goleman team, and now we can start preparing for whoever it is we will face next."
That opponent will indeed be the Patriots, after they defeated Miami Springs 10-0 Wednesday night. The teams split the season series, with McCarthy winning in the regular season, and Heritage winning the district title last week. It will be a similar scenario as last year, when Heritage won the district title, before watching the Mavericks win the regional semifinal match-up on their way to a state crown.
"If it is Heritage, I'm sure it will be a great game," said Perez, earlier in the afternoon. "They beat us last week, and we will have to prepare and do everything possible to focus and play our type of game, no matter who we face."
For Goleman, the season ends on a bitter note, but there were plenty of highlights along the way, including GMAC and district tournament titles.
"It's hard on us, because we have to work so hard to get these guys prepared," said Lopez. "But I am very proud of the season these guys have had and the effort they have put in. This team is an important part of what we are building. We didn't play well today, sometimes that happens in baseball, but I am proud of my guys for the year they have had."