Goleman Outlasts Jackson In First Round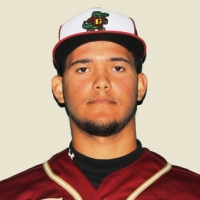 With a 24-2 record, a spotless 12-0 mark in 6A-16, and the number four spot in HSBN's Miami-Dade power rankings, the Goleman Gators were pretty much expected to roll through the playoffs and over to jetBlue park for the state tournament.
Instead, their newly-minted district rival, the Miami Jackson Generals, gave the Gators all they could handle in the first round on Monday afternoon. The Generals fought tooth-and-nail for nine innings before finally succumbing to the Goleman squad by a score of 5-4.
A lead-off double by Ricky Guerrero helped the Generals to break a 1-1 tie in the top of the second as they scored two runs to take an early lead. Goleman one-upped Jackson in the bottom half, scoring three times to jump back on top. Thomas Hernandez brought two of those runs around with a line-drive double into left field.
After three quiet innings and with their season on the line, Guerrero struck again for the Generals in the sixth. After Kerlin Mateo doubled to lead off the inning, and Guerrero drove home his courtesy runner to knot things up at four apiece.
Two-and-a-half more innings of scoreless baseball ensued as the teams battled to keep their playoff hopes alive.
Finally, in the bottom of the ninth, the Gators broke through. With one out, Michael Avendano singled and then scored the walk-off run on a double by German Villar.
After the win, Goleman manager Jose Lopez was gracious and proud.
"We beat a Jackson team that has a lot of talent," Lopez said. "We had to work extra hard to obtain the victory. I'm proud of my players."