Pace Wins Nail-Biter 2-1 Over Key West In 5A Regional Quarters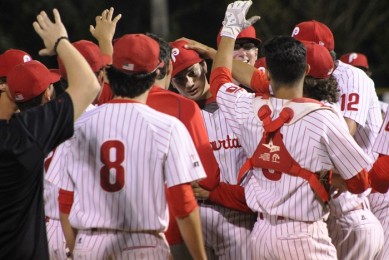 Photo Gallery
The Pace Spartans came into their 5A Regional Quarterfinal match-up with Key West riding high. The Spartans were winners of 19 straight games, and #1 in the HSBN Miami-Dade Power Rankings. What they almost learned, however, is that records go out the window and rankings mean nothing come playoff time.
Pace was able to survive a valiant upset effort by a young Key West team, and came away victorious 2-1, behind another mesmerizing performance from ace Chris Rodriguez.
The tall right-hander, throwing in front of over 40 pro scouts, put on a show, throwing a complete game, and striking out 15 Conchs, including the last seven he faced. Rodriguez had three innings where he struck out the side.
"That's what Chris does," said Pace Manager Tom Duffin. "He's obviously one of the top pitchers around, and he's our horse. Every time we give him the ball he puts on a performance like this. Today he was just getting better and better as the game went on."
That he was, and the Spartans needed every one of those 15 strikeouts to hold off the game Conchs. On the mound for Key West was Hunter Sellers, and for most of the night he matched Rodriguez' effort with a strong one of his own.
"Hunter threw the ball well," said Key West Manager Ralph Henriquez. "If we get a couple things to go our way, that may have been a different outcome. We're a young team that got better as the season went on, but in the playoffs against teams like Pace, you can't make any mistakes, and we made a couple tonight."
Key West actually had the lead through most of this game. In the second inning, they were able to scratch across a run off Rodriguez. Junior Kyle Snow led off the inning with a single, was moved to second on a balk, and then came around to score on an infield error.
Sellers made that 1-0 lead hold up until the fifth. Jonathan Reyes-Diaz and Bryan Diaz hit back-to-back doubles to even the score at one.
In the sixth, a seemingly harmless two-out single from Jonathan Ledesma, turned into the winning run when pinch runner Nicholas San Marty stole second, and scored on an infield error. San Marty was heading towards third and never slowed down rounded the bag, allowing him to score on the play.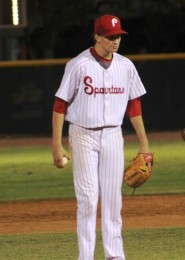 Even with the offense struggling most of the night, Rodriguez had nothing but praise for his teammates.
"I didn't feel that much pressure," said Rodriguez, of having to be nearly flawless. "These guys always come through and pick me up, and I knew they were going to tonight also. We are a team, and we only have one goal right now, and that's to win it all."
While the player had confidence, this type of game is exactly the type that Duffin had warned his team about.
"We told them, all it takes is a walk, a bloop single, and an error, and offensively you hit some balls hard that don't drop and you're season can end," said Duffin. "Key West played well and their pitcher threw a great game. I'm just glad we were able to put some things together there at the end."
Up next for the Spartans will be Gulliver Prep, the number three team in the HSBN Miami-Dade Power Rankings, and Rodriguez is looking forward to the challenge.
"Those guys are all our friends over there at Gulliver," said Rodriguez. "But on Tuesday, once we step between the lines, the friendships are out the window. We are both going to be competing to win the game. We will be ready and focused, and I'm sure they will as well. They are a tough team. It's going to be a battle."