Columbus Edges Alonso To Return To The State Championship
All season long the Columbus Explorers have thrived on pitching and defense, and that trend remained true in Friday afternoon's Class 9A state semifinal against Alonso at jetBlue Park in Fort Myers.
Behind a great defensive effort in support of ace Andy Arguelles on the mound, Columbus scrapped out a 2-1 victory to advance to Saturday's state championship against Douglas.
The defending 8A champions now have an opportunity to win consecutive titles, albeit in different classifications after the state added 9A this season. The Explorers will face a Douglas team that defeated West Orange 3-2 in the other semifinal.
"It was kind of the type of games we've been playing all year," Columbus manager Joe Weber said. "We grind it out, we pitch and we play defense. We try to get a clutch hit here and there. It really was not much different than we've been playing all year round. We're not a team that goes out and puts up a lot of runs. We're built on pitching and defense."
With the game tied in the top of the seventh the Explorers made the final plays they needed to earn the victory. Mikey Navarette reached on an error and then moved to second on a throwing error on a pickoff attempt to get into scoring position. Matt Alfonso moved him to third with a great sacrifice bunt on a high pitch the sophomore second baseman was still able to get down on the grass where he needed it. Mike Fernandez then followed with a suicide-squeeze bunt that pushed Navarette across the plate with the winning run.
Columbus closer Dominick Diaz came on to close things out in the seventh and earn his fourth save of the season. Despite allowing a lead-off walk to Mason Turner, who then reached second on a sacrifice bunt, Diaz dug in to make the pitches and record the final three outs that preserved the victory.
"Diaz throws strikes, and if you pound the zone good things are going to happen with defense behind you," Weber said.
Arguelles allowed a few more base runners than has been typical of him all season. Pitching in grueling hot conditions on a very humid afternoon, Weber admitted he could see Arguelles was running out of steam faster than usual. Yet the southpaw hung in and went six full innings, allowing two hits and six walks while striking out a pair.
"As I got tired more and more over the game I felt I needed to get ahead more," Arguelles said. "I didn't always get ahead like I wanted to, but I think every time I did get ahead it helped a lot, because I was pretty tired."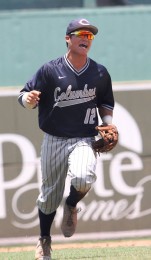 The defense behind Arguelles and Diaz provided numerous big plays to erase base runners and support the pitchers. Columbus recorded three double plays, including two that began with the second baseman, Alfonso.
"I'm only a sophomore, so I feel like I've learned a lot since last year," Alfonso said. "I told these guys I'm going to work hard for you guys because I know have the opportunity. If they're going to hit me the ball, I'm working hard so I feel that I have put in the time to actually succeed in those moments. I guess it's true; it showed today."
Columbus opened the scoring with a run in the top of the second. JC Carullo was hit by a pitch, stole second and came home when Jose Machado reached on an infield error.
The Ravens got on the scoreboard to tie things up in the bottom of the sixth. Mike Paule walked and moved to second on a wild pitch, where an infield error allowed him to round third and even the score at 1-1 heading into the seventh.
Thanks to that seventh-inning magic the Explorers are knocking on the door in pursuit of another state title. Saturday they get the chance to earn it against a fellow team from South Florida in a Douglas squad from Parkland in Broward County.
"It doesn't matter who you are playing; you're just so happy to get here at this stage," Weber said. "It's such a grind getting through the districts and regionals. When you're on that one-game-and-done grind to get here, you take a breath and you're happy to be here. Whoever it is you're just happy and excited for the moment."