Coral Park Pitches Past Hialeah Gardens to Regional Final
Coral Park's offense had been carrying the team throughout the playoffs thus far. But on Tuesday afternoon it was Anthony Vazquez's complete-game shutout that led the Rams to a 2-0 victory over Hialeah Gardens. Coral Park advances to the regional finals, where it will host either Columbus or Southwest Miami.
"It's been a team effort this season," Coral Park manager Butch Carnicero said. "One of our pitchers was due for a game because it had been our offense carrying us. Anthony came through, and I had no doubt that he would."
Vazquez finished the game with seven strikeouts, including striking out the side in the bottom of the seventh to close out the victory.
"My coach just told me to keep on battling, and I did," Vazquez said. "The curveball was there; the fastball was there; the changeup was there. That's what I needed to move forward. I just kept telling myself that they were not going to score today."
On the other side of the mound, Hialeah Gardens starting pitcher Carlos Alcon allowed just two earned runs in 6 1/3 innings of work. He also had a stretch where he retired 15 consecutive batters. However, Coral Park's offense used timely hitting and scored in the first and final innings.
"The offense battled," Carnicero said. "All the credit in the world to their pitcher. He did a great job of keeping us off balance. They kept grinding and grinding, which is all you could do."
For Coral Park, Erwing Hernandez started the game with a line-drive single up the middle. He stole second base, which allowed Axel Gomez to drive in the first run with a single to the opposite field.
The offensive bats, which had produced 29 runs in three prior playoff games, remained silent until catcher Erik Esteves hit a single, followed by an Edwin Montesino triple. Pinch runner William Silva tacked on the final run to make it 2-0. The two runs were more than enough support for Vazquez, who seemed to get stronger each inning.
In addition to being responsible for starting the rally for the insurance runs and calling a shutout game behind the plate, Esteves also helped his starting pitcher get out of two critical jams in the second and fourth innings. In the second inning, Esteves gunned down a runner on first. The following inning, Hialeah Gardens had runners on first and second when Esteves caught the runner on first leaning too far from first. He fired to first, which eventually recorded the third out of the inning in a rundown.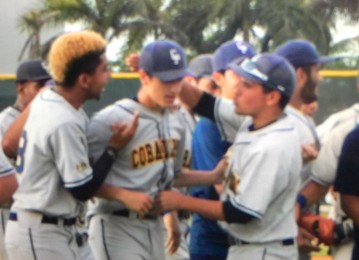 "It's been three years of working with Erik to get to this point," Carnicero said. "I knew he could get to this point, and he's been huge for us this season, not just today."
The loss means the end of a promising season for  a Hialeah Gardens team that went 18-6 for the program's most wins in a season. Manager Tino Burgos is proud of his team's stellar year and is already optimistic about next season.
"We had a great season, but it comes down to the little things, and we did not execute," Burgos said. "Carlos Alcon threw a heck of a game. He did everything in his power to win us the game. For next year, we just need to keep battling to get over the hump. That's what we need to focus on."
Last season, Coral Park won a total of seven games. With Tuesday's victory the Rams reached 20 wins, and counting.