Gaither Shuts Out Belen Jesuit In 7A State Semifinal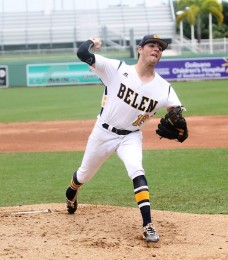 Photo Gallery
Belen Jesuit returned to the state tournament for the first time in nine years, but fell short of advancing to the 7A championship following a tough defeat to Gaither. Behind a relentless offensive attack and a dominant start from senior Gavin Gillespie, Gaither blanked the Wolverines 5-0 Thursday afternoon at jetBlue Park in Fort Myers to advance to Saturday's state championship.
"We feel very, very happy that we are going to go to the state championship game," Gaither manager Nelson North said. "I like our team's focus, and obviously I love the pitching and defense. We took advantage of our speed game and today it worked out for us. I felt Belen Jesuit was a very well-coached team and we feel fortunate to win."
Gaither stormed out in front with it's first swings. Edgar Nunez reached on an error and stole second base, and Kenny Rodriguez rolled an RBI single through the left side. Camryn Williams followed by lining a single over the shortstop and a double-steal put both base runners in scoring position. Danny Gutcher drove a fly ball to right field for a sac-fly RBI that plated Rodriguez and Chipper Holland lined an RBI single up the middle for a 3-0 lead.
"These are the kids that have made all the plays all the way through, and sometimes these things happen," Belen Jesuit manager Jerry Albert said of the first inning that dug the team in a hole it was unable to climb out of. "They have been in as tough of a situation as these over the last five or six games and they've come up tremendous. I think it's just unfortunate because our kids have been in pressure situations and have been performing."
The Cowboys (19-9) added another run an inning later and then tallied their final run in the fourth to close out the scoring. That offense was more than enough for Gillespie, who worked his way through the Wolverines with ease and precision.
Despite the deficit, Belen Jesuit never doubted it could come back after the team had done it so many times before during the playoffs.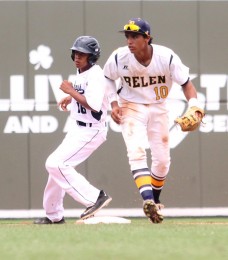 "We're good at bouncing back; we've done it the whole year," said Eric Wilson. "This nine-game win streak that we've had we've always bounced back and we've always found a way to win. We had confidence in ourselves, but sometimes it doesn't happen."
The southpaw throwing for the Cowboys had something to do with that. Gillespie focused on staying calm, hitting his spots and working pitch by pitch. The left-hander was crafty, effective and tough to hit, retiring 17 batters in a row during one stretch. He lived in the strike zone by throwing 55 of his 77 pitches for strikes, yet still only allowed two hits and two walks and recorded seven strikeouts.
Wolverines starter Pablo Arevalo had been dominant during their playoff run, but struggled against the upstart Cowboys. The senior right-hander did not make it out of the fourth inning in allowing seven hits and a walk, while surrendering one earned run and five runs overall.
"I wanted to have the best possible game I could have, but sometimes you miss a little bit and things don't go your way," Arevalo said. "I definitely didn't have my best stuff and I don't think I even had a strikeout. That's baseball and you have those games. It's just unfortunate it happened in this game."
Coming back from a midseason Spring Break trip, the Wolverines were struggling and the path ahead offered two differing directions the team could have gone. The team rallied together and played their best baseball to make this playoff run and reach the final destination that every team across the state dreams about from the very first second the season begins.
"We're extremely proud of the kids and we had a great run," Albert said. "It was the seniors that helped turn it around and we're very happy with their character and perseverance. They showed a lot in turning the season around, so we're very happy with the boys and the season they had. We just wish we would have played a little better today."