Monsignor Pace Falls to Bolles In Extra Innings In State Final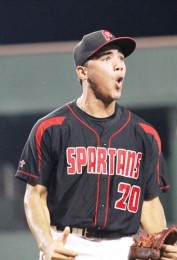 Photo Gallery
A memorable season came to a tough conclusion Thursday night in the 5A state championship at jetBlue Park in Fort Myers, as Monsignor Pace lost 1-0 on a walk-off to Jacksonville Bolles in the bottom of the ninth inning. After both sides battled back and forth for more than three grueling hours of intense baseball, the Bulldogs' Nate Skinner dropped down a squeeze-bunt that left the defense with no play as Hamp Skinner crossed the plate well ahead of any potential throw home.
The Bulldogs (28-3) claimed the championship, while the Spartans were left reeling after having come so far in such a lengthy and challenging journey that began years ago. The majority of the members of the team have played together since they were young, and most of them were part of a group that started this title chase three years ago as underclassmen learning at the varsity level together.
"You saw them leave it all on the field," Pace manager Tom Duffin said. "Unfortunately we could not get that one big hit. In the last three innings we put ourselves in bad situations. We were able to battle out of it two times, but the third is the charm. It's probably one of the better state championship games you're going to see out here, and my hat goes off to Bolles. It just breaks my heart that these guys lost that way, because we had our opportunities. But that's baseball."
The Spartans (27-5) found more offense than in their state semifinal victory of the previous night, collecting five hits and putting runners on in nearly every inning. Senior Jordan Topps led the way by going 3-for-4 to account for half of those hits. Yet the team was unable to find that one crucial swing that sent any of those base runners home to get them on the scoreboard.
"It's one of those things where it's tough, but we had our chances," Duffin said. "We were trying to manufacture runs and we had guys on second and third a million times and just couldn't get it. My hat goes off to Bolles; they were resilient and they got the play down when they had to."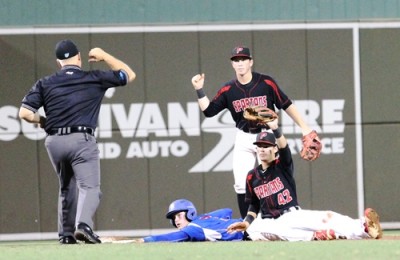 Junior left-hander Manuel Rodriguez delivered a gritty and emotional complete-game performance. The southpaw allowed just four hits and three walks in just over eight innings of work, while picking up seven strikeouts. After escaping a seemingly insurmountable jam in the eighth, the Spartans planned to go to the bullpen to start the ninth. But Rodriguez successfully lobbied to let his coaches keep him in and trust him to give them one more inning.
"We wanted to take him out and he said, 'You're not taking me out'. That was going to be his last inning but I didn't want to do it," Duffin said. "The kid was dying to stay in and that was going to be his last inning. Then they executed the play and it is what it is."
The Pace program is steeped with tradition and legacies, and even in defeat this group can take comfort in knowing they started from the bottom and brought the program back where it is accustomed to being in the state tournament. While none envisioned that journey leading to being the state runner-ups, the players all ended the year on the field they intended to be on all along.
"I'm proud of the way these guys got here; it's just that they deserved a better fate," Duffin said. "You've got to make your own destiny. I was trying to manufacture runs, trying to steal and double-steal. The more I waited around the more I saw it wasn't going to happen. We had six hits and the approaches were better, but we just couldn't get that one big one. All it took was one hop and that is the game of baseball. That's what they put their whole life into. It just comes down to clutching-up at the end, and unfortunately we weren't there."