Westminster Christian Opens Falcons Challenge With Win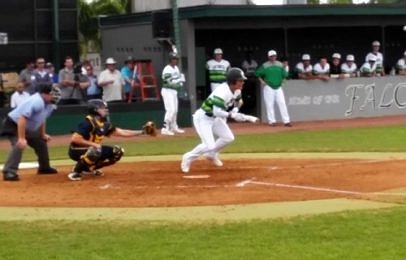 Westminster Christian knows a thing or 11 about winning state championships. The Warriors have shown a championship pedigree through the years that few high school teams can match. On Tuesday, Westminster showed that in 2017, they are seeking to add to their 11 state titles.
Playing in one of the most competitive tournaments in the nation, Westminster did it all in its 5-3 win over St. Thomas Aquinas. Timely hitting, strong pitching, and opportune defense keyed the day in the season-opening victory.
"We know pitching and defense wins championships," said Warriors Manager Emil Castellanos. "Today we threw the ball well, and played defense at the right times. It was a complete win."
Westminster was led on offense by Anthony Villar, who went 2-for-3, with two RBIs and a run. Although Villar got the offense going early with a single in the first, it was in the third inning where the Warriors staked their claim to the game. Westminster put up five runs, and broke open what had been a pitchers duel through the first two innings between the Warriors ace Dylan Cloonan and St. Thomas' Blake Hely.
"We expect to win these games," said Villar. "We know these other teams are strong, but we also know what we are capable of, and when we came up here, we expected to play well and our expectations are to win every game we play."
The inning began with a single off the bat of Danny Perez. Jamar Fairweather was then hit by a pitch, and Nicky Perez followed with a sacrifice bunt attempt that ended up as an infield hit. MJ Melendez then walked, bringing in the first run of the game. Villar then doubled to deep center, scoring Fairweather and Perez. Cloonan hit a sacrifice fly, and after Luis Aviles' single, the Warriors had a 5-0 lead.
St. Thomas did not go down without a fight. Chris Ruckdeschel singled, and after a groundout, Jake Buxbaum homered to center, cutting the lead to 5-2. In the sixth, the Raiders added a run and drew within two.
But that was as close as they got, with Sam Fernandez closing out the win in the seventh. Fernandez combined with starter Cloonan and middle reliever Jack Archer to hold the Raiders to just four hits.
"We knew they had a good team, so our approach was to just come out and get ahead and hit our spots," said Cloonan. "We have a belief we will go very far this year, and playing a game like this early in the year gives us confidence."
The Warriors understood what they were up against in a tournament that features plenty of fire power. Defending state champions Douglas and Calvary Christian are in the field, along with former state and national champion Flanagan, and perennial state contender Monsignor Pace. Even with the tough competition, Westminster has the confidence that they will come out on top.
The Warriors are off to a good start, but they will have to be ready on Thursday when they face Pace. St. Thomas will get the first crack at Pace, playing them later this evening. The winner of the bracket will move on to the championship game against the winner of the Douglas, Flanagan, and Calvary Christian bracket.