Belen Wins Regional Quarterfinal Rematch With S. Broward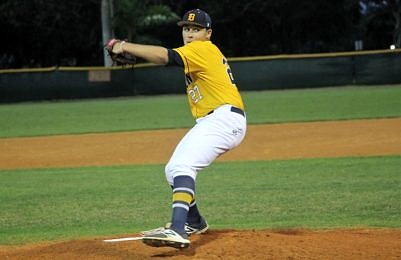 One of the advantages that has come out of the state's district realignment a few years back was a lot more games between teams in neighboring counties. After knocking South Broward out of the playoffs last season in the regional quarterfinals, the Wolverines and Bulldogs squared off again on Tuesday night.
The result was much of the same, as Belen used a crushing offense to run away from the Bulldogs late in a 10-3 victory.
"Our team has been built around pitching the past few years, and it is nice to have an offense where we have guys throughout the lineup that can contribute," said Belen Manager Jerry Albert. "Every day it seems to be a different guy that leads us offensively, and that is a nice situation to have."
On Tuesday, it was one of the Wolverine leaders that broke open a tight game. CJ Vazquez, who has been playing varisty ball for the Wolverines for four years, drove a sixth-inning pitch over the left-center field wall for a grand slam, and opened up what was a tight game.
"I knew the bases were loaded, and I went up there looking for a pitch I could hit," said Vazquez. "I just wanted to come through for my teammates, and I got a pitch I could handle and put a good swing on it."
The game was not always in hand for the Wolverines. After taking an early 1-0 lead, South Broward showed some offensive firepower of their own. After not scoring in last year's regional quarterfinal game, the Bulldogs put up a three spot in their half of the third inning. Manny Lebon, and Antonio Schembari had singles in the inning, while Makai Simons walked and Yjordan Maldonado was hit by a pitch. The big blow in the inning, however, came off the bat of clean-up hitter David Brown, who laced a two-RBI single to give South Broward a 3-1 lead.
That was all that Belen starter Alejandro Torres allowed in his five innings of work.
"He is one of our young pitchers," said Albert. "And today he did a pretty good job. Outside of that one inning, he kept his poise and kept us in the game until our offense got going."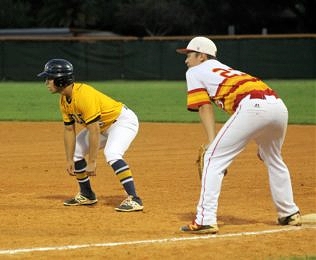 The offense found their groove in the fourth. After giving up the lead, the Wolverines came to bat and put up four runs. Showing the depth of their lineup, the two-run RBI double that gave the Wolverines a 5-3 lead came off the bat of their nine-hole hitter, Jonathan Barditch. The deep lineup is something that Belen players know they can rely on.
"We have guys throughout the lineup that can all pick us up on any day," said Barditch. "Today, I was able to stay focused and come up with the big hit, but in other games, it may be someone else. It gives us confidence knowing we can come back even when we fall behind."
The Wolverines, fresh off their state run in 2016, has started the season 4-1, and have their eyes set on another long playoff run.
"We just want to keep playing good baseball and getting better each game, and hopefully we will end up where we did last year," said Barditch.
The road to Fort Myers gets much tougher for the Wolverines next week. Belen has a district match-up with rival Doral, followed by a trip to face one of Miami's top teams, Monsignor Pace. The squad then closes their brutal week against one of the top teams in the nation, Archbishop McCarthy, at Marlins Stadium. Despite the tough schedule, Albert believes his team is ready.
"This is why we schedule these games," said Albert. "We want to play the best teams around. That is what prepares us for the postseason, and it is always a great atmosphere when we face this caliber of opponent. Its a tough schedule, but we believe the games will be competitive, as they always are."
As for South Broward, after starting the season 4-1, the team now has a game that can linger with what could have been.
"It is always good to play teams you may see further down the road," said Bulldogs Manager Charlie Cardinale. "This game was a lot closer than the score. We worked hard to get that 3-1 lead, and then we made some mistakes that cost us. It's a game that hopefully we will learn from."