Southwest, Killian Honor Dave Westberry In Game Of The Week
The High School Baseball Network Game of the Week is a charity event intended to help others in need, and Friday night's Miami-Dade game served as an excellent chance to honor someone who gave so much of himself to his baseball community.
This past summer Southwest Miami alum and faithful Dave Westberry passed away, and Friday night the host Eagles and visiting Killian Cougars played and honored Westberry at Andre Dawson Field. Recently-retired athletic trainer Cheryl Golden threw out the ceremonial first pitch, and between each inning Eagles announcer Mike Rosenthal shared memories and tributes for Westberry to the packed stadium of fans.
On the field the Eagles also did their part, honoring Westberry with a 10-0 shutout victory. A six-run second inning that was highlighted by a grand slam home run from Danny Cruz proved to be the differential, while Kike Aparicio got the job done on the mound by pitching a shutout victory.
"Westberry was a big part of our lives for many years, and the whole community's," Peleaz said. "We do whatever we can to keep him in our thoughts and like I just told the team, we dedicate this to Westberry. Also having Cheryl Golden here, who was a special athletic trainer in my life, it was a special night. These guys showed up to play. It was a big game for us; we like playing good competition and Killian has a good ball club over there. It was a good showing all around."
The Eagles (5-2) grabbed the lead in the bottom of the first thanks to an RBI single from Jorge Tejeda and an RBI groundout from Michael Piulats. Two innings later they got going again when Piulats walked and Eddie Sierra singled to right field. Piulats scored on an error and Lewis Romero followed with an RBI. Justin Worley reached on catcher's interference and Erick Orbeta walked to load the bases and bring Cruz to the plate.
The fact alone that Cruz was on the field to take his swings was fortunate, after he was hit by a pitch in the head in the first inning. Following a thorough examination and series of checkups he was cleared to return to the field in time for his big moment. He then worked the count and saw several pitches before jumping on one he liked and crushing it deep over the left field fence for a grand slam that doubled the lead and whipped his teammates into an excited frenzy.
"It feels very good and better after last week when we lost two district games," Cruz said. "We bounced back, and it is good to see improvement in our hitting and team chemistry. Last week it was different, and this week it feels completely different. It feels better; we feel like a team."
Things did not go as smoothly for the Cougars (4-2), who put runners on base in nearly every inning but struggled to drive them in. Killian's best scoring chance came in the first when Danny Trillo led off the game with a double and advanced to third two batters later when Freddy Zamora lined a single past the shortstop to put runners on the corners. But the Eagles responded as Aparicio recorded a strikeout with Zamora breaking for second, and the defense followed with a 2-6-2 cutoff play that caught the lead runner at the plate.
While the loss stung, Killian manager Angel Herrera did not lose sight of what the night was all about.
"David Westberry was somebody that coached both Mandy and I and was part of our program, and I wanted tonight to be about him and what he did for us as individuals and for the community," Herrera said. "Regardless of the score, I want tonight to be recognized for David Westberry. Coaches realize that every season has a story, and sometimes certain things have to happen. Tonight had to happen for our team for the greater good. We'll be a better baseball team because of this."
Killian scattered seven hits, as Gabe Garcia led the way by going 2-for-3 with a double.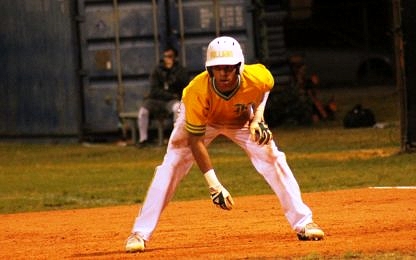 On the night in honor of Dave Westberry, Aparicio appreciated the chance to start on the same mound that Westberry pitched on when he still wore the Eagles uniform. The right-hander was crafty and especially effective in the biggest moments to earn the complete-game shutout. Aparicio struck out five while allowing seven hits and one walk.
"I am honored and I just wanted to do whatever I had to do to get my guys in a winning situation and get us on top," Aparicio said. "That third inning felt great, just to know they had my back. We started off rocky, but we're coming back."
Southwest Miami closed it out with two runs in the fifth. Junior Ricky Macias enjoyed a pinch-hit single to celebrate his birthday, which then culminated with him scoring the final run when Danny Deleon lined a two-RBI double past first base to walk-off the victory.
"We have been working hard since the summer," Peleaz said. "Our whole coaching staff are alumni so we've been working with them and they all have a great work ethic. Communication is a key because they have the talent, and if we can put it all there this is the type of potential they have. This is going to be a fun season and I look forward to competing down the road."